Are you a busy mom who wants to stay fit but just can't seem to find time for regular exercise? According to the American Council on Exercise, women should do some form of physical activity every day.
This blog post will provide 10 useful tips from fit moms on how to carve out time for fitness and make it part of your everyday routine! Whether it's utilizing work breaks for quick workouts or establishing a structured family schedule, these helpful strategies are surefire ways to help busy moms stay active and healthy. So let's get started!
10 Tips From Fit Moms On Finding Time For Exercise
Make fitness a priority by implementing these tips, each designed to help busy moms carve out time in their day for physical activity.
Have a plan
Being fit requires more than commitment and dedication; it also involves finding the time to exercise. Having a plan in place is key. This means setting specific goals and creating an exercise schedule that works for you and your family. It includes planning ahead for busy months or weeks—all of which will ensure that you'll carve out dedicated time for yourself.
It's important to keep track of where you stand with your fitness goals. Take account of variables like commitments and life events. Most importantly, don't be afraid to ask for help when needed because getting support from friends or family can make all the difference!
Fitness apps offer an effective way of tracking progress. They provide structure and guidance throughout workouts with tips such as time-efficient routines. You can also find customizable exercises tailored to individual needs using these apps.
Finding a balance between physical activity, parenting duties, and work might take some adjusting. But, following these steps towards goal setting will help mothers prioritize their health. Doing so will also prevent too much disruption in other aspects of their lives.
Prioritize Sleep and Wake Up Early
Fit moms know the importance of finding time to exercise, but with busy schedules, it can sometimes be hard to find a window. One way that mothers can carve out time for physical activity is by prioritizing their sleep and setting an early morning routine.
Getting enough sleep throughout the night helps to maintain consistent energy levels all day. This makes it easier to get up early and stick with an established fitness routine.
Try to establish a bedtime routine. This may include limiting caffeine before bed, listening to relaxing music, or reading a book. It will ensure you are getting enough quality rest each night to wake up feeling refreshed and energized in the morning.
Invest in Inexpensive Workout Equipment
Busy moms looking to incorporate exercise into their routines can benefit from investing in inexpensive fitness equipment. This will save time and money as it eliminates the need for costly gym memberships. At the same time, it also allows busy moms to work out anytime and anywhere at home.
Some examples of low-cost fitness tools that are great investments include dumbbells, resistance bands, and yoga mats. You may also find interest in jump ropes, stability balls, and medicine balls. All this equipment offers a variety of exercises tailored to fit a busy mom's routine.
Additionally, having access to versatile equipment makes workouts more enjoyable, especially for those who want to switch up their movements or challenge themselves with something new. Investing in cost-effective workout gear is an ideal solution for motivated moms on the go!
Establish a Family Schedule
In order to make exercise a regular part of life, you should try to establish a family schedule. All family members should participate in the process. The families should commit to working towards improved physical activity levels. This could involve setting up a dedicated time for physical activities like walking or running together. You can also try doing virtual workouts as a group. It's important that kids are involved so they learn good habits from an early age.
Utilize work breaks for physical activity;
Use timesaving workouts and fitness apps;
Find innovative ways to include exercise in busy schedules;
Dress for exercise
It's essential to know that wearing the right workout gear is integral to having a successful and comfortable exercise session. It may be tempting to throw on whatever is lying around the house before heading out for a jog. However, investing in appropriate fitness apparel can boost your confidence.
These include performance attire such as moisture-wicking materials and lightweight fabrics. Stretch-fit clothing will ensure you keep cool during intense workouts. I'll also provide you with support and flexibility.
Also, shoes designed specifically for physical activity are important as well. Proper running or CrossFit sneakers should provide adequate cushioning and arch support which can aid in injury prevention.
Utilize Work Breaks for Physical Activity
Working mothers do not have to miss out on exercise and can make the most of their work breaks in order to stay fit. Incorporating physical activity into work breaks is a practical way for busy moms to sneak in fitness during an already hectic day.
A 10-minute walk or quick stretching sequence during a lunch break can be an effective way for working moms to squeeze in some exercise. Additionally, scheduling active breaks like taking a short jog at nighttime or playing with kids actively throughout the day gives busy parents time away from screens and boosts energy levels as well as productivity.
Fit moms also suggest joining online classes or tracking progress using easy-to-use apps that are available for free. This makes exercising fun and goal setting easier, even if they're on a tight budget.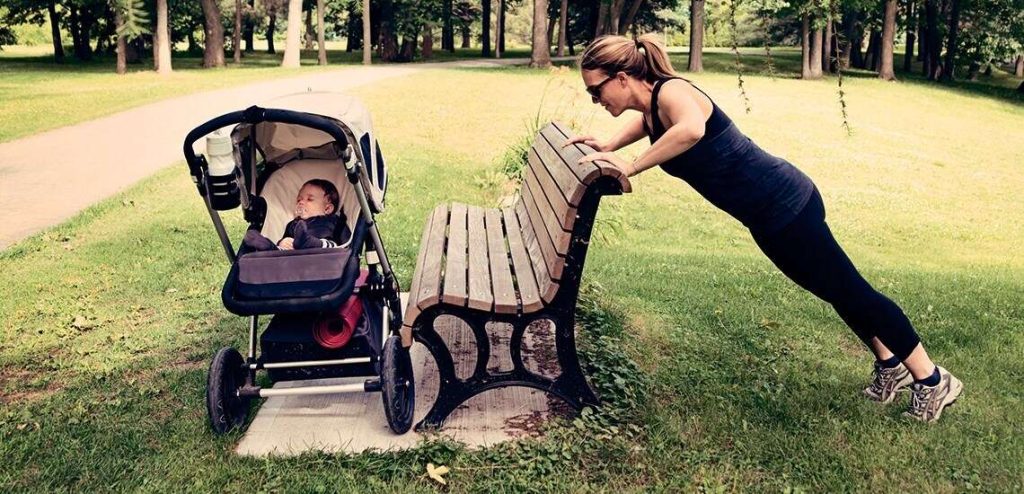 Incorporate Outdoor Workouts
Another great way to find time and become fit is incorporating outdoor workouts into your routine, whether solo or with the kids! Doing so would you get a refreshing and invigorating experience that helps keep your workout fun and consistent. It also allows you to bond moments with your loved ones while taking in the benefits of nature.
Have outdoor fitness routines like running at parks, cycling trails, and swimming pools. They help fend off feeling stuck indoors all the time due to limited mobility during these times.
Involve your Kids in Exercise
Incorporating your children into physical activities is one way to maximize time and save energy – while burning off those unwanted calories.
Consider jogging stroller runs during the toddler's nap schedule. You may also join a local running club with childcare for afternoons spent pounding the pavement. Engaging kids in activities such as tag-team running partners, kicking around a soccer ball, or jumping rope is not only fun, but they also provide an ideal opportunity to get your heart rate up (and theirs, too!).
Focus on Quality over Quantity
You should know that prioritizing quality workouts can lead to better results and overall well-being. Merely trying to "check the box" of time spent exercising each week doesn't help much.
Highly active mothers may be familiar with the Physical Activity Guidelines for Americans. It recommends engaging in moderate-intensity physical activity for at least 2½ hours per week.
However, federal guidelines also suggest that adults who participate in up to 300 minutes, or five hours, of moderate-intensity exercise each week receive even greater health benefits from regular physical activity.
NIA-funded researchers are studying strength training as a way to contribute to healthier bodies. Moms should make sure they incorporate this type of exercise into their weekly routine.
Make Exercise Enjoyable and Rewarding
Finding an enjoyable form of physical activity is the key to maintaining motivation and fitting exercise into a busy mom's schedule. Don't feel pressured to do what everyone else is doing – if running isn't your thing, try something different! The options are endless: swimming, biking, strength training, and dance classes. Find activities that aren't too strenuous or time-consuming and involve other members of the family as well for more fun.
With so many online classes available today, even trying new exotic forms of exercise has never been easier! We recommend you learn exercises like Bollywood workouts at home.
Mothers can also ensure motivation by setting both long-term goals and shorter milestones with rewards. For example, a massage after completing 5 km jogs or a special meal along with their partner after reaching 10 sit-ups each morning.
Conclusion: Finding Time to Exercise as a Working Mom
Being a busy mom can make it challenging to find time for exercise. However, with the right strategies and tools in place, finding time to stay fit is not impossible. The tips shared by fit moms on how to incorporate physical activity into our everyday lives are invaluable. They can help us achieve a balance between motherhood and fitness.
Take the necessary steps today: have a plan in place, prioritize sleep and wake up early, invest in inexpensive workout equipment, and establish a family schedule that includes daily physical activities tailored just for you.
Getting physically active should be enjoyable. So reward yourself when progress is made, or milestones are achieved! Being a fit mom doesn't mean sacrificing sleep or energy – focusing on quality over quantity during your workouts will yield results over time.
It's never too late to start your journey toward being the healthiest version of yourself. Here's wishing all mamas success as we embrace this challenge together!