The magical journey of pregnancy is an extraordinary phase in a woman's life. This period is filled with anticipation, excitement, and change. However, amidst all the joy and transformation, it's essential to pay due attention to the physical health and fitness of the expectant mother. Regular exercise plays a pivotal role not only in maintaining a healthy pregnancy but also in preparing the body for labor and postpartum recovery. Before you lace up those sneakers and get moving, it's crucial to remember the golden rule: safety first. Luckily, there are a lot of safe exercises for pregnant women. Always consult your healthcare provider before embarking on any exercise regimen during pregnancy. Each woman and pregnancy are unique. Hence, the best strategy is a personalized exercise approach tailored to your needs and comfort.
Exercise 1: Prenatal Yoga
Prenatal Yoga stands out as an ally for expectant mothers. This form of Yoga, specially tailored for you, brings gentle stretches, strength-building poses, and calming relaxation methods. It serves as a booster for your flexibility, stamina, and strength, all crucial elements for labor. One added bonus is the focus on breath control, a handy skill during childbirth. It's always important to steer clear of positions that burden your abdomen and to follow the guidance of your instructor faithfully. This practice may also equip you better to handle possible newborn complications like cephalohematoma. If you're wondering what is cephalohematoma in newborns, it's a condition characterized by a minor swelling on a baby's head due to labor. Yoga encourages patience and understanding, traits you'll cherish as a new parent.
Exercise 2: Swimming & Aqua Aerobics
Taking a swim is a great way to stay active when you're pregnant. Both swimming and water workouts help your body without straining your joints, a great benefit during pregnancy. Being in water can lessen swelling and make you feel more at ease, while exercise boosts your stamina. Remember, choose swim styles that you find easy and avoid jumps or sudden dives into the water. Water exercises are a fun, easy way to keep fit, feel good, and prepare for your baby's arrival. Enjoy the water; it's one of the best places for an expectant mom to exercise safely and comfortably.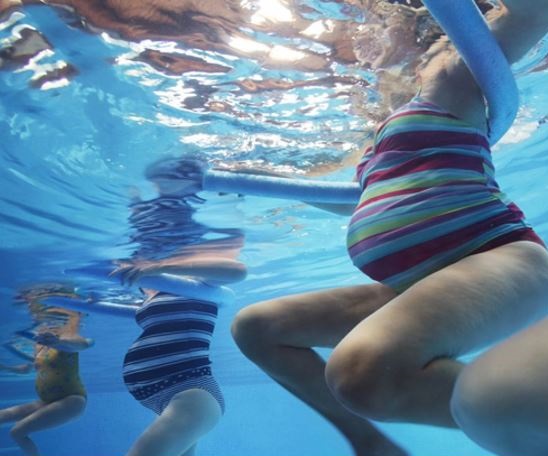 Exercise 3: Pilates for Pregnancy
Pilates is an excellent workout for expectant moms. It targets your core muscles, helps you stand tall, and builds full-body power. Pilates, modified for pregnancy, zeroes in on your belly, back, and pelvic muscles. These muscles bear the weight of your growing baby. To do Pilates safely during pregnancy, find a skilled teacher who knows all about Pilates for moms-to-be. This person can guide you on the right path. After your first trimester, avoid exercises that require you to lie flat on your back. Your safety comes first in your fitness journey. Ultimately, Pilates can leave you feeling strong and poised during pregnancy.
Exercise 4: Low-Impact Aerobics
Keeping fit during pregnancy doesn't have to be hard. Try low-impact aerobics! These fun exercises, like dancing or stepping, are perfect for staying active. They are easy on your joints, which is a big plus when you're expecting. The beat of the music gets your heart pumping, and your muscles get a nice workout. However, it's important to move smoothly and steadily. Avoid leaps or spins, and keep your balance by always having one foot on the ground. All in all, low-impact aerobics offer a great way to stay in shape while enjoying your pregnancy journey.
Exercise 5: Walking and Light Jogging
Walking and light jogging are easy ways to stay fit during pregnancy. Walking is a simple activity you can do every day. It helps your blood flow better, fights off tiredness, and lifts your spirits. If jogging is already part of your routine, you can keep doing it. Just make sure you don't push too hard. Comfort is key. Good shoes are a must for your walks and jogs. They support your feet and keep them safe. Stay away from places with uneven ground. You want to protect yourself from slips or falls. Walking and jogging are about keeping active, feeling good, and staying healthy while you await your baby's arrival.
Exercise 6: Prenatal Strength Training
Prenatal Strength Training can be an excellent way to prepare your body for labor and lift your new baby after. When done with the help of a professional trainer, this form of exercise can energize you while strengthening muscles for labor as well as lifting them later on. However, safety should always come first: avoid heavy weights or any exercises involving lying back on your back or holding your breath during Prenatal Strength Training exercises, as these may increase risk during labor and after. With Prenatal Strength Training, you won't just be preparing yourself physically – but also the wonderful days ahead! Therefore, in most cases, weight training and pregnancy go hand in hand.
Exercise 7: Pelvic Floor Exercises
Pelvic floor exercises, or Kegels, are very helpful for pregnant women. These exercises make the muscles that help hold up the uterus, bladder, and bowels stronger. This strength makes carrying a growing baby easier and prepares you for birth. Kegels can also help you heal faster after your baby is born. To do them right, pretend you're trying to stop peeing, squeeze, and count to ten, then let go. It's a simple move but has big benefits for your body during and after pregnancy. Making Kegels a part of your pregnancy workout routine is always wise.
Exercise 8: Stationary Biking
Stationary biking, or using an exercise bike, is a smart choice for pregnant women. This activity gets your heart pumping, which is good for you and your baby. It also strengthens your legs without being hard on your knees and ankles. Plus, you don't have to worry about losing balance or falling, which makes it a safe option. When you bike, keep your pace easy and your breath steady. Don't push too hard – it's about staying active, not winning a race. With stationary biking, you can stay fit, feel good, and prepare your body for the arrival of your little one. It's a simple exercise with many benefits, so why not try it?
Conclusion: Safe Exercises for Pregnant Women
Maintaining an active lifestyle during pregnancy benefits you and your baby. It provides physical strength and endurance, aids in mood regulation, and prepares you for the rigors of childbirth. Remember, it's not a race or competition – it's about listening to your body, finding joy in movement, and nurturing your growing baby. Each step you take, every breath you draw during your workouts, brings you closer to a healthy and fulfilling pregnancy journey.