The ketogenic diet has gotten a lot of criticism over the years for being a diet where you basically eat bacon and butter all day long. "Even if you do lose weight," people say, "that just seems unhealthy!" It is unhealthy! "You have to cut down on fat if you want to lose weight!", people also say. And it's not a smart way to go about a ketogenic diet. We have to admit, at first glance the logic is on their side. But again, is that really so? We could ask them an equally logical counter-question: "Well if that strategy worked so well, then why are you still dieting?"
However, as you will see below, the truth is somewhat different. The keto diet is an extreme way of cutting, losing minimal muscle, and shredding fat off in no time. It can be a very hard diet to stick to (the hardest we've seen), but we've never seen any results like the ones that can be achieved by utilizing this diet.
What is a ketogenic diet?
The ketogenic diet is a type of diet that specializes in low carbs and high amounts of fats, which assists the body in getting rid of excess weight in a way by helping the body to burn fat for fuel instead of carbohydrates. The process in the body would lead to a condition in the body that is known as ketosis. Therefore, the ketogenic diet is neither a low-carbohydrate diet nor a high-protein diet but, a high-fat, low-carbohydrate and moderate-protein diet. It involves drastically reducing carbohydrate intake and replacing it with fat.
The ketogenic diet advocates the intake of 70-80% of calories from fat, 10-20% from protein, and 5-10% from carbohydrates. So most of the calories that you ingest during the day to fuel your body come from fats and protein only. This isn't easy and leads to us not being able to eat much of a variety of food.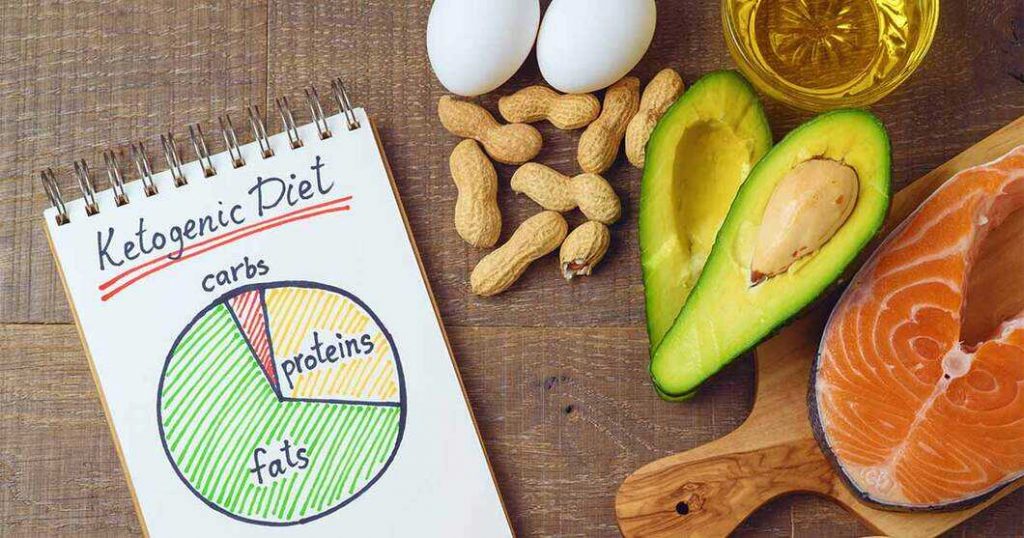 Key rules:
Stay calorie deficient. Eat fewer (300-500) calories than you burn each day. When you take in less energy than you need (expend), you have a negative energy balance.
Eat loads of fat. The cleaner the better, but this isn't totally necessary. In general, you may eat "as much as you want" of foods that are made up mostly of fat (listed below). However, keep in mind that the more calories you take in from food (mostly from fat in this case), the less your body will need to take out of fat stores. Therefore, as already stated, you still have to take in fewer calories than you burn (by a few hundred calories).
Don't forget your proteins. When you're on a keto diet, eating excessive amounts of protein (more than 10-20%) can actually kick you out of ketosis. This is why the ketogenic diet is usually considered to be a "moderate" protein diet, not a high-protein diet. Protein intake is quite low compared to the 30-40 percent of calories from protein touted by most online nutrition calculators in the bodybuilding community when you set your goal as "muscle growth."
What is ketosis?
Ketosis is a metabolic state in which your body uses fat for fuel instead of carbs. We could also say it is a state when the body takes a low carbohydrate content.
This combination of a high-fat and moderate-protein diet changes the way energy is utilized in the body. Here, the liver transforms fat into fatty acids and ketone bodies. If your body's main energy sources are glycogen and glucose, your body will not need to burn fat. More details about this mechanism (and the importance of insulin in this whole story) can be found in the next chapter.
Blood, urine, and breath tests are available, which can help determine whether you've entered ketosis by measuring the number of ketones produced by your body. Certain symptoms can also help determine whether you've entered ketosis.
What are the benefits of being in ketosis?
There are many outstanding benefits of being in the metabolic state of ketosis. The main benefit is that the body is more capable to utilize fats for fuel which gets idle on a carbohydrate diet, in this way you can lose weight. When you are on a high carbohydrate diet, it is expected that more sources of energy such as rice, bread, and pasta enter your body. However, during ketosis, the body has to become more capable of using fats as energy.
Another beneficial thing when you are in the state of ketosis is if your body will not use ketones anymore, it can simply be excreted as urine, a waste product. You will be glad that you will be peeing out body fat. Furthermore, ketosis stores spare protein even if you consume an adequate amount of protein and calories. This is because the body prefers ketones over glucose. Since your body has abundant quantities of fat this means that it is not necessary to oxidize protein to produce glucose through gluconeogenesis.
Insulin plays a vital role in ketosis. A low level of insulin in the body causes free glycerol release and greater lipolysis. Insulin blocks lipolysis that it can hold back the use of fatty acids as energy. Furthermore, when insulin is brought to lower levels, it can result in the release of beneficial hormones like growth hormones. Another significant benefit of this type of diet is when you are in the state of ketosis, ketones seem to dull hunger in you, meaning, you will less likely to get hungry easily.
On the ketogenic diet, you really have to intake a high volume of fat which contains 9 calories. This results in not being hungry which is a very nice thing when you are on a diet. When the fatty acid will be converted to a KB, it will contain 7 calories making a ketone body an inefficient fuel source. This practically means that the average pound of fat contains less than 3500 calories.
What are the downsides of ketogenic diet?
The ketogenic diet is not without its downsides. There are potential side effects; some are relatively benign, like initial fatigue, nutrient deficiencies (since you're giving up whole grains, beans, fruits, and many veggies), headache, brain fog, constipation, and some are quite serious. Serious side effects include dehydration or acidosis—which, particularly in diabetics, can be life-threatening. People with diabetes, kidney disease, or other metabolic disorders should not attempt ketogenic dieting except under direct medical supervision.
That said, the majority of people with healthy, functioning metabolisms experience rapid weight loss on the ketogenic diet, and, after an initial week or two of unpleasant symptoms, side effects diminish or disappear completely. Energy levels improve, hunger subsides, and the prospect of achieving a normal weight in this lifetime makes the thought of eating a candy bar wholly unappealing.
Food to avoid while being on a keto diet
Most foods contain a mix of macronutrients (the food components that provide energy to the human body), but the majority of calories in a particular food tend to come from one of three. Accordingly, foods can be classified roughly as either fats, proteins, or carbs.
Any food that's high in carbs should be limited. The diet elimi­nates sugar, flour, starch, grains, legumes, fried foods, sweetened beverages, rice, pasta, potatoes, candy, low-quality processed foods, and even most fruits.
Food to eat while being on a keto diet
The ketogenic diet consists of a mix of high-quality fats and protein foods, like avocado, chicken, fatty fish (salmon, trout, tuna, mackerel), almonds, and healthy oils (extra virgin olive oil, avocado oil), as well as non-starchy, vitamin-rich vegetables like broccoli, cauliflower, asparagus, spinach, lettuce, tomatoes, and mushrooms. So-called indulgences, like red meat, full-fat cheese, and egg yolks, are also allowed.
Intermittent fasting and ketogenic (keto) diet
Fasting and ketosis go together perfectly, like bacon and eggs. When you eat a low-carb, moderate-protein, high-fat diet—a ketogenic diet—it becomes much easier to fast. The carbohydrate restriction and protein moderation help to keep your blood sugar and insulin levels under control, and consuming adequate amounts of healthy saturated and monounsaturated fats keeps your hunger at bay.
And here's the key to why keto is so great for fasting: being in ketosis teaches your body to burn fat for fuel rather than sugar, and since that's what your body has to do during fasting if you're already in ketosis, your body is already using fuel the way it's supposed to.
Both the ketogenic diet (a low-carb, moderate-protein, high-fat diet) and intermittent fasting are excellent methods of reducing high insulin levels.
Closing thoughts about ketogenic diet
It is not our intention to villainize carbohydrates. Carbohydrates are an essential part of a healthy and balanced diet. Many peoples worldwide live on diets rich in grains and starchy vegetables while maintaining a normal weight. Ultimately, it's not the carbs that make you fat and cause you problems – it is an excess of carbohydrates that is causing problems with achieving and maintaining a healthy body weight.

But now when the problem is here you'll have to make some changes. It is true that there is not one "right" diet for everyone, and the ketogenic diet is not the be-all, end-all solution to weight loss. But science and history show that it works, and it is our hope that if you are overweight and want to try very low-carb dieting, this article will give you the starting tools to succeed. It depends heavily on your genetics how long you'll need to keto to get to your desired bodyfat level.