Ab Wheel Rollout
The ab wheel (ab roller) is an inexpensive piece of exercise equipment primarily used to tone and strengthen core muscles – abdominals, obliques and back.
In this exercise guide you will learn how to perform ab wheel rollouts from knees (kneeling ab wheel rollouts) using perfect technique for maximum results.
You can also try to do ab wheel rollouts from toes, but performing ab wheel rollouts from your feet is a challenge that should not be underestimated. If you can't master it, it is perfectly fine to continue doing the ab wheel rollout from your knees.
How to Do Kneeling Ab Wheel Rollouts
Start on your hands and knees, Bend your torso forward to a 45 degree angle with a spine in a neutral position. Place your hands on an ab wheel directly below your chest (or shoulders). Keep your elbows straight.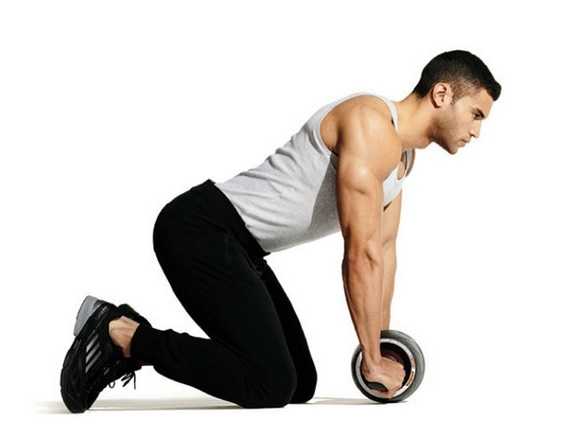 Extend your arms forwards, allowing your torso to drop until your body (chest) is almost parallel to the floor. Your upper body should be in a straight line, but don't allow any part of your upper body to touch the floor. Pause briefly, then draw your arms and hips back simultaneously – your torso elevates and returns to the initial position.

The key is that you maintain perfect form through every inch of this motion.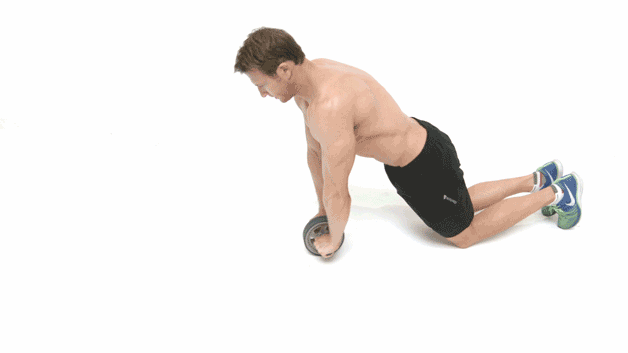 Ab Wheel Rollouts Video Demonstration
This video is designed to show you exactly how to perform ab wheel rollouts using perfect technique (proper form) so you can get the most from this great core building exercise.
Additional Tips & Key Points
The wheel sometimes rolls faster than you expect it to. This is why it is better to do this on a padded and carpeted floor rather than on wood or concrete.
Place a mat or towel under your knees to reduce friction.
Roll the wheel in a perfect straight line away from you.
Keep your thighs, hips, and trunk in line – your body should form a straight line between your knees and shoulders throughout the movement – you don't want any arching or sagging in your lower back, nor do you want your hips to go up in the air during the return phase.
Avoid rounding or arching your spine – maintain a neutral spine position.
Look for your head and spine to remain aligned.
Your knees remain stationary all the time.
Avoid moving quickly in either direction.
Muscles Engaged
As you pull the wheel back to the starting position, you will feel muscles in your shoulders and arms working, along with your core.
All the muscles involved: iliacus, iliopsoas, rectus abdominis, obliquus externus, obliquus internus, pectoralis major, serratus anterior, teres major, triceps brachii, rectus femoris, latissimus dorsi.
Ab Wheel Rollout Variations
Ab Wheel Rollouts From Toes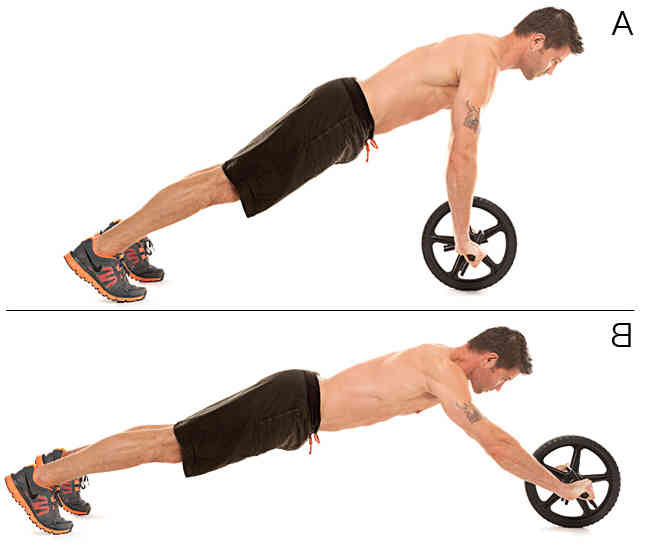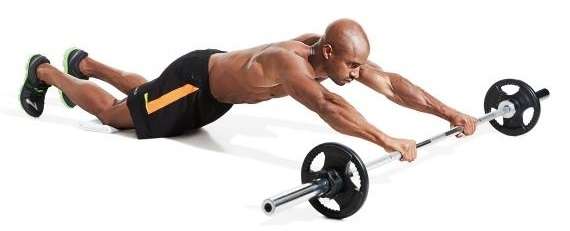 Replace the wheel with a Swiss ball – your hand begin higher up