Anabolic Steroids and Growth Hormone
Anabolic steroids are synthetic derivatives of the male sex hormone testosterone. There are two components to any male sex hormone: androgenic and anabolic. The former refers to the masculinizing effects, such as facial hair, deepening of the voice, and aggressiveness, while the latter refers exclusively to the drug's tissue-building properties.
You can get huge, ripped muscles without having to resort to using illegal substances like steroids or artificial growth hormones. They can make you bigger quicker, but the disadvantages far outweigh the advantages you are taking by introducing these substances into your body.
We're not going to spend a lot of time on these types of supplements because they are certainly not recommended, but they are used by bodybuilders all over the world. Both of these substances are highly controversial, and in many places, they are illegal.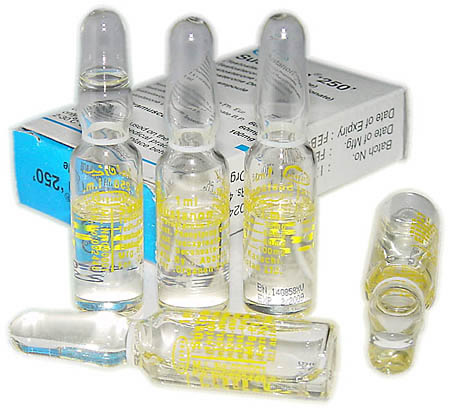 Steroids and growth hormones stimulate muscle growth often quite quickly which is why they are so popular among bodybuilders. They also enhance performance making a person stronger and extending their stamina.
Steroid use is generally not condoned in the sports world and constant testing is done of the athletes to see if they are getting an unfair advantage by using steroids or growth hormones.
Anabolic steroids can be taken in a number of different ways. The two most common are orally (swallowing a pill) and injection (using a hypodermic needle to inject the steroid into the muscle). Orals are easiest to use, but because of their chemical modifications they produce more side effects. Injectables require the use of a needle and all the risks that accompany breaking the body's outer protective barrier. But this version is easier on the system, with fewer side effects. A third method of delivery involves a patch containing creams or gels that get absorbed through the skin directly into the body.
Steroids do have some advantages. They are used in treating a variety of health problems including AIDS, cancer, delayed puberty, anemia, osteoporosis and other serious diseases. They help the body fight the ill effects of these diseases and promote healing.  Despite their legitimate medical uses, the biggest market for most of these drugs is in sports, and the sport most closely associated with these drugs is bodybuilding.
Common side effects with anabolic steroids may include:
However, steroids have some serious health implications when taken for reasons other than therapeutic. They can cause serious liver damage and even lead to liver failure. As we see athletes taking anabolic steroids for more prolonged periods, we are likely to see more severe medical consequences.
Steroids increase testosterone production which can lead to overly aggressive behavior, a decrease in libido, and low sperm count. The reason many bodybuilders use steroids is because they increase water retention in the muscles which leads to an anabolic state. However, this increase in fluid retention makes the heart work harder which can increase blood pressure and even bring on a heart attack.
Severe acne, oily skin and hair
Hair loss
Liver disease, such as liver tumors and cysts
Kidney disease
Heart disease, such as heart attack and stroke
Altered mood, irritability, increased aggression, depression or suicidal tendencies
Alterations in cholesterol and other blood lipids
High blood pressure
Gynecomastia (abnormal development of mammary glands in men causing breast enlargement)
Shrinking of testicals
Azoospermia (absence of sperm in semen)
Menstrual irregularities in women
Infertility
Excess facial or body hair, deeper voice in women
Stunted growth and height in teens
Risk of viral or bacterial infections due to unsterile injections
All steroids eventually change to estrogen which causes feminization in men. That causes an enlargement of the breasts along with an increase in fatty deposits.
Growth hormones stimulate the elements in the body that make muscles grow. They are naturally produced by the body, but many bodybuilders take them to basically tell their muscles to get bigger. They can be dangerous, though, as well.