Will steroids shrink my balls?
Is there a connection between anabolic steroids and testicular shrinkage (testicle atrophy)? Can an appetite for anabolics really shrink your crown jewels? The short answer is – YES! This is very likely to happen. Read this article to find out why this is happening and what you can do to avoid and ease this negative side effect. After reading this article you will understand how it's possible that something used to make your muscles bigger causes your balls to shrivel up into raisins?
Why do testicles shrink when taking anabolic stereoids?
Testosterone is synthesized and secreted by the Leydig cells in the testes. Its release is regulated by the hypothalamic-pituitary-testicular axis (HPTA), a system that is very sensitive to sex steroids.
When you use anabolic steroids, your body senses a tes­tosterone overload, and your testes stop making testosterone. In other words, the HPTA will recognize the elevated hormone levels, and respond by reducing the synthesis of testosterone. Like many other body tissues, the testes function on the "use it or lose it" principle. When they're out of work, they shrink in size (atrophy).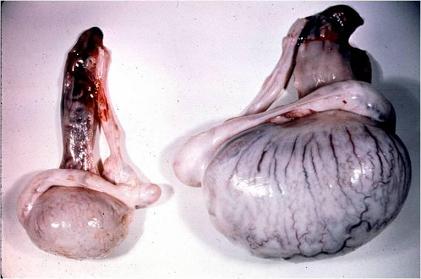 So while you're stomping around the mall trying on oversized shirts and baggy pants, you might also have to purchase a multipack of extra-small underwear.
Exogenous steroids cause suppression of the hypothalamic axis, in particular LH production, and therefore suppression of testosterone production, ultimately leading to testiculat atrophy (testicle shrinkage). This can also result in a number of other side effects including loss of libido and loss of erection.
Can I visually notice testicle shrinkage while on steroids?
Not necessarily. This atrophy may or may not be obvious to the individual. In some cases, the testes will appear normal even though their functioning is insufficient. In other cases, shrinkage is very apparent.
How common is testicular atrophy in steroid abusers?
Most of the data on bodybuilders, steroids and testicular atrophy comes from case reports rather than longitudinal or cohort studies.
Visible testicular atrophy is one of the most common side effects of steroid abuse, appearing in more than 50% of all anabolic/androgenic steroid abusers.
One study of 500 steroid users found that nearly two-thirds (67%) of them experienced this type of shrinkage.
Is testicular shrinkage from steroids permanent or just temporary?
Steroid abuse disrupts the normal production of hormones in the body, causing both reversible and irreversible changes.
Will your testes grow back in size? Although testicular atrophy is very common in frequency, it is also regarded as a temporary reversible side effect. The gonads, by their nature, will vary in size under hormonal influence. Atrophy should not produce permanent damage. Note, however, that it can be a somewhat persistent issue. It may take many weeks or months of sufficient LH stimulation after steroid discontinuance for original testicular volume to be restored.
Likewise, testicular atrophy is usually the root cause of prolonged post-cycle hypogonadism. In extreme cases, full recovery can take more than 12 months, and may even require medical intervention.
One thing is for sure: the bigger the dose, the longer the recovery. If you've been taking massive doses of anabolis steroids for a prolonged period of time however, you might never recover fully. Such cases are also well known and described.
How to reverse testicular atrophy caused by taking anabolic steroids?
The only way to halt this period of self-in­duced testicular unemployment is to stop using steroids.
Your testes will eventu­ally regain their original size, but it will take six months or more of being steroid free.
Some steroid users try to expedite this process by using such drugs as hu­man chorionic gonadotrophs (Pregnyl) or clomiphene citrate (Clomid). These fertility drugs can kick-start sleeping testes back into action, but the effect is only temporary.
The bottom line is that if you toy with testosterone, your testicles get tiny. You can't use juice and have a handful of big nuts at the same time.
Closing thoughts: Anabolic steroids and testicular shrinkage
There is an unambiguous and direct connection between anabolic steroids and testicular shrinkage. By juicing (slang name for taking anabolic steroids), you're skyrocketing your testosterone levels, throwing your hormonal balance way off-kilter. Your body, as a response, will shut down natural testosterone production, which leads to smaller, less-active (and frankly pre-pubescent) nuts. Sorry. The moment you take it your testes will shrink down. Fortunately, for most people the side effects are short-term, with a full recovery seen within a few months. Some steroid abusers are not that lucky though. So think carefully whether your physical appearance is worth the risk. Also, be aware of many other side effects of anabolic steroids.