Shoes or no shoes? Heading into your gym's weight room barefoot might be a tad unusual. Some would say it's unhygienic, but ditching your shoes altogether may be exactly what you need to boost your weightlifting sessions. Barefoot weight training (lifting weights without shoes) is really getting back to nature and to Palaeolithic times. The idea is that you train either without shoes or with "barefoot-style" shoes, which changes where your feet strike the ground and re-aligns the body to primal ways of movement. We recommends kicking off the shoes and working out your feet at the same time as the rest of your body.

Benefits of lifting weights barefoot
No matter where you fall on the shoe spectrum, you'll benefit from shoeless strength training. Exercises like (among others) squats, deadlifts, kettlebell swings, lunges, and even push-ups are ideal for barefoot training. Here are some of the most important benefits of barefoot weight training.
Barefoot training strengthens your foot posture and total body alignment
The foot muscles and connective tissue act like shock absorbers to help maintain bearing and posture every time you walk, jump, or even stand. Improving the musculature support of your feet reduces the risk of knee and lower back pain, as lower extremity function and foot posture are connected.
Training without shoes improves your balance
The skin on the bottom of your feet also plays a key role in balance, so training barefoot also provides a more accurate perception of our stability and ground reaction forces, therefore reducing risk of injury.
Barefoot training improves stability during your workouts by freeing the toes
Your toes grip and steady you and play a much larger role in keeping your body stable than most people realize.
Shoeless strength training develops the muscles of the toes, midfoot, heel, and ankle
26 muscles in all – that get a free ride in kicks. Foot muscles can atrophy if you're in shoes all day long. Strengthening your feet and ankles allows the rest of your running parts – knees, hips, and back – to function their best and reduce the risk of injury.
Shoeless weight training also positively alters your performance
When you train barefoot, all of the muscles in your ankles and feet are activated. This helps to make more efficient movements, maintain proper foot alignment, and gives you the ability to reach a full range of motion without the interference of footwear.
You'll have better awareness of your exercise form and technique
Lifting weights barefoot gives you better proprioception, so your feet can feel the floor better, allowing them to make better decisions on how to adjust form. The reason for this is because your nerve endings are firing at a greater rate, which studies have shown, make your body work harder, leading to a higher calorie burn and better strength building.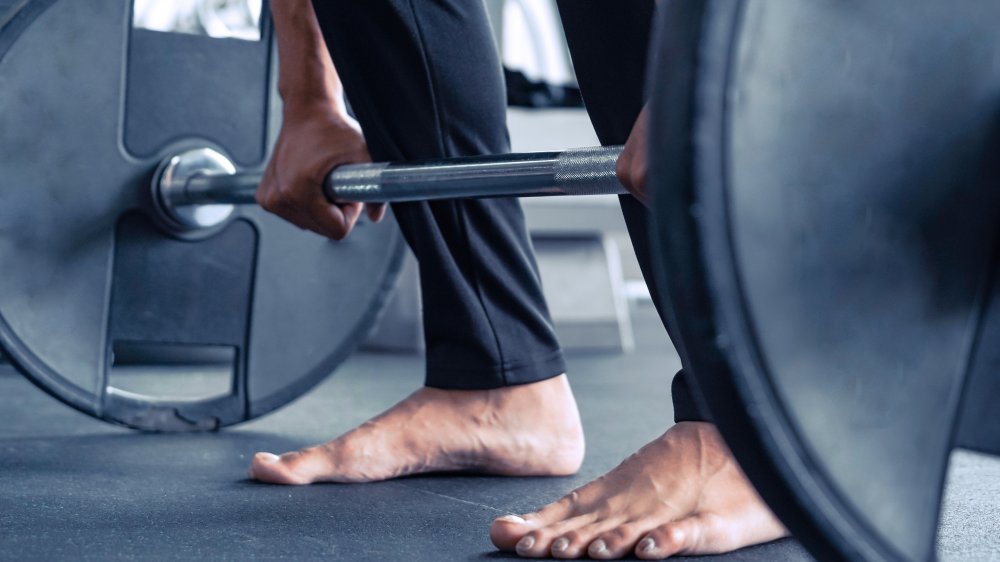 Health benefits of going shoeless
If you really want to be free, go barefoot. Not that most people will run or bike barefoot, but spending adequate time without shoes is important for physical health.
Being barefoot is, in itself, a great therapy – especially if you have a foot problem – because it's the best and quickest way to rehabilitate your feet. It's also one of the best preventive measures to avoid future foot problems.
Without the restriction of shoes, your foot muscles can ultimately return to their natural state of optimal function. In some people, this could take time. For example, if you're used to wearing thick-soled running shoes, being barefoot will be a big transition. But once you experience the freedom of being barefoot, you'll wonder how you got by without it.
There are two ways to go barefoot. First, you can spend a certain amount of time walking barefoot, much like a therapeutic exercise. Second, you can incorporate being barefoot into your lifestyle – just be barefoot as much as possible in all that you do.
Baring your soles may be difficult for some, not just physically but mentally and emotionally, too. After all, were taught by society that being barefoot is somehow dirty or low class. Yes, when you walk or run barefoot your soles will get dirty. But you'll track less dirt compared to wearing shoes – you'll actually look where you're walking when barefoot and avoid stepping on things you don't think about when wearing shoes. And your feet won't pick up any more germs than your hands or mouth.
Closing thoughts: Barefoot weight training
Barefoot training strengthens your foot posture and total body alignment. The decision to go purely barefoot during lifting weights will be a matter of preference, and one that is dependent on the training surface and possible restrictions in terms of gym policy. However, sensory feedback is the foundation of skill, and to ensure maximum feedback, going barefoot is highly recommended. If barefoot weight training is not possible you can always use barefoot shoe. The perfect shoe will allow the foot to behave as if bare, while providing maximum protection from the environment.
With this in mind, the shoe should allow for sensory feedback from the ground via the sole. It should also protect your foot, which is especially relevant when performing exercise outdoors. Furthermore, the shoe should follow the anatomy of the foot, providing enough room for the toes to spread forwards and outwards on impact. Meeting these requirements in shoe choice will allow for better performance and progression during weight training, and will also strengthen your feet and ankles in the process.