Basic home gym equipment (home gym essentials)
If you are interested in pursuing a regular program of strength training, we strongly encourage the acquisition of some basic home gym equipment. Having your own gear handy puts you in control. It saves you time, since you never have to drive to and from the health club. It gives you a weatherproof alternative to outdoor activities like walking or biking. And it lets you squeeze in exercise on your own timetable. You can work out in the morning before the kids wake up or in the evening while you're watching your favorite television program. Even if you have a gym membership, home equipment is a lifesaver for those days when you just don't have time to get there.
So what you really need to create the best home gym? What type of equipment should you choose? In this post you will find out what are the home gym essentials, equipment that will help you to have complete workouts to be big and strong without going out. With so many products available, getting started may be bewildering.

To set up a home gym, you will need the proper equipment and space, preferably a well-lit, well-ventilated area that measures at least 10 by 10 feet. Below is a list of the basic equipment needed for a functional home gym.
Home gym essentials
Here are the basics. Of course the choices are up to you, depending on what you'll enjoy using, what you can afford, and what you have room for. Resist the temptation to pick up a few random items on sale; if the item is poorly constructed or doesn't really interest you, it's not a bargain.
If you choose to set up a home gym, you will need the following equipment (home gym essentials):
An exercise bench that adjusts to both flat and incline positions. This great piece of equipment replaces the need for two benches because it is adjustable from flat to vertical. You can use it to perform many exercises from standing, lying, or seated positions.
A set of dumbbells (two of each): Five, eight, ten, twelve, fifteen, twenty, and twenty-five pounds. Or an adjustable dumbbell set. Later on you will have to obtain much heavier dumbbells.
A barbell set: one twenty-pound bar and assorted weights (weight plates).
A bench press station to fit over the exercise bench.
Ankle weights with slots for added weights up to ten pounds.
A padded mat (nonslip exercise mat) about six feet by three feet or larger.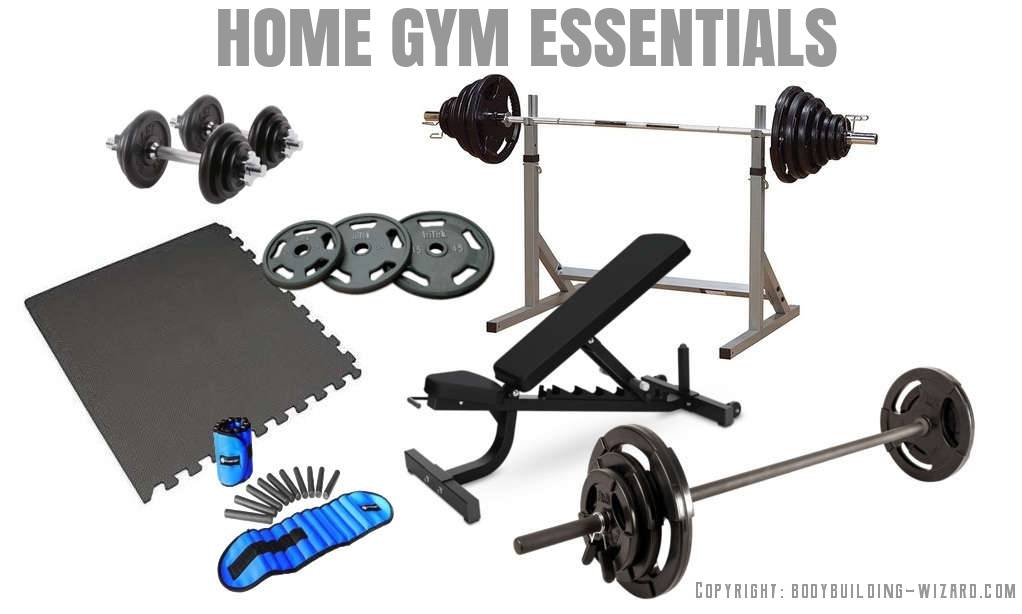 Even the basic home gym equipment can be expensive if you go for the best in quality. Plastic sand-filled weights are least expensive but also least durable. On the other hand, gold-plated dumbbells are very expensive. There is a happy medium somewhere between. Consult sporting goods stores and major department store catalogs. Shop around for the deal that suits your budget. Keep your eye open for ads in the commercial section of your newspaper. Many times someone is selling a gym set at a very low price. You can also go to the local gym and ask where they suggest you buy your equipment. If you are starting from scratch, you will probably end up spending about three hundred dollars for your equipment at retail.
With these listed items, you will be able to perform many of the exercises contained in most home strength training programs. With the addition of a pair of squat standards, you will be able to safely perform the squat, which is a key exercise of any weight training program (key lower body exercise).
The most difficult exercise to perform in a home setting is the leg curl, which works the hamstrings. This is a very important muscle group to develop, and it cannot be safely and efficiently exercised without a proper leg-curl machine or bench attachment. Many of the lower-priced devices on the market are not adjustable to different leg lengths and may put the athlete into an unsafe resistance arc while performing the exercise.
Other great pieces of home gym equipment
Now you can take one step further. If the budget allows, consider purchasing these great pieces of home gym equipment. Keep in mind that some exercise equipment from the list below exclude one another. For example, if you obtain a power rack then this completely eliminates the need to have doorway chinning bar, a bench press station, squat stands or squat racks, etc.

Squat stands & squat racks. The footprint of squat stands is generally 1 1/2-by-2 1/2 feet. Squat racks are about 3 feet by 5 feet. You can position either option within a foot or two of a wall. The name squat rank doesn't really do justice to this versatile tool that can be lowered for bench presses or raised for squats and standing shoulder presses. The lowest setting, minus a bench, allows you to do heavy shrugs or biceps curls without having to load the weights onto a bar that's sitting on the floor – or to lift the bar off the floor to start the set.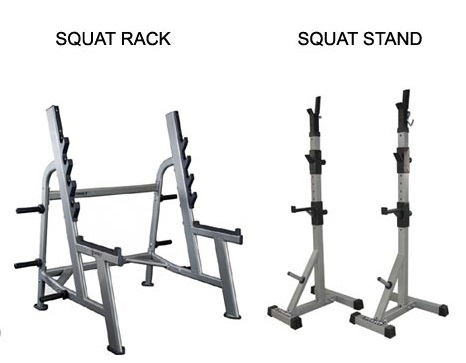 Power rack. This open cage of solid steel has a footprint of about 4 feet by 4 feet. If you add attachments and apparatuses to the rack's cage, it takes up even more space  beyond its basic footprint. Nevertheless, if you're serious about weight training, the $300 to $600 you'd pay for a power rack is the best investment you could make. For about $190 or more, you can add a plate-loaded cable pulley system to the back of your squat rack. This doesn't require a lot more room, and it allows you to do dozens more exercises, from lat pull-downs to cable rows to triceps push-downs to cable biceps curls. Finally, some power racks have a crossbar on the front top that doubles as a chinning bar. You can also add dip bars to some power racks for about $50.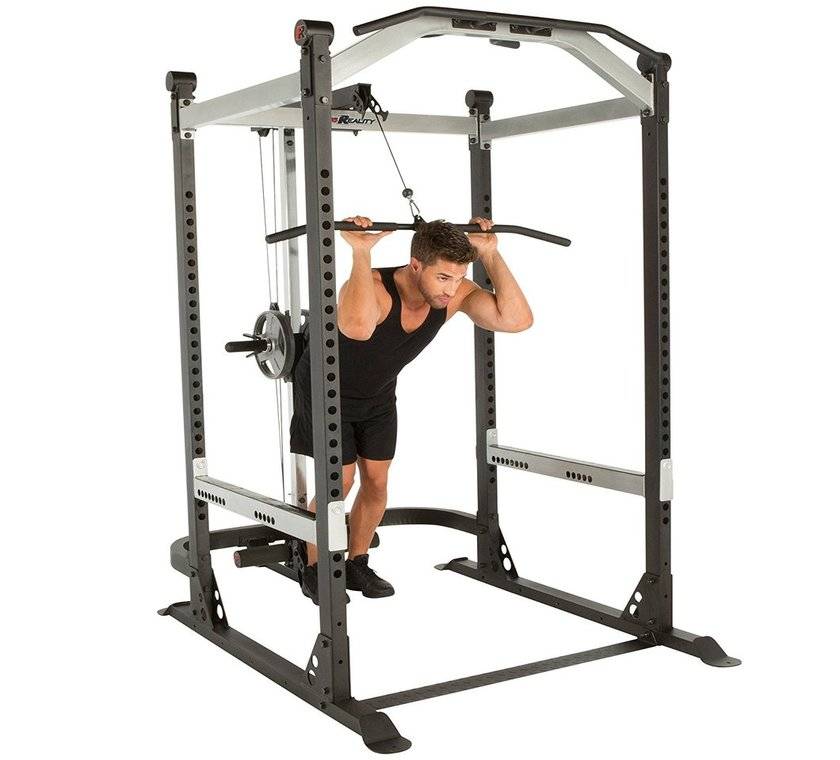 Cable stations (cable pulley-system). This is not the basic home gym equipment. However, cable stations are a great choice because you should build your home workouts around free weights, with cable exercises acting as a supplement. A cable/pulley system uses a stack of weights (or plate-loaded version) into which the user must insert a pin to select the desired resistance and a cable to which the user may attach a variety of handles, depending on the exercise. Cable/pulley systems have the advantage of not having a fixed movement, which allows the individual to perform a variety of exercises and movements with a single piece of equipment. The majority of cable/ pulley-system exercises employ either a low-pulley or high-pulley setup. The low-pulley setup allows the individual to pull the handle up from the floor or from below knee level. The high-pulley setup allows the individual to pull the handle down from above the head or from shoulder level. The main benefit of cable station is that it can fit into a fairly narrow space.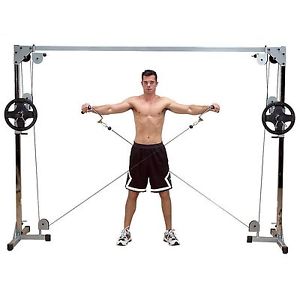 Home exercise equipment we don't recommend
Multistation home gyms. Yes, they look attractive, but these machine can't compete with free weights when it comes to helping you build muscle and strength. Worse, they restrict the functional benefit of your exercise. Furthermore, even the most extensive multi-unit machines will allow exercisers to perform only a limited number of movements in a restricted range of motion. Free-weights can be used in ranges of motion based on the exerciser, not a machine. Finally, Even though most machines have adjustable seats, arm pads, and lever arms, there are limitations to their range and some may not fit the very small or very large person.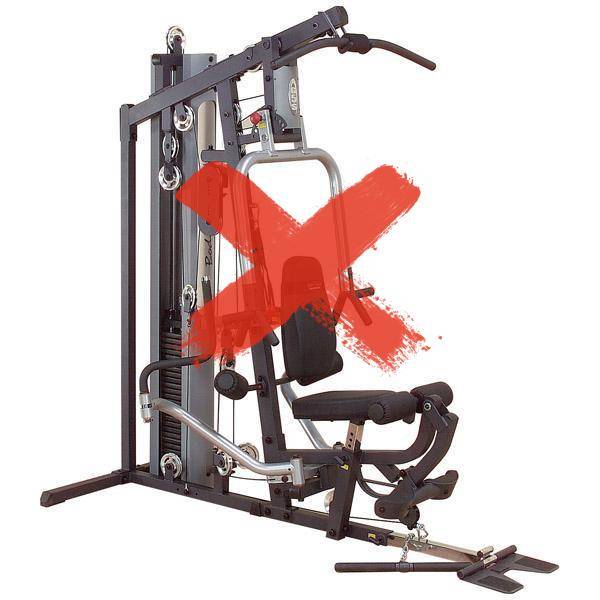 Closing thoughts: Basic home gym equipment
If you want to work out in your own home, a few additional pieces of equipment will help you train effectively on your own. There are various fitness solutions for strength training at home. Your options range from simple hand weights and resistance bands to large home gyms with stationary bikes and weight machines. Select a system that meets your needs. Keep in mind the available space in your home. Then consider the expense of the equipment. You may end up deciding that a membership at a gym is a better choice.