Battling Ropes: Versatile Training Equipment
Battling ropes is taking the fitness industry by storm. This type of exercise equipment is getting so popular that you can see it in sports drink commercials. Most of the tried and true equipment you use at the gym is made of iron—but if you want a more dynamic, fat busting full-body workout, ditch the weights and pick up some ropes.
You might have seen battling ropes on TV in previews of UFC champions and fighters in training preparing for their fights. You can also see battling ropes on TUF (The Ultimate Fighter) TV show. Even celebrities and the Hollywood elite are now incorporating rope training into their training routines. Kim Kardashian is a believer of hardcore rope training and her trainer, trainer of the stars, Gunner Petterson, is training the Hollywood elite with ropes. No, we are not talking about jumping rope. This new type of rope workout is redefining interval and cardio training.
Battle ropes (or battling ropes) are a must-have tool for anyone looking to pack on lean body mass.
What is a battle rope?
Simply put, a battle rope is a heavy, long, thick, and weighted rope that helps improve strength, coordination, speed, explosiveness and cardio. It varies in length and you can move it into virtually any angle.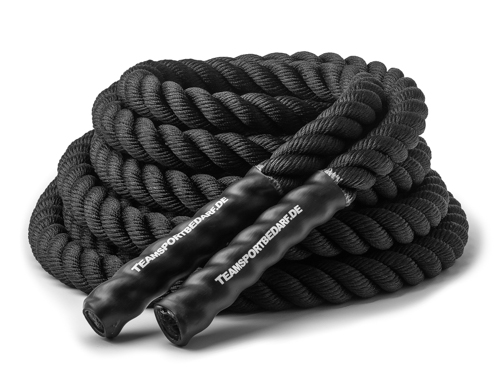 Battle rope training benefits?
No impact cardio workout;
Intense core workout;
Get in the best shape of your life while rehabbing injuries;
Increase maximum heart rates in minutes;
Increase power and speed, which equal velocity;
Heavy ropes can make you burn about 300-500  calories for every 30 minutes;
Increase aerobic and anaerobic capacity;
Increase your motivation and mental endurance;
You'll have other options where to work out apart from your home and the gym;
Increase power and strength;
Increase your body's ability to burn fat;
Improves your grip strength;
Increase athletic ability;
What muscles do battle ropes work?
These heavy ropes work out the legs, arms, back and core. While working out with  the ropes, the upper body and lower body are both engaged.
Upper body muscles – arms and shoulders are working; chest and back muscles are also involved;
Lower body muscles – hamstrings, calves and thighs' tensor muscles are used;  jumps that need extra balance involve the abs;
With battle rope you can train anywhere & anytime…
You can workout at your home, gym, martial arts center, etc. However, working out with heavy ropes can also be done outside, such as the park, or perhaps the beach. By doing so, you'll also take pleasure in the  sun (or moon, if you prefer working out at night) and get some Vitamin D. They aren't too bulky and are easy to set up. Simply pack your ropes into backpack and take them wherever you want.
The next excellent thing is that you can do rope training by yourself or with a partner. You can do it as your sole workout or you can combine them with any other training tool you like such as calisthenics, kettlebells, barbells, dumbbells, sand bags, medicine balls, and Indian clubs, or with plyometric exercises.
Choosing the right heavy ropes
Battle ropes come in many different styles and lengths. The most popular battle rope length is 50 feet (15 m), followed by 40′ (12 m) and 30′ (9 m) respectively. Shorter ropes aren't as fluid, but they allow for smaller spaces.
You have a few options when it comes to thickness: 1.5″ (3,81 cm), 2″ (5 cm) or 2.5″ (6,35 cm). We'd recommend 1.5″ (3,81 cm) for pretty much everyone.
Beginners should choose a 1.5" 50 ft. poly or manila rope. Well-conditioned athletes can go for a 40 or 50 feet 2" poly or manila rope.  As you progress, you can switch to ropes 2″ thicker; you might experience muscle and heart fatigue. When this happens, you can switch between the two ropes – this will help build up your strength and endurance.
What are the most famous battling rope exercises?
There are so many battling ropes exercises, but the wave, battle rope slams, and battle rope pulls are the most famous.
The wave;
Battle rope slams;
Side-to-side pulls;
Jumping jacks;
Closing thoughts about battling ropes
Are you ready to lose weight, get stronger, and get in the best shape of your life? Then get ready for battling rope fitness. Your gains of strength, stamina, and power will be mind-blowing. Fitness training with ropes is a no-impact, high-velocity, pure adrenal surge functional training workout! Battling ropes training drills will help improve your grip strength, improve your ability to increase power and sustain that power output for longer periods of lime. It will also improve your aerobic and anaerobic capacity, teach the muscles of the entire body to work together to maximize performance, and add a fun new twist to your workout.