Even with a balanced, healthy diet, you may want to consider supplementation to help promote overall health and support performance goals. Aside from a multivitamin, many athletes, bodybuilders, and regular gym-goers consider taking branched-chain amino acids (BCAAs). Branched-chain amino acids are unique for more than just their composition. In this article, you'll find out what makes BCAAs so special and what benefits you can expect from taking BCAA supplements.
What are amino acids and why there are so important?
Every cell in the body is comprised of proteins. Amino acids are the chemical substances that makeup protein. Our bodies use 22 amino acids to make the 50,000 different proteins we must have to be healthy. Your body uses these different amino acids to grow muscle. Some can be produced by your body, others cannot. Of the 22 amino acids, there are 8 that are essential for human nutrition.
An essential amino acid is one that cannot be synthesized from other available resources and therefore must be supplied as part of the diet. Three amino acids — leucine, isoleucine, and valine — are classified separately from the other essential amino acids. These are structurally distinct branched-chain amino acids (BCAA), "branched" because of their molecular structure, which resembles a tree branch.
Non-essential amino acids don't need to be supplied in the diet as they can be synthesized from other dietary substances. Nearly every food, with the exception of fruits, sugars, fats, and oils, has enough protein to supply our necessary amino acids if we eat enough of it to get our day's worth of calories.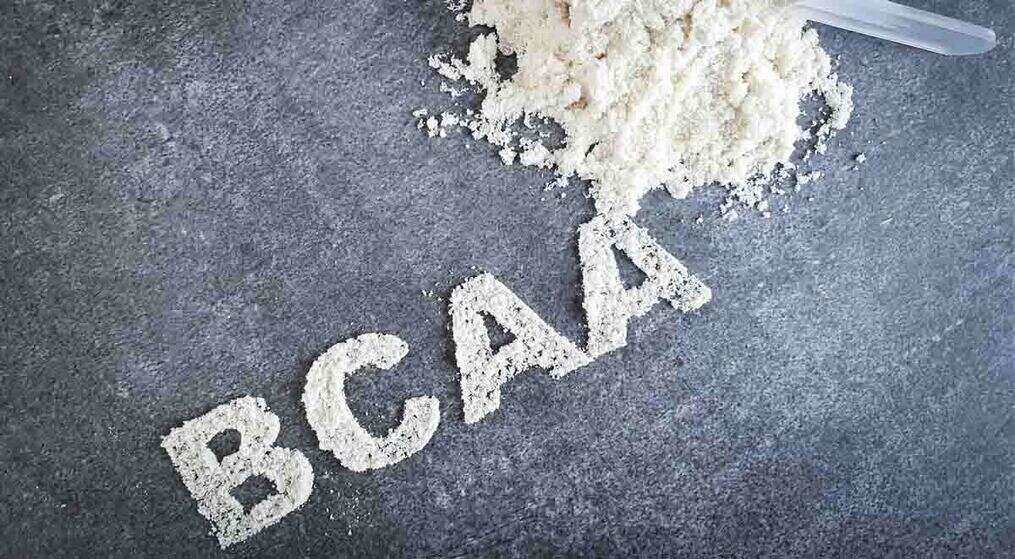 What are BCAAs (branch-chain amino acids)?
BCAAs, or branched-chain amino acids, are essential amino acids (building blocks of muscle) that help to improve muscle recovery and reduce muscle breakdown. You will often find them in pre-workout supplements in various forms, including powders and pills.
Branched-chain amino acids consist of three amino acids that have a branched molecular configuration: valine, leucine, and isoleucine. These three amino acids account for a third of the skeletal muscle. Once ingested, BCAAs bypass the liver and go straight to the muscle tissue, quickly transforming into an available energy source – exactly what you need when working out. In other words, muscles may use BCAAs for fuel when muscle glycogen is depleted.
What are the three BCAAs and what is their function?
The three BCAAs are leucine, isoleucine and valine. They work together to prevent fatigue and maintain muscle mass and strength during times of physical stress, including intense workouts.
Leucine is a branched-chain essential amino acid that stimulates muscle protein synthesis and may be the major fuel involved in anabolic (tissue-building) reactions. During times of starvation, stress, infection, or recovery from trauma, the body mobilizes leucine as a source for gluconeogenesis (the synthesis of blood sugar in the liver) to aid in the healing process. It has recently been suggested that leucine may have beneficial therapeutic effects on the prevention of protein wasting, as it occurs during starvation, semi-starvation, trauma, or recovery after surgery.
Insulin deficiency is known to result in poor utilization of leucine; therefore, individuals who suffer from glucose intolerance may require higher levels of leucine intake. Leucine, therefore, lowers elevated blood sugar levels and aids in growth hormone production. Excessively high intake of leucine may contribute to pellagra, a disease due to niacin deficiency, and may increase the amount of ammonia in the body. Leucine is found in cottage cheese, sesame seeds, peanuts, dry lentils, chicken, and fish.
Isoleucine is a branched-chain amino acid that is important for blood sugar regulation, muscle development and repair, hemoglobin development, and energy regulation. Deficiencies of isoleucine result in possible dizziness, headaches, fatigue, depression, confusion, and irritability. People suffering from many different mental and physical disorders have been found to have isoleucine deficiency, which can lead to symptoms similar to those of hypoglycemia. Isoleucine is found in eggs, fish, lentils, poultry, beef, seeds, soy, wheat, almonds, and dairy.
Valine is the third BCAA. It is needed for muscle metabolism, tissue repair, and for the maintenance of proper nitrogen balance in the body. Valine is found in high concentrations in the muscle tissue. It is also one of the three branched-chain amino acids, which means that it can be used as an energy source by muscle tissue. Valine may be helpful in treating liver and gallbladder disorders and it is good for correcting the type of severe amino acid deficiencies that can be caused by drug addiction. Dietary sources of valine include dairy products, grain, meat, mushrooms, peanuts, and soy proteins.
To make a long story short, leucine has anti-catabolic properties and is possibly the most important of the three BCAAs because of its capacity to stimulate muscle protein synthesis. Isoleucine is both glucogenic and ketogenic. It helps prevent muscle wastage and promotes tissue repair – important for anyone on a training program. It's also important as it helps maintain blood glucose levels. Finally, valine promotes nitrogen equilibrium, repairs tissue, and can stimulate the central nervous system – essential for optimal cognitive functioning. The optimal ratio of leucine, isoleucine, and valine is 2:1:1.
Best food sources of BCAAs
Branched-chain amino acids (leucine, isoleucine, and valine) are amino acids found in protein-rich foods such as eggs, meat, poultry, fish, dairy products, and legumes.
| Food | Isoleucine, mg | Leucine, mg | Valine, mg |
| --- | --- | --- | --- |
| Chicken breast (1/2) | 1409 | 2002 | 1324 |
| Beeg, ground, regular (3.5 oz) | 1022 | 1797 | 1106 |
| Shrimp (3 oz) | 862 | 1411 | 836 |
| Yogurt, nonfat (1 cup) | 711 | 1310 | 1076 |
| Beans, pinto (1 cup) | 676 | 1222 | 801 |
| Egg (1) | 343 | 538 | 384 |
| Oatmeal (1 cup) | 248 | 459 | 335 |
Reasons for bodybuilders and athletes to take a BCAA supplement
The theory behind supplementation is that BCAA can help prevent the breakdown of muscle tissue during intense exercise.
If you work out at the gym, run, cycle, or swim on a regular basis you could potentially use more BCAAs than you get from your food. That's where a supplement can be useful. Having a sufficient supply of BCAAs is essential for bodybuilders, weightlifters, and endurance athletes.
Without adequate BCAAs, molecular growth and development can't take place. If you aim to build muscle you should ensure you ingest enough of these three very important amino acids.
Because they are metabolized in the muscles, BCAAs are quickly absorbed and provide a rapid, available source of energy just when you need it most.
Finally, the idea behind BCAA supplements also relates to a phenomenon known as central fatigue, which holds that mental fatigue in the brain can adversely affect physical performance in endurance events.
The benefits of BCAAs
When combined, these three powerful amino acids may:
BODYBUILDING RELATED BENEFITS
Decrease exercise-induced muscle damage;
Promote (trigger) muscle-protein synthesis;
Help preserve muscle in athletes who are dieting;
Reduce delayed onset muscle soreness (DOMS);
Aid rapid recovery;
Increase testosterone levels post-workout;
OTHER BENEFITS
Support the action of insulin;
Regulate blood sugar levels;
Enhance mental functioning during periods of stress;
Act as a readily available energy source;
Assist with fat loss;
Improve appetite in malnourished older adults;
Improve the overall function of people with advanced liver disease and hepatic encephalopathy;
How to use BCAA supplements (dosage)?
Because BCAAs offer a quick energy source, and aid in the repair and building of muscle, the best time to take them is on your training days: before, during, and after the training. Every product will list recommended dosages so do read the instructions carefully. We recommend taking BCAAs with respect to your body weight as follows:
150 lbs. (68 kg) or less – 3 grams before, during, and after training (9 grams in total)
151 lbs. (69 kg) or more – 5 grams before, during, and after training (15 grams in total)
Extra benefits in terms of protein synthesis and muscle preservation can be derived from taking BCAAs at other times of day, but this should be in addition to the above, not instead of. BCAAs are best taken on an empty stomach.
Types of BCAA supplements
BCAA supplements come in various forms.
The most common way BCAAs are consumed is in powder form. BCAA powders began as straight unflavored powders that you could mix with protein, post-workout, or other supplements.
Another popular way to buy BCAA supplements is in capsule or pill form. Generally, these products are not as common as BCAA powders because in order to get the required dosage of BCAAs you have to take quite a few pills and the digestion time is generally slower than powders. In addition, BCAA pills tend to be larger than most other pill supplements.
You can also find them in liquid form. The fluid enables the fastest possible delivery of amino acids.
Tips for choosing the right BCAA supplement
Always look for a 2:1:1 ratio of leucine, isoleucine, and valine.
Look for BCAA supplements that are free of artificial additives, including sweeteners, colorings, and flavors.
Check if the BCAA supplement is CGMP certified and third-party tested for purity and potency.
Do you really need a separate (standalone) BCAA supplement?
BCAAs are found in good amounts in most protein supplements (especially whey protein supplements) and meal replacement products, so it is probably not worth taking them if you already use one of these products.
BCAAs supplement or Whey protein powder?
Given the numerous benefits already listed above, it may tempt you to take BCAAs in isolation, without taking additional protein powder or other essential amino acids. However, research has shown that whilst BCAA ingestion by itself following exercise increases muscle protein synthesis, the lack of other essential amino acids limits the amount of protein synthesis that occurs. BCAAs taken with protein powder maximize muscle growth following strength training. No doubt, taking whey protein is more beneficial than taking BCAAs alone.
Are there any side effects?
BCAAs are relatively safe because they are normally found in protein in the diet. Excessive consumption may lead to nausea, diarrhea, or tummy upsets for those with sensitive stomachs. Also, excessive intake may reduce the absorption of other amino acids.
Closing thoughts about taking BCAA supplements
BCAA supplements probably won't improve your performance but, at doses of 6–15 g (as used in the studies at the University of Virginia), may help improve your recovery during hard training periods by reducing muscle protein breakdown and post-exercise injuries. However, it isn't entirely necessary to supplement with BCAA's as they tend to be found in high-protein foods and are already part of your diet if you're consuming foods containing protein. Whey protein products also contain BCAA's also, meaning if you're taking a protein, you're most likely already supplementing with it.