Weight-loss success is not an accident—it's a good habit. It may take a month or so to see subtle results, so be patient. You've started something that we hope you'll continue, even after the numbers on the scale match up with your ideal. However, even if you are consistent in keeping your "good habit," you may find you have reached a weight-loss plateau (fat loss plateau). In relation to losing weight and working out, "plateau" might as well be a four-letter word. But what does the plateau really mean? Is it all in our heads? Learn more about plateaus, including some of the causes, why it may not really be a plateau at all, and most importantly, what you can do to break through yours.
What is a weight-loss plateau (fat-loss plateau)?
A plateau, in general, is a stubborn standstill. This is not something characteristic exclusively for weight loss (fat loss). Many of you are surely already familiar with a weightlifting plateau, which we already wrote about in one of the previous articles. A weight-loss plateau is when the body finds a comfortable weight to maintain. It is typically described as two or more weeks without any weight loss. For those trying to lose weight, the term does not adequately describe the frustration that is felt when the pounds stop coming off. Many people in the midst of dropping, say, 50 pounds, hit a plateau just when those last seven pounds need to come off. When it comes to dieting, this plateau is very real, and it can be extremely frustrating.
Reasons for hitting a weight-loss plateau
It is important to know that a plateau is often a normal part of weight loss. It is possible to do all the right things and still experience a slowdown in your results. A week or two without a loss isn't necessarily cause for alarm, it may just be your body's way of settling into your new regime. When a plateau stretches past the two-week mark, however, it is time to evaluate what you are doing on a daily and weekly basis.
What really happens is this: by losing weight, you've told your body to just stop burning fuel, to prepare itself for a period of famine. Our bodies are programmed to prevent weight loss for survival. Thus your metabolism is lowered in an attempt to slow the use of your fatty energy reserves.
Physiological Factors Contributing to Weight-Loss Plateaus
By understanding the physiological and psychological factors that contribute to weight-loss plateaus, you can approach them with a sense of empowerment and knowledge.
Metabolic Adaptation
Muscle Gain and Fat Loss
Water Retention
Genetic Predisposition
Metabolic Adaptation: When you consistently consume fewer calories and engage in physical activity, your body adapts to this change by reducing its metabolic rate. This adaptation can occur due to a decrease in body weight, decreased muscle mass, or hormonal changes. As a result, your calorie expenditure decreases, making it harder to continue losing weight at the same rate.
Muscle Gain and Fat Loss: As you engage in strength training and resistance exercises, you may build lean muscle mass, which is denser than fat. Although this is beneficial for overall health and body composition, the scale may not reflect a significant change in weight due to muscle gain. Muscle is metabolically active and can increase your basal metabolic rate, supporting weight loss in the long term.
Water Retention: Fluctuations in water balance can affect the number on the scale. Factors like sodium intake, hormonal changes, inflammation, and glycogen storage can cause temporary water retention, masking actual fat loss. This can give the illusion of a weight loss plateau.
Genetic Predisposition: Each individual's genetic makeup can influence their response to weight loss efforts. Some people may have a slower metabolism or a greater tendency to retain weight, making it more challenging to lose weight consistently.
Psychological Factors Contributing to Weight-Loss Plateaus
Stress and Emotional Eating
Unrealistic Expectations
Lack of Variety and Adherence
Insufficient Sleep
Stress and Emotional Eating: Emotional stress can lead to emotional eating, where individuals turn to food as a coping mechanism. This can disrupt progress and contribute to weight loss plateaus. Additionally, stress can increase cortisol levels, which can hinder weight loss efforts.
Unrealistic Expectations: Setting unrealistic expectations for weight loss can lead to frustration and disappointment when progress slows down. It's essential to have realistic and sustainable goals, understanding that weight loss is not always linear.
Lack of Variety and Adherence: A lack of variety in your eating and exercise routines can lead to boredom and decreased adherence. This can impact motivation and make it more difficult to continue making progress. It's important to find enjoyment in your healthy lifestyle and incorporate variety to sustain long-term commitment.
Insufficient Sleep: Inadequate sleep or poor sleep quality can disrupt hormonal balance, increase appetite, and affect energy levels. This can hinder weight loss efforts and contribute to plateaus.
Evaluate Your Routine
If you've experienced two weeks without weight loss, it is time to examine your daily and weekly routines. Unfortunately, one bad day can erase many days of hard work and proper nutrition, so it is important to look at what you are doing as a whole, rather than a day at a time. If you have been doing very well Monday through Friday, but tend to consume many calories on the weekend in the form of food or drink, you may need to change those habits to get back on track. Perfection in your diet is not a realistic expectation, but if you are routinely sabotaging several days' worth of effort, you will need to get to the root of the problem to change it.
Strategies for Overcoming Weight-Loss Plateaus
The way to dodge a weight-loss plateau is very straightforward—you must increase your activity level. This will boost your metabolism, and your body will continue to burn energy at a nice clip. This is why diet and exercise go hand in hand. Dieting without exercise produces insufficient results, especially when it gets down to those last few pounds.
Implementing the following strategies to overcome plateaus will help you break through barriers and continue on your journey toward sustainable weight loss and increased energy levels.
Evaluate and Adjust Caloric Intake
Implement Calorie Cycling
Focus on Strength Training
Increase Intensity or Variety of Workouts
Consider High-Intensity Interval Training (HIIT)
Track Non-Scale Victories
Manage Stress and Emotional Eating
Prioritize Sleep
Seek Support
Stay Persistent and Patient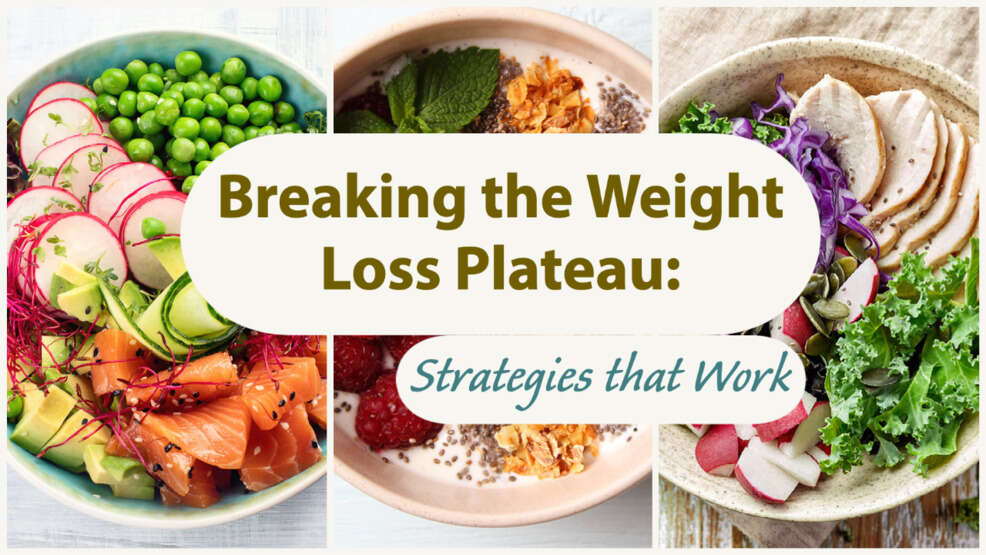 Evaluate and Adjust Caloric Intake: Reassess your caloric needs and adjust your intake if necessary – based on your current weight, activity level, and goals. As your body adapts to your current calorie intake, you may need to further reduce your calories to continue creating a calorie deficit. Be aware of your body's hunger and fullness cues and avoid overeating. Consider using smaller plates, measuring serving sizes, and incorporating more vegetables and lean proteins into your meals.
Implement Calorie Cycling: Rather than consistently consuming the same number of calories every day, try calorie cycling. This involves alternating higher-calorie days with lower-calorie days to keep your metabolism stimulated and prevent it from adapting to a specific calorie intake.
Focus on Strength Training: Incorporate strength training exercises into your fitness routine to build lean muscle mass. This can help increase your metabolic rate and support ongoing weight loss. Aim for a combination of cardiovascular exercises and resistance training to maximize results. Include exercises that target major muscle groups and progressively increase the resistance or weights you use.
Increase Intensity or Variety of Workouts: If you've been following a consistent exercise routine, consider increasing the intensity of your workouts or incorporating new activities. Challenging your body with different exercises or higher intensity levels can help break through plateaus and stimulate further progress. Incorporate interval training, circuit training, or high-intensity interval training (HIIT) to boost calorie burn and stimulate further weight loss.
Consider High-Intensity Interval Training (HIIT): HIIT workouts involve short bursts of intense exercise followed by periods of active recovery. These workouts can be effective for breaking through plateaus, as they maximize calorie burn and increase cardiovascular fitness.
Track Non-Scale Victories: Instead of solely relying on the scale, focus on other indicators of progress such as improved fitness levels, increased strength, enhanced endurance, and better overall well-being.
Manage Stress and Emotional Eating: Develop effective stress management techniques to prevent emotional eating and manage stress levels. Engage in activities like meditation, yoga, journaling, or seeking support from a therapist to address emotional triggers and develop healthier coping mechanisms.
Prioritize Sleep: Ensure you're getting adequate sleep and practicing good sleep hygiene. Aim for 7-9 hours of quality sleep per night. Create a relaxing bedtime routine, establish a consistent sleep schedule, and create a sleep-friendly environment to optimize sleep quality.
Seek Support: Lean on your support network for guidance, motivation, and accountability. Join online communities, find workout buddies, or seek the guidance of a registered dietitian or fitness professional. Sharing your challenges and successes with others can provide the encouragement and support you need to overcome plateaus.
Stay Persistent and Patient: Remember that weight loss plateaus are a normal part of the journey. Stay persistent, continue following healthy habits, and trust the process. Plateaus are temporary, and with time and consistency, you will push through and continue making progress.
Closing thoughts: Breaking Weight-Loss Plateau
A weight-loss plateau refers to a period where progress slows down or halts despite continued adherence to a healthy eating plan and regular exercise.
So yes, weight-loss and workout plateaus do exist, but they don't have to exist for you. You now know how to dodge them – just keep moving and seek variety.