Cable Internal Rotation Exercise Guide
In this article you will learn how to train your rotator cuff muscles with cable internal rotations. This move is a must-do as a warm-up before any shoulder workout to help prevent injuries. Internal rotations build the subscapularis muscle that lies under the front deltoid. This exercise can also be performed in a seated position. You cannot perform this exercise with a dumbbell while standing upright, because gravity does not provide resistance for the rotator cuff. But you can easily perform dumbbell internal rotation while lying across a flat exercise bench or while lying on a floor.
Exercise Instructions
STARTING POSITION (SETUP): Stand upright next to a cable pulley sideways and grasp the single hand cable attachment with the arm nearest to the cable (your inside hand). Adjust cable pulley to a middle position (at waist height). Your inside forearm is perpendicular to your torso and parallel to the floor.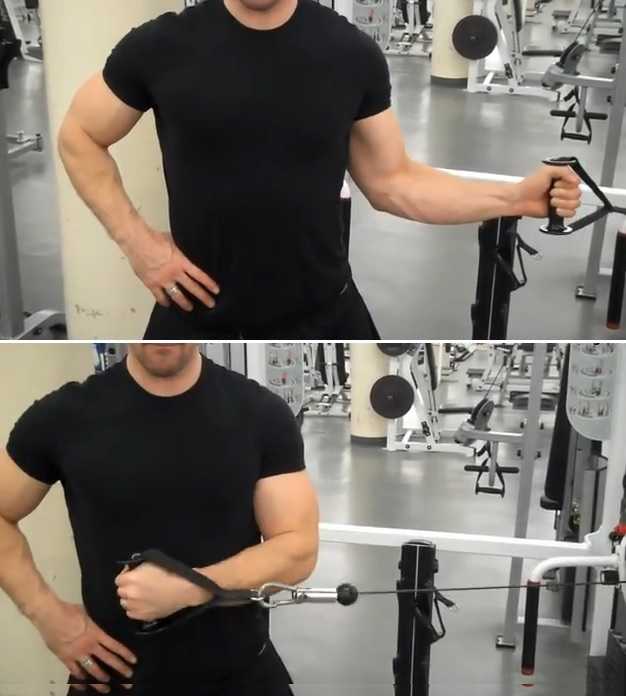 MOVEMENT (ACTION): With your elbow held firm against your waist and your forearm parallel to the floor, pull the handle inward across the front of your body until your forearm reaches your midsection. You will be creating an imaginary semi-circle (horizontal arc across the front of your torso). Slowly return to the initial position. Complete all reps with that arm, then switch arms, facing the opposite direction.
 Important Tips for Cable Internal Rotation
Keep your body (especially upper arm) still. Make sure you only rotate your shoulder and don't move any other part of your body. Imagine that your shoulder is the hinge of a door that is opening and closing.
Your elbow should stay as close as possible to the waist and the upper arm has to stay aligned vertically and held tight against the side of your body.
Your working forearm is perpendicular to your torso and parallel to the floor during the movement.
Your hand moves through a horizontal (90-degree) arc across the front of your torso.
You can place a rolled up towel under your armpit to make it more comfortable on your shoulders.
Look straight forward and keep your back straight.
This rotator cuff exercise is not designed for heavy weights. Use light weights. Do at least 20 repetitions. The burn that results from doing long sets with light weights will help you better feel the work in the subscapularis.
Variations
Seated Cable Internal Rotation – start off sitting with your legs flat on the floor next to a low cable pulley machine and follow the same instruction given above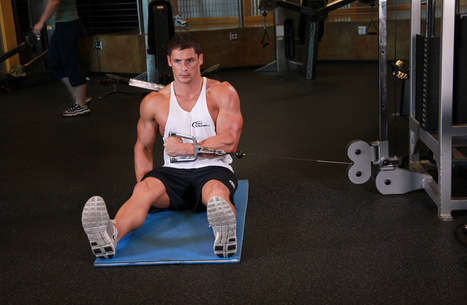 Muscles Engaged in Cable Internal Rotation
Main muscles: subscapularis, pectoralis major
Secondary muscles: (latissimus dorsi, teres major), deltoid (front), biceps (long head), (serratus
anterior and pectoralis major)
Antagonists: infraspinatus, teres minor