The Pallof press, named after physical therapist John Pallof, has become a popular anti-rotation exercise over the last decade. Unlike the most core exercises, the Pallof press is performed while standing, which adds a unique stability challenge throughout the lower body.
Exercise instructions
Here are step-by-step instructions on how to perform cable Pallof press with perfect form.
STARTING POSITION (SETUP):
Position a standard pulley handle to a cable machine at approximately chest height.
Grab the handle with both hands (fingers interlocked) and stand perpendicular to the pulley handle on the machine with the feet just outside shoulder-width apart.
The body should be far enough away from the machine that the cable is under tension (manageable amount of resistance).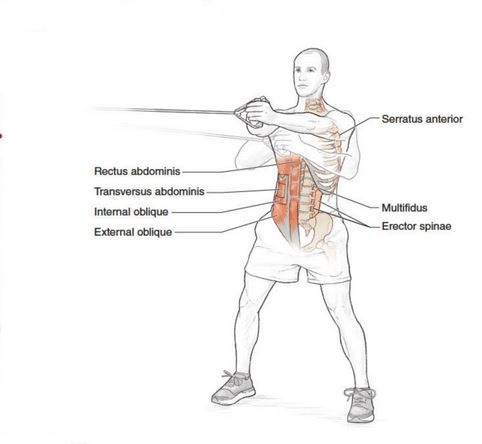 MOVEMENT (ACTION):
Beginning with the hands at the chest and a slight bend in the knees. squeeze the glutes and then press the cable away from the torso, fully extending the arms.
Hold the extended position for 4 to 10 seconds.
Return the hands to the starting position in a controlled manner.
After completing all repetitions on one side, switch sides.
Additional tips & Performance pointers for cable Pallof press
There are some tips that will help you get even more out of this already amazing core exercise.
This movement should be slow and controlled. Rather than trying to complete the repetitions as quickly as possible, focus on engaging the core muscles and keeping the body tight.
The cable is going to want to rotate your body inward, so make sure to keep tension in the body. Only the arms should move, not the torso or hips.
Brace your abs and squeeze your glutes while straightening your arms in front.
Tuck the chin to avoid neck strain.
Maintain a tall posture, with the shoulders parallel to the floor.
If you find it difficult to prevent the hips from moving. try widening your stance or lightening the load.
Cable Pallof press video demonstration
This video is designed to show you exactly how to perform cable Pallof press using perfect technique so you can get the most from this great core exercise.
Exercise variations for cable Pallof press
Primary muscles activated
Isometric phase (with handle In right hand):
Shoulder (horizontal adduction on side holding handle): biceps brachii, pectoralis major upper and lower fibers, coracobrachialis, deltoid anterior fibers
Trunk (isometric flexion): rectus abdominis, erector spinae, internal oblique, external oblique
Hip (isometric external rotation): gluteus maximus, gluteus medius posterior fibers, piriformis, gemellus superior and inferior, obturator externus and internus, quadratus lemoris
Replacement Exercises
Try these other core exercises.
Closing thoughts
Cable Pallof press engages the lower body musculature with the core to resist trunk rotation. It challenges the body's ability to resist a twisting motion. This provides a unique test for strength athletes who rarely encounter twisting forces during normal barbell training.