How to determine your target heart rate range?
In order to improve your cardiovascular system's performance, you must first determine your target heart rate. Your target heart rate is the range where your body is able to most efficiently increase cardiovascular fitness. In this post you will find out what are the three heart rate zones and how to stay in right cardio zone during your training.
What are the three heart rate zones?
When you begin your exercise program, aim for the lower part of your target zone (60 percent). As you get into better shape, slowly build up to the higher part of your target zone (90 percent).
There are three heart rate zones that focus on specific aspects of cardiovascular performance. These three zones are endurance (lower intense fat-loss zone), aerobic, and anaerobic. By targeting any one of these zones, you can control the benefits you get from cardiovascular exercise. The following table illustrates the range of these zones and their benefits.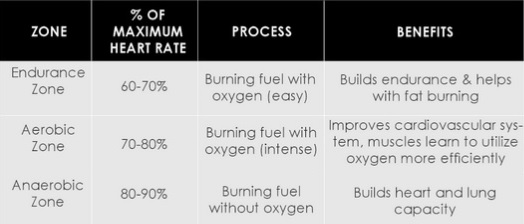 By varying the duration and intensity of a workout session, you can aim to achieve specific results. For example, to lose weight effectively, you should maintain an exercise program that focuses on endurance. This means engaging in low intensity exercise over long periods of time. However, the debate rages as to which is the best zone.
Finding your target heart rate or training level
Determine your maximum heart rate
The first step in finding your target heart rate is to determine your maximum heart rate (MHR). Your maximum heart rate is a function of your age. In order to determine your maximum heart rate, enter your age into the equation below:
220 – Age = Maximum Heart Rate
For example, if you are forty-five years of age, your maximum heart rate will be 175 beats per minute (bpm). You never want to exceed this rate because it could put too much strain on your heart. As you get older, your MHR typically decreases.
Multiply that number

by the appropriate percentage

to get your target heart rate
A 45-year-old, for example, has an MHR of 175 (220 -45 = 176) beats per minute (bpm). If this person wants to train in the endurance zone (see the table above) he needs to multiply his MHR by 0.60 to get his lower level threshold, and multiply his MHR by 0.70 to get his upper level threshold. So, if you are 45 years old, your lower level threshold would be 175 x 0.60 = 105 beats per minute, and your upper level threshold would be 175 x 0.70 = 123 beats per minute. This would make your fat burning zone (endurance zone) 105 to 123 beats per minute.
Once you have calculated your endurance (fat burning) zone, for example, be sure to adjust your intensity during exercise to stay within those upper and lower limits. Periodically check on your heart rate using one of the methods listed below.
What is you want to train in the aerobic zone instead of the endurance zone? In that case you should multiply your MHR by 0.70 to get you lower level threshold, and multiply your MHR by 0.80 to get your upper level threshold. The following chart shows the range of target and maximum heart rates by age.
How can you tell how fast your heart is beating?
Your heart should be beating within your target heart rate zone. If your heart is beating faster than your target heart rate, you are exercising too hard and should slow down. If your heart is beating slower than your target heart rate, you should exercise a little harder.
To see if you are exercising within your target heart rate zone you have several options:
(1) Manual pulse control
You can measure your heart rate by feeling your pulse on your wrist or on your carotid artery on your neck. All you need is a wrist watch that shows seconds. Count your pulse for 10 seconds and multiply by 6. Now you have your heart-beats per minute. It's only a slight inconvenience to stop and take your pulse.
(2) Heart rate monitor
During aerobic exercise you may consider wearing a heart rate monitor to measure the intensity of your workout. This is the correct way to determine whether or not you're working hard enough to reap cardiovascular benefits or too hard and need to slow down.
To obtain the most accurate data, choose a model that has a chest-strap, which measures the heartbeats right at your heart. These impulses are transferred to your wrist-watch and are quite accurate. A popular manufacturer is POLAR. Pulse rate monitors are available in sporting goods stores starting at $70.00.
(3) Alternative ways of measuring heart beats
Can't get it that way? Try the talk test. Research from the University of Wisconsin discovered that the point where it started to become difficult for subjects to talk corresponded to 75%-80%  of their MHR. Work out at an intensity just below the point where it starts to become difficult to talk and you'll be burning body fat at a maximal rate.
You don't have to measure your heart rate every minute to figure out your intensity. Once you know the treadmill speed that gets your heart rate to the desired level, adjust the workout each minute by speed.
Closing thoughts
When prescribing cardiovascular exercise, the intensity (how hard the individual should exercise) should be carefully considered. Before agreeing the level of the exercise with an individual, it is useful to understand the benefits of exercising at different levels of intensity, otherwise known as the heart rate zones. In basic terms, each specific training zone is related to a heart-rate range in which certain benefits might be expected. The zones are not exact, but they are useful as a guide to cardiovascular training as the benefits relating to each zone are reasonably accurate. If your heart rate is above the target, work at a slower pace. If it's below the target, increase the intensity of your workout. You should always stay within the upper and lower limits for you desired training zone.