In recent years calisthenics has really seen a huge leap forward, in terms of its popularity and of the movements being performed. Anyone reading this who is familiar with YouTube will no doubt have seen many amazing videos where ordinary people perform feats of inhuman strength and muscular control, using equipment no more advanced than a pull-up bar. This is the essence of what calisthenics means; using the body to perform feats of strength that are rarely seen in other training disciplines.
Calisthenics (CALS) and Bodyweight training (BWT) defined
Calisthenics (American English) or callisthenics (British English), from the Greek "kalos" for beautiful and "sthenos" for strength, refers to exercises that incorporate simple, natural body movements using only the weight of your body as resistance to increase strength, flexibility, mobility, agility, and endurance.
It is a matter of learning to control your body for optimal results but the basics are easy for anyone, male or female, young or old. Bodyweight training (BWT) is simply another name for calisthenics activities because of the fact that only the weight of your body is used to perform the exercises.
Benefits of calisthenics
Calisthenics when performed vigorously and with variety can benefit both muscular and cardiovascular fitness, in addition to improving psychomotor skills such as balance, agility, and coordination. Most sports and activities require a combination of nervous system and muscular system training. Calisthenics and bodyweight exercises provide both
due to the ability to tailor each exercise to your particular goals.
Doesn't require a gym membership (it's free)
Requires little or no equipment
Helps you move better IRL
Helps you maintain proper form
Improves brain-body connection
Maximizes exercise efficiency
Improves your overall athleticism
Builds serious strength
Builds core strength
Hits every single muscle
Gentler on joints and connective tissue
Makes you feel like a badass
Helps you burn fat
Let's you train anytime & anywhere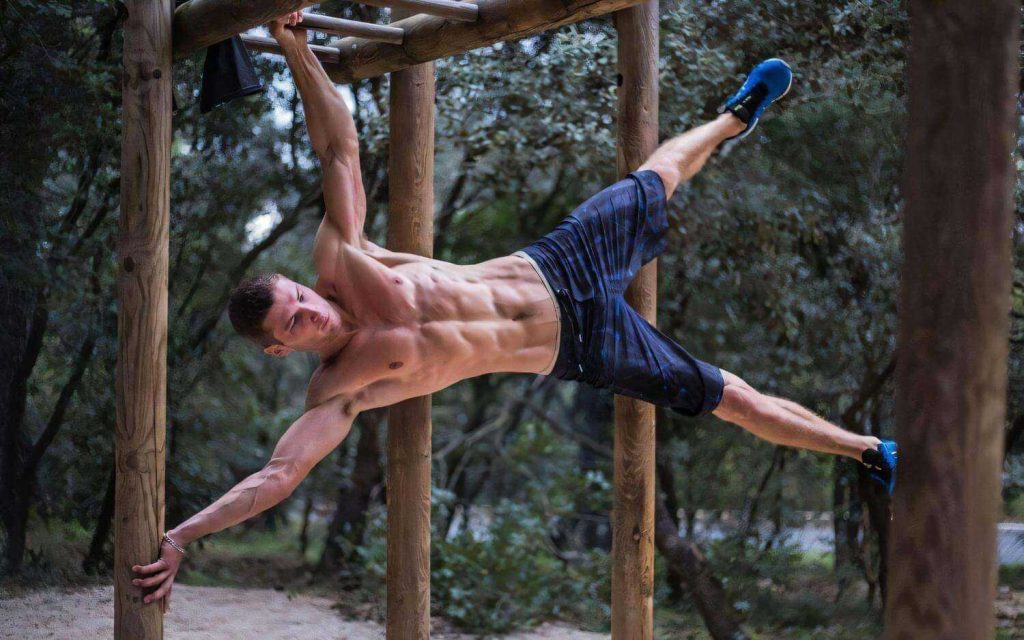 Disadvantages of calisthenics
Even though there are many benefits to performing calisthenics, there are a few drawbacks as well, and it is worth considering those as well.
Difficult to build huge strength in the lower body. Because no weights are used it can be difficult to build huge strength in the lower body using just your own bodyweight as the resistance. The lower body is home to the biggest and most powerful muscles in the body, such as the quadriceps and glutes. This means that they need to contract against a lot of resistance to elicit any strength gains. The unfortunate fact is that there are not a huge number of calisthenic exercises that we can use to provide enough resistance to build huge strength.
Hard to design exercises that incorporate decreased leverage principles. The upper body is home to many exercises that rely on this concept to increase strength gains, such as the planche, the front and back lever, and many others. There is no way around this fact, which is why on nearly every calisthenic video you see the person will either not look like he trains legs, or will not perform any lower body exercises.
Weight cannot be added to increase resistance. There are some exceptions, like in the case of weighted pull-ups, etc., then we have to rely on the method of decreasing the amount of leverage to make the movement more difficult. Whilst this is an extremely effective way of making an exercise more challenging, it is not the same as increasing the load on a barbell by a few kilograms or pounds every few weeks.
Movements involved in calisthenics
Accelerating and decelerating
Bending
Jumping
Kicking
Pulling and pushing
Squatting
Swinging
Twisting
When you look at the range of calisthenics movements, you will discover that aerobics, gymnastics, pilates, running, yoga, martial arts, and walking are all actually considered calisthenics activities. The preparation for all of these activities begins with the very basic movements that are included in the playlist for calisthenics.
Calisthenics exercises
Almost all calisthenics exercises are functional exercises. In other words, these exercises resemble real-world movement patterns that you do regularly.
Although there are literally hundreds of different options that qualify as calisthenics or bodyweight exercises, the basics are where they all begin.
Some examples of calisthenic exercises include:
Bridges
Burpees (Squat jump thrusts)
Crunches
Jumping Jacks
Lunges
Oblique leg lifts
Push-ups
Pull-ups
Chin-ups
Sit-ups
Dips
Squats
Planks
These basic exercises can be easily adapted for both total beginners and extremely advanced exercisers. Just for example, there are so many different types of pull-ups, squats, push-ups, dips, etc. While beginners will perform basic wide-grip pull-ups, advanced exercisers will perform more difficult versions of the same exercise: L-sit pull-ups, commando pull-ups, rock-climber pull-ups, kipping pull-ups, typewriter pull-ups, towel pull-ups, one-arm pull-ups, or even muscle-ups.
The same logic applies to all exercises listed above. While the beginners will start with the basic push-ups, advanced exercisers will interested in executing more advanced movements like swiss-ball push-ups, one-arm push-ups, deep push-ups, decline push-ups, clapping push-ups, spiderman push-ups, archer push-ups, etc…
There are also extremely demanding abdominal & core exercises for advanced exercisers.
Calisthenics equipment
We all know that you technically don't need any piece of equipment to get started with calisthenics or bodyweight exercises. However, there are some pieces of calisthenics equipment you would probably like to have in your arsenal. The best thing is that they are all really cheap and affordable for most people. We would highlight the following items as the most important (the last three items are really just optional):
Dip Bars
Parallettes
Gymnastics Rings
Workout Mat
The Iron Neck
Massage Gun
20 Best Exercises To Start Calisthenics | + Beginner Workout Plan
It is important to start with calisthenics the right way. A wrong start can easily result in injuries and loss of motivation and self-confidence. Luckily, the guys from the Calisthenics Family have made an excellent video that can serve as a starting point for your journey through the world of calisthenics in order to achieve your dream body while learning calisthenics skills.
As a beginner, we highly recommend you start with these 20 exercises. These are the basics and a great starting point to develop a good strength foundation to move on to a harder calisthenics exercise. At the end of the video, you will also find a full beginner workout plan so you can get started straight away.
As you will see from the video, these 20 exercises are divided into four main categories: 1. Push exercises (working your chest, shoulders, and triceps), 2. Pull exercises (working your lats, biceps, and upper back), 3. Core exercises (targeting 6-pack abs, obliques, and lower back), and 4. Leg exercises (working your quads, hamstrings, glutes, calves, and lower back). You have to perform exercises from each category in order to develop a solid strength foundation, stabilization, coordination, balance, and full body control.
Also, notice that for each main exercise, you can find easier variation (bottom right corner) until you develop the strength and skills necessary to perform the main one.
Here is a calisthenics workout for beginners (taken from the end of the above video) that works various parts of the body for a complete, full-body workout:
Calisthenics Beginner Workout Plan
Monday
Wednesday

Friday
PUSH
PUSH
PUSH
Dips (4 x 6-10 reps)
Pike push ups (4 x 6-10 reps)
Straight bar dips (4 x 6-10 reps)
Push ups (4 x 8-15 reps)
Triceps extensions (4 x 6-10 reps)
Frog stand (4 x 10-30 sec)
PULL
PULL
PULL
Pull ups (4 x 4-8 reps)
Skin the cats (4 x 3-5 reps)
Pull ups (4 x 4-8 reps)
Rows (4 x 8-15 reps)
Chin ups (4 x 4-8 reps)
Biceps curls (4 x 6-10 reps)
CORE
CORE
CORE
Elbow plank (4 x 15-45 sec)
Butterfly hold (3 x 15-30 sec)
Side plank (3 x 15-45 sec)
Superman hold (4 x 15-45 sec)
Hollow hold (4 x 15-30 sec)
Leg raise (4 x 4-8 reps)
LEGS
LEGS
LEGS
Pistol squats (3 x 2-6 reps)
Single leg glute bridge (3 x 4-8 reps)
Single leg deadlift (3 x 4-8 reps)
You exercise 3 times a week. On each workout you perform 2 push, 2 pull, 2 core, and 1 leg exercise. All exercise from the plan are demonstrated in the video.
Calisthenics vs. weight training
Calisthenics uses your body weight as resistance, whereas weight training builds your strength using external weights like dumbbells, barbells, medicine balls, kettlebells, or gym machines.
Closing thoughts about calisthenics
The beauty of calisthenics is that it depends completely on your own body weight and involves functional motions – full-range movements that are natural for all the activities you perform daily. Along with improved general fitness, adding calisthenics to your daily routine will help you lose weight and inches, gain lean muscle mass and tone, and improve your cardiovascular health with greater endurance.