Pre-work supplements are relatively new on the market. In recent years they become popular for use among people who are engaged in physical activity, as well as among athletes. They are also known as NO reactors. Pre-workout supplements typically have different ergogenic ingredients. When ingested together, these components are meant to affect synergistically to enhance athletic performance. So, today, we're taking you through what we experienced with Cellucor C4 Original Pre-Workout, what the science says, and how we rate it overall. Let's see if it is worthy of its apparent popularity.
What are pre-workout supplements and do I need one?
Pre-workout supplements may increase your exercise capacity, but they are certainly not required to achieve a good workout. Like everything else, it's totally up to you.
These products are intended for use when they are really needed; when you are tired, when you leave work for training or when you are simply not in the "zone". Then they can speed up your training.
Brief product description & key product features
We have gone through many different pre-workouts in order to find a few that we think are worth highlighting – Cellucor C4 Original Pre-Workout is for sure one of them (together with the previously analyzed Optimum Nutrition's Gold Standard Pre-Workout and a few more).
Description
Cellucor C4 Original is a new level of sophisticated innovation with an improved formula whose ingredients help improve energy, focus and performance. The C4 was a worldwide explosion when it was first launched in 2011. It has helped gym addicts, weekend fighters and sports contestants develop into original legends.
Key product features & ingredients
C4 brings a unique combination of Caffeine, CarnoSyn® Beta-Alanine, Creatine Nitrate (NO3-T®), Arginine Alpha Ketoglutarate, and many important vitamins (vitamin B6, vitamin B12, vitamin C, folic acid, and niacin.
Contains only high quality ingredients.
Each serving size (6 g or 1 level scoop) contains 150 mg of caffeine anhydrous (made from the seeds and leaves of coffee plants), 1.6 g of CarnoSyn® Beta-Alanine, 1 g of Creatine Nitrate (NO3-T®), 1 g of Arginine Alpha Ketoglutarate.
Cellucor C4 Original is ideal for anyone who wants top performance.
A large selection of different flavors: Orange, Watermelon, Green Apple, Strawberry Margarita, Icy Blue Razz, Fruit Punch, and Pink Lemonade. This make the experience of drinking it more pleasant.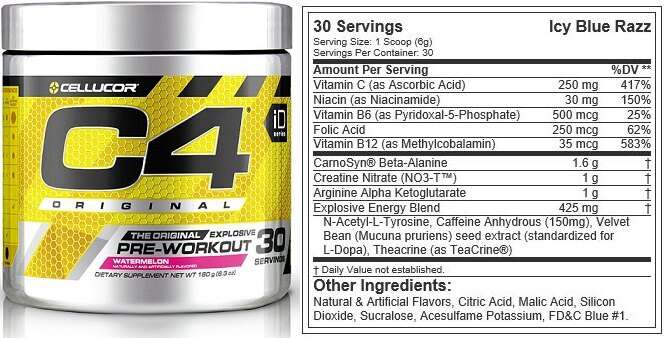 Cellucor C4 Original pros and cons
Pros (key benefits)
Pump booster – via a unique patented combination of creatine and nitrates;
Explosive energy booster – from 150mg of caffeine;
Muscular endurance enhancer – thanks to the CarnoSyn® Beta-Alanine;
Helps combat muscular fatigue;
Increases attention and concentration;
Adds mood to training;
All natural ingredients – this is very important since the lack of synthetic additives could make side effects less likely;
Cons (key disadvantages)
It uses a proprietary blend – you can't see how much of each ingredient it contains (you could be overpaying for low dosed ingredients);
Contains velvet bean which seems to be a strange addition as it's normally found in mass building supplements;
Suggested use (method of application)
Take one serving (1 level scoop) of Cellucor C4 Original, mixed with 6 fl. oz of water 20-30 minutes before training and you are ready to go by the time the workout starts..
Also make sure you always eat something light an hour before working out as well to avoid an upset stomach. Usually a light protein shake an hour before and a pre-workout drink thirty minutes before does just the trick. This will keep you full and not make you nauseous during your workout. If you're not sure what will work for you, always start with small portions and document how they make you feel. It might take some experimenting to find your sweet spot or if you should eat and/or drink pre-workout at all.
If you continue to take pre-workout on a regular basis (daily), your body can build up a tolerance to its effects, which is why we advise cycling the supplement, or coming off it for six to eight weeks at a time to give your body a chance to reset.
Cellucor C4 Original side effects
If you're using the product exactly according to the manufacturer's instructions on the package, you should not feel any unwanted side effects on a larger scale. This applies to a perfectly healthy person.
However, Cellucor C4 produces notable stimulatory effects. This is a common feature of all supplements of this type available on the market. Therefore, some individuals may experience a harmless tingling sensation, which is attributed to beta alanine. You will also have to reduce your intake of caffeine from other sources (such as coffee, tea, etc.) while using this pre-workout formula.
Finally, a word of warning: Don't take this before bed – you'll be up all night putting your record collection in alphabetical order. Also, it's not suitable for pregnant and lactating women, persons under 18 years of age, people taking medication to treat erectile dysfunction such as PDE-5 inhibitors, etc. There are a number of other health conditions that do not allow you to take this supplement. We cannot count them all here. It is therefore crucial that you consult a licensed, qualified, healthcare professional before using this product.
What is the cost?
You can find a 30-serving container for $29.99 (or 60-serving for $49.99), which is a little less than a dollar for each serving. This provides you with a good value that is easy to handle when compared with many other supplements. Prices are taken from the official website of the manufacturer and are valid at the time of writing this review.
Which company is behind C4?
Cellucor is an American sports nutrition brand, specializing in dietary supplements, bodybuilding supplements, and energy drinks. The brand is wholly owned by Nutrabolt, an independently owned sports nutrition company and headquartered in Austin, Texas.
Has any research been done on Cellucor C4 Original Pre-Workout?
There is no clinical research conducted on the product itself. However, the active ingredients are backed by numerous researches proving that they really useful in enhancing athletic performance.
Cellucor C4 Original vs. Cellucor C4 Ripped
C4 Ripped is a pre-workout, much like its predecessor C4, but there are a few key differences that separate the two. Mainly, C4 Ripped is designed to help you lose weight, as well as enhance your workout. Another specific difference is that C4 Ripped contains no creatine. If you've been on the hunt for a creatine-free pre-workout that also helps you burn fat, consider picking up C4 Ripped. In short, the difference is that you can find "fat-burner" ingredients in the Ripped version (L-Carnatine, Green Coffee Bean Extract, Capsimax Cayenne Fruit Extract, and Coleus Forskohlii Root Extract) and also don't get the creatine which is going to bulk your body.
Summing up (Final verdict): Should you buy Cellucor C4 Original Pre-Workout?
Yes, it's a decent product! Millions of people – from beginners to elite athletes – rely on Cellucor C4 Original to help them change their ambitions into success. The new generation Cellucor C4 contains beta alanine, creatine and other well researched substances (see full list of ingredients) that improve productivity, concentration and strength. In spite of everything, our first choice would still be Optimum Nutrition's Gold Standard Pre-Workout which is far more potent. But this pre-workout can also give you a nice push you need to squeeze out those extra reps.
Rating Breakdown: Cellucor C4 Original Pre-Workout
User Ratings (

4

Votes)