How to pick the right gym for you? If you are planning on purchasing a new car, most people will go to many car dealerships and "kick the tires" on many comparable cars. This should also be done when purchasing a gym or fitness facility membership.
Gyms can offer a wide variety of amenities and services.Joining a fitness club may be one of the best ways to get the results you're looking for, but joining the wrong one still remains one of the best ways to waste your hard-earned dough. With more and more gyms springing up with dollar-saving offers that seem a little too good to be true, it makes it hard to know which one's up your alley. Or which one is perfectly matched to meet your personal exercise and fitness goals. With all of the gyms to choose from, it can be hard to evaluate whether you're joining the right one. These tips can save you from choosing the wrong gym instead of the right one for you. Therefore this checklist for finding a good gym should make your choice easier.
What are the major types of gym organizations out there?
Major national chains like Bally's. Depending on the type of membership you purchase, you may have access to all the chains locations or just the ones in your local area.
Regional chains, like Sports & Health and Crunch, can be a great value by having more than one location in your area.
Franchised gyms like Gold's Gym, World Gym and others are national brands, but are individually owned.
Community organizations and cities often create recreation centres and offer their facilities to local residents. Because they are often tax supported, they may be less expensive and may have amenities like pools, ice rinks, and indoor sports fields that are cost prohibitive for private facilities to own and operate.
The last type of gym is the independently owned and small group facility. The smaller gyms may offer better services and more opportunities to work with a trainer one-on-one.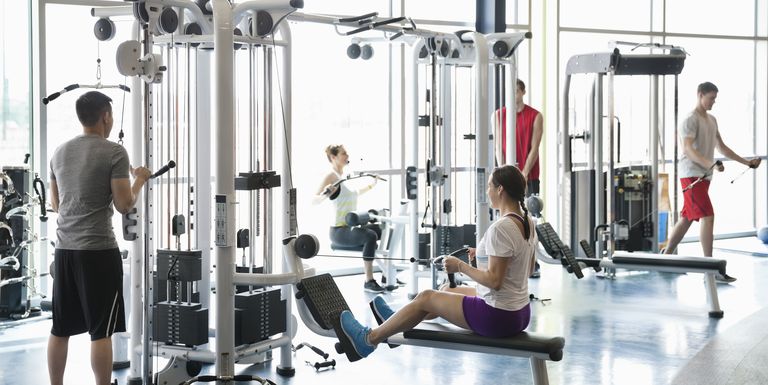 How to pick the right gym for you?
Some tips for finding a good gym to join:
Gym Location (Traveling Distance and Time)
Time you travel to the gym is a crucial factor. Is it close to home or work? Decide how far you are prepared to travel. If the journey takes you more than 15-20 minutes you are unlikely to visit the gym regularly in the long term once the initial novelty has worn off. Most experts agree that picking a gym that's any farther than that reduces your chances of staying committed to exercise considerably. This is something you definitely want to avoid at all costs. Also, if you typically spend more time at work than at home and figure you'll be leaving for the gym from work, then choose a gym that's 15 minutes away from your workplace instead.
Working Hours
If you would like to train early in the morning before work or late at night before bed, it is logical that you want your gym to work at that particular time.
Type of Equipment
Is there a good range of equipment to suit your needs? If you want to build mass, you will need plenty of free weights, benches and racks. If you are more interested in general fitness and toning, you may prefer a greater range of machines and lighter free weights.
Cardio equipment availability
Does it have lots of aerobic exercise machines? Are they usually occupied at the time of day you want to use them? Is there a time limit on machine use? Many gyms have a 20- or 30-minute limit on machines during peak hours. You'll eventually get on, but you may have to interrupt a longer workout session until another machine becomes available.
Standard and Safety of Equipment
Good equipment does not need to be state-of-the-art shiny machinery. Check that the equipment is well maintained with no broken or loose attachments, and is regularly cleaned and tested.
Watch How the Staff Treats the Paying Customers
Don't be fooled by all the extraordinary attention you might get when checking out a new gym. If you're walking around with the gym manager, the rest of the trainers and staff know you're most likely a potential client, so trust us, they are on their best behavior. Instead of being fooled by having the staff shower you with niceties, look around to see how they treat the rest of the people exercising around you. Watching if the staff is just as attentive to the regular gym members can tell you what to really expect from them down the road.
Gym Layout
Is there good air circulation? The gym should be well ventilated and well laid out, with enough space between equipment to prevent accidents and overcrowding. Some gyms keep the aerobic area as warm as the weight lifting area. This isn't a good idea, as it can lead to overheating.
Hygiene
Be sure to check hygienic conditions when you first visit the fitness center. Are the devices clean? What is the smell of space? Take a look at showers and toilets. There is simply no excuse for poor cleanliness of the space. First of all, you came to the gym to improve your health, not go backwards.
Atmosphere and Motivation
The gym environment should be motivating for you as a individual. Some gyms are very busy and noisy, others are quieter, it is important to train in an atmosphere that suits your temperament. Try to get an idea of the type of members who train there – are they serious body builders or general fitness trainers, sociable or quiet.
Instruction
Check that the instructors are professionally qualified. Most instructors should have a certificate in fitness training or weight training, or hold a degree in sports science or a related subject. However, most coaches today stand with their arms crossed and watch television in the gym or talk to their friends.
Arrange a Trial Workout
Can you get a free pass to try out the place for a few days before signing on the dotted line? Most gyms will be happy to arrange a trial workout. Arrange to visit at the same time as you plan to exercise so you can see whether the gym becomes overcrowded and you need a queue for equipment.
Cost
Make sure you find out the true cost of joining a gym. Some require an initial non-refundable joining fee, plus an annual or monthly membership subscription others may allow you to pay for each workout: multiply this by the number of times you intend to train per year. Also make sure you clear about what the membership buys you, weather you need to pay extra for other facilities, and ask about different payment methods. Find out whether any discount are available(e.g. off-peak membership).
Summing up: Tips for finding a good gym
Selecting a fitness facility that will meet your needs is a challenge. If you need the expertise of a qualified personal trainer to help you get started, that should be the number-one criterion when selecting where you will work out. Ideally, the facility you choose will have both qualified personnel and a variety of equipment and programs to meet your training needs. Also, if you choose a gym on the other side of town, you will hardly have the motivation to constantly travel there. Your ultimate goal is to find a gym that you will feel comfortable in, meet all or your needs, and will help you achieve your health and fitness goals. We recommend that you tour at least three gyms before you make a decision.