Chia seeds – God's gift to runners and other endurance athletes
The word chia means "strength" in the Mayan language, and making you stronger is one of the primary benefits of chia. Among Native Americans, chia was particularly known for its ability to help people run all day without tiring. Therefore, there is a well known connection between the chia seeds and endurance training. These small seeds are among the best natural endurance foods for athletes. But chia is not just for endurance running or strength training. Chia helps to solve many of the problems of modern diets and modern lifestyles.
Brief history of chia seeds
Chia is simply amazing. It comes to us from the Mayans, Aztecs, Incas, and other ancient Native American cultures. These people and their descendants have raised chia for more than 5,000 years. It was one of the primary food crops of Native Americans and was highly valued—so much so that chia seeds were used as money. This small seed grows on a flowering plant called Salvia Hispanica that belongs to the mint family.
Chia seed nutritional data and facts
Chia seeds are among the most nutritious foods on the planet are nutritionally superior to flax and soy.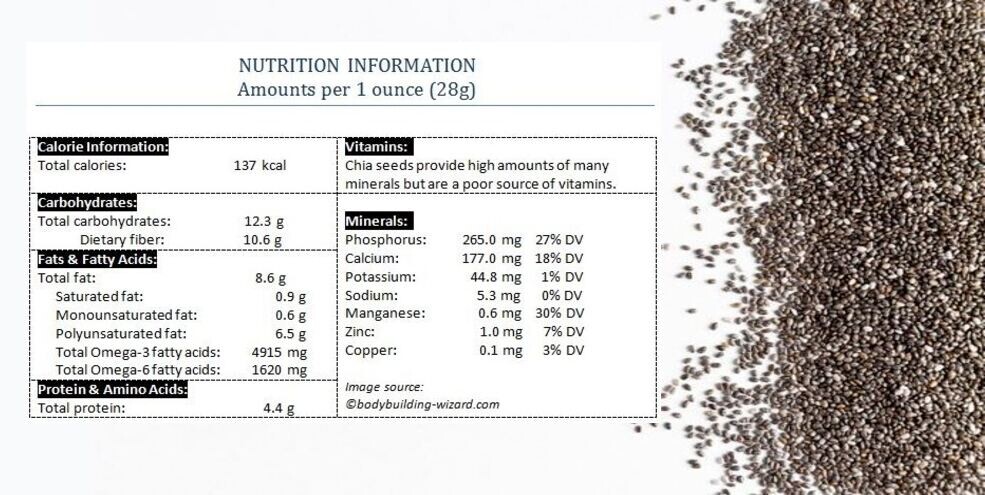 An excellent source of fiber. 1 ounce (28 g) of chia seeds contains approximately 12 g of carbohydrate. This is pretty high, however, almost 11 of those grams are fiber. This makes chia seeds a low-carb friendly food, and one of the best sources of fiber in the world. Fiber is good for digestion and actually cleans out your gut. It also helps your body to absorb all the nutrients in your food more efficiently.
Rich source of omega-3 fatty acids (among the highest omega-3 content of all plant foods). Chia contains omega-3 fatty acids (4915 mg per 1 ounce) that are all too rare in the modern diet, where the less healthy omega-6 acids predominate. Omega-3 is an essential nutrient that is responsible for keeping your heart and cholesterol levels healthy. Since our bodies cannot naturally produce omega-3 fatty acids, we need to get them from the food we eat.
Rich in protein. Almost 4.5 grans per 1 ounce is certainly not negligible. Protein, among other things, helps people lose weight faster. This is because the high consumption of protein discourages or reduces appetite and cravings.
High in minerals. One gram of chia seed has fifteen times more magnesium than broccoli, six times more calcium than milk and three times more iron than spinach. Zinc, cooper, manganese, selenium, potassium, and phosphorus and also there, in larger or smaller quantities.
How chia seeds affect athletic performance? Why chia seeds and endurance training go hand in hand?
What are the benefits of chia seeds for athletes? As you already know, chia seeds and endurance training are perfect match. There are many reasons for these claims.
Aztec warriors used carbohydrate-rich chia seeds as an energy booster – giving you a far greater pick-me-up than any carbohydrates, sugar, or caffeine ever will. Greater endurance over long periods of time is guaranteed because of the high fiber content of chia seeds. The high fiber content of chia seeds slows down the process of transforming carbohydrates to sugar. This allows the slow and gradual release of energy and the stability of blood sugars. This results to an increase in the level of energy and the movement of joint.
The Tarahumara Indians of Mexico are famous for running hundreds of miles with little rest or food, and chia is a mainstay for them. The Tarahumara, and their use of chia, are featured in Christopher McDougall's book Born to Run: A Hidden Tribe, Superathletes, and the Greatest Race the World Has Never Seen.
It is, therefore, not surprising that chia is now becoming a mainstay for runners and other endurance athletes in our current culture. They are touted as "God's gift to endurance runners" and "the Muhammad Ali of nutrition." Baltimore Ravens running back Ray Rice, who is well known for his healthy diet and lifestyle, sees chia seeds as giving him a boost. The conclusion is self-evident: chia seeds and endurance training are simply inseparable.
Chia seeds and weight loss
People who are trying to lose weight can feel full without eating a lot of food. Chia seeds have the ability to help people lose weight without making them feel that they are starving. Because of all the fiber, chia seeds can absorb up to 11-12 times their weight in water, turning gel-like and expanding in your stomach. Although some studies have shown that chia seeds can help reduce appetite, they have not found a statistically significant effect on weight loss. However, given their nutrient composition, it makes sense that chia seeds could be a useful part of a weight loss diet. Chia thus helps to solve one of the biggest problems people have with modern diets: the tendency to overeat.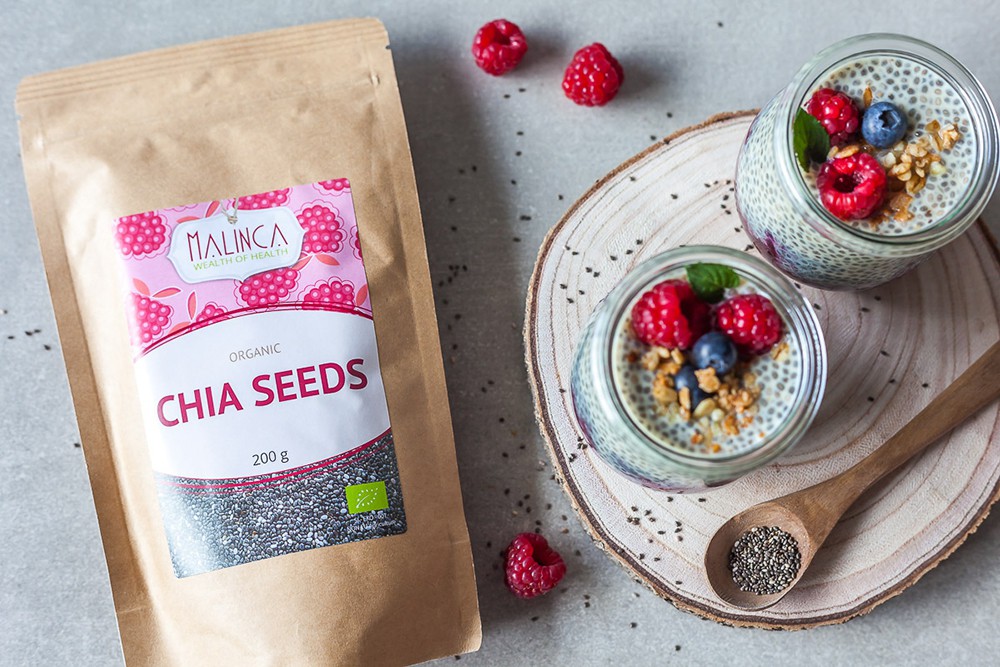 Health benefits of chia seeds
There are a lot of health benefits that a person can get from chia. No wonder since it's one of the best example of nutrient-dense foods.
Helps keep blood pressure down;
Lowers LDL (bad) cholesterol;
Increases HDL (good cholesterol);
Promotes heart health;
Helps fight diabetes;
Builds healthy bones;
Protects from becoming overweight;
Improves oxygen transport throughout the body;
Increases sexual performance and enjoyment;
Can eating chia seeds be harmful?
In large doses, chia seeds can have blood-thinning effects. If you're taking blood-thinning medications, consult with your doctor before incorporating these seeds into your diet. Chia seeds also contain a plant compound called phytic acid, which can combine with minerals such as iron and zinc and inhibit their absorption.
How to incorporate chia seeds into your diet?
Here are some ways to enjoy chia seeds:
Add chia seeds to baked goods.
Sprinkle chia seeds on cold or hot cereal.
Mix chia seeds in your oatmeal.
Top your low-fat yogurt with chia seeds.
Mix chia seeds in your vegetable or rice dishes.
Add them to a smootie.
With chia seeds you can add nutrients to cottage cheese, sandwiches, soups, beverages, and salads. Adding chia to protein or fiber drinks can help stimulate bowel function.
Tasty chia pudding recipe
This is a simple and delicious way to include more chia in your diet. It brings some wonderful sweetness, so it's perfect for dessert!
Ingredients:
cup coconut "mylk" or any of our other nut or seed mylks
2 tbsp. maple syrup
1 tsp. alcohol-free, organic vanilla extract
1/2 tsp. cinnamon
1/2 tsp. nutmeg
2 tbsp. chia seeds
1 ripe banana
Mylk is an alternatively spelled word used to describe plant derived "milks", like from soy, almonds, coconuts, peanuts, cashew, hemp, sesame, etc.
This recipe looks great when served in a glass. Add the mylk, maple syrup, vanilla, cinnamon, nutmeg, and chia to the glass. Stir until well blended. Place the glass in the fridge to chill. After 30 minutes, stir the mixture again to evenly distribute the chia seeds. Now, allow it to set for a further 4 hours in the fridge.
Mash the banana and gently stir into the chia pudding. You can transform the flavor of this simple chia pudding by changing the type of mylk or fruit. Mango, strawberries, blueberries, and peach are some of our favorites.
Closing thoughts: Chia – athlete's superfood
Chia seeds recently gained popularity despite being an ancient grain because it has a lot of nutritional benefits and is relatively easy to incorporate in any meal plan. Despite being tiny in size, chia seeds are one of the best sources of various nutrients that are needed by our bodies. A few sprinkles of this amazing and very nutritious grain can instantly make a meal healthier. The best part is that it does not have a strong flavor so it can be easily fed to anyone, especially children, without them noticing.

Chia seeds are also very special for their ability to boost endurance. Aztec warriors, said to be among the fiercest the world has ever known, used them to keep going in battle (as an energy booster). Therefore, chia seeds and endurance training are perfect match. People who have no interest in other athletic endeavors still want to feel like champions in their intimate lives, and chia is famous for its contribution here, too. So chia can be part of a virtuous circle for your life and health, making it easier to feel good, look good, and enjoy yourself.