Poultry generally includes meat from chickens, turkeys, geese and ducks. It is the second most widely eaten type of meat in the world, accounting for about 35% of total meat intake worldwide, compared to pork and beef (36% and 22%, respectively). For bodybuilders geese and ducks have too much fat and should be avoided.
When putting together a bodybuilder diet (especially a pre-contest diet), protein requirement is the first area you should look at. Protein is important because it is the only macronutrient that repairs and rebuilds muscle tissue. Because building and maintaining muscle mass is one of your primary goal as an intensely training bodybuilder, eat protein throughout the day to maintain a positive nitrogen balance. Having positive nitrogen balance is the only way to maintain and build muscle mass.
Though it can be obtained from a variety of sources, chicken and turkey are among the most popular protein-rich foods. The menu of every non-vegetarian bodybuilder is almost unthinkable without poultry meat – chicken and turkey. Poultry meat is a good source of high-biological-value proteins which are crucial for building and protecting (fat-burning) muscle mass.
In this article, we present all the benefits of consuming poultry meat as well as the basic differences between chicken and turkey meat. We will also reveal ways in which you can make the already healthy poultry meat an even healthier source of high-value amino acids.
Chicken Vs. Turkey: Protein Content
Chickens and turkeys both have light and dark meat, which have different nutritional profiles. The meatiest parts of a bird are the flight muscles on its chest, called "breast" meat, and the walking muscles on the legs, called the "thighs" and "drumsticks".
Overall, turkey contains fewer calories and moderately more protein than chicken, except for the chicken breast, which has more protein.
Table 1: Protein content of some raw and cooked (roasted) poultry
Chicken protein content (g/100 g)
Turkey protein content (g/100 g)
Whole with skin, raw
18.6
21.6
Whole skinless, raw
21.4
22.6
Whole, with skin, roasted
27.3
28.6
Whole, skinless, roasted
28.9
29.1
Breast with skin, raw
20.9
21.9
Breast skinless, raw
22.5
23.3
Breast with skin, roasted
29.8
29.0
Breast skinless, roasted
31.0
29.5
Drumstick with skin, raw
18.1
20.0
Drumstick skinless, raw
19.4
20.5
Drumstick with skin, roasted
23.4
28.2
Drumstick skinless, roasted
24.2
28.6
Data from USDA National Nutrient Database for Standard Reference
Breast meat is one of the most popular cuts of poultry, especially among fitness enthusiasts and dieters due to its high protein and low calorie content. As you can see from Table 1 there is very little difference is protein content of white meat cuts of chicken and turkey. Either choice would be a good protein boost for a meal. Both chicken and turkey breasts contain all of the essential amino acids your body requires on a daily basis.
You'll see more of a difference across the board when comparing chicken wings to turkey wings and chicken drumstick with turkey drumstick. Chicken wings are slightly higher in total calories, sodium, and saturated fat. They do, however, contain the same amount of protein and percent daily value of iron.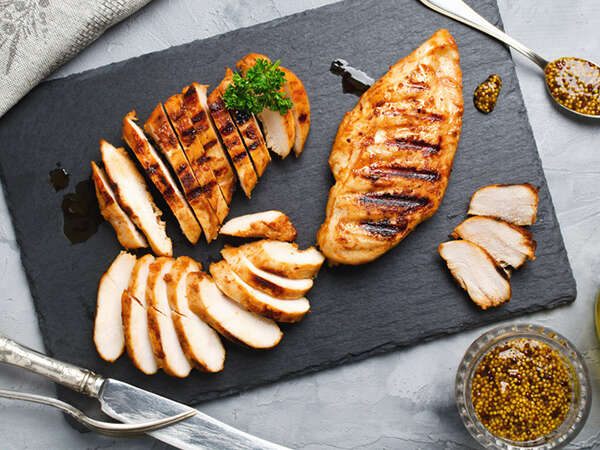 Chicken Vs. Turkey: Carbohydrate Content
Even though muscles contain extremely small quantities of the carbohydrate glycogen, used by the bird as a readily available source of energy, the carbohydrate content in a proximate analysis of poultry is assumed to be "zero" unless carbohydrates are added during preparation or processing as in battered and breaded products or if these cuts are seasoned with fresh herbs or spices. These seasonings add less than 1.5 grams of carbs per teaspoon. Therefore, no matter which type of poultry you enjoy you won't get any carbohydrates.
Chicken Vs. Turkey: Lipids
Compared to other types of meat, poultry appears to be relatively low in fats, which can increase during preparation due to the addition of butter or oil, and to the water loss during cooking. The fat content varies widely depending on the species, age, sex and diet of poultry. Lipid and cholesterol content also depends on the cut, and mainly on the presence of the skin (you can easily remove the skin). This is because most fat in poultry remains confined underneath the skin in contrast to red meats where it is generally distributed throughout the tissues.
The light meat is lower in fat than the dark meat by about half. The backs and legs have the highest fat content, followed by the thigh and breast, but the breast also has the most protein.
Turkey skin has higher fat and lower moisture content than chicken skin; however, light and dark turkey meat with skin has a lower fat content than that of the corresponding chicken meat with skin, likely due to the surface area-to-meat ratio difference between the two species.
Table 2: Proximate composition and energy values of ready-to-cock poultry (edible portion only)
Type
Meat type/skin
Fat (%)
Energy (kcal/100 g)
Broiler
Light, with skin
11.07
186
Light, without skin
1.65
114
Dark, with skin
18.34
237
Dark, without skin
4.31
125
Skin
32.35
349
Turkey, young hen
Light, with skin
8.10
165
Light, without skin
1.66
116
Dark, with skin
10.25
172
Dark, without skin
4.88
130
Skin
40.62
417
Duck
All, with skin
39.34
404
All, without skin
5.95
132
Goose
All, with skin
33.62
371
All, without skin
7.13
161
Regarding the fatty acid composition of poultry meat, the ratio of saturated fatty acids to unsaturated fatty acids (SFA/UFA) is about 1:3, being lower in breast than in other cuts, and when the skin is removed.
Chicken Vs. Turkey: Micronutrients (Vitamins & Minerals)
Poultry meat is a good source of many vitamins. Niacin is present in good quantity. Whereas, thiamine (vitamin-B1), riboflavin (vitamin-B2) and ascorbic acid (vitamin C) are also present in fair quantity. Poultry liver is a rich source of vitamin A, vitamin B complex and vitamin C.
Poultry meat contains nearly one per cent desired minerals. Some of the important ones are sodium, potassium, calcium, magnesium, iron, phosphorus, sulfur, chlorine etc.
While there is no significant difference in vitamin and mineral content between chicken and turkey, there may be some variations of these nutrients between white and dark meat in general.
The dark meat of chicken is little higher in the vitamins in minerals. Turkey has a little more zinc, iron, potassium, and phosphorus, with less vitamin A and some of the B vitamins.
A Few Tips for Consuming Poultry Protein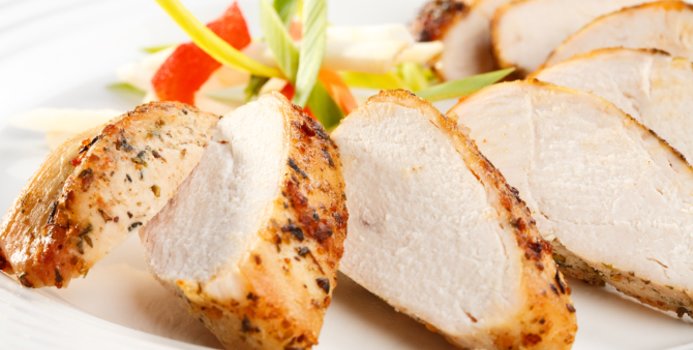 Chicken and turkey are wonderfully versatile sources of protein that can be grilled, stir-fried, or baked. A few pointers:
Lean toward white (breast) meat, which receives more of its calories from protein than dark (thigh and leg) meat.
Purchase skinned breasts or remove the skin before eating.
Ground lean turkey or chicken breast makes great burgers.
Turkey jerky is a convenient snack to have on hand.
Avoid breaded or deep-fried prepared poultry dishes. Fried foods contain high levels of saturated and trans fats and are also higher in calories.
Ducks and geese have predominantly dark meat, which contains more fat than the dark meat of either chicken or turkey. Also, ducks and geese have much more fat in their skins than chicken and turkey and and are therefore much higher in calories. Bodybuilders should avoid them.
Impact on Health
Only a few studies have considered the impact of meat on health in relation to the animal species of origin. From a nutritional point of view, the regular consumption of poultry meat has been associated with many positive aspects (Millen et al., 2014).
Poultry meat, mainly chicken and turkey, is considered nutritionally more valuable than other meats, and the American Heart Association recommendation for the consumption of poultry (chicken and turkey) without the skin are the same as for fish and shellfish, i.e., no more than 6 ounces, cooked, per day. Steroids and other growth hormones are used to produce larger cows, but they are prohibited for poultry.
Closing Thoughts: Chicken Vs. Turkey for Bodybuilding
Both classified as poultry products, turkey breast and chicken breast have quite a few things in common. Besides being economical, chicken and turkey meat provides high-quality protein with respect to biological value and essential amino acid contents. At the same time, it is low in fat (especially if you remove the skin), compared to red meat where the fat is generally distributed throughout the tissues and can't be removed easily .
There are just a few subtle differences between the two. Therefore, it's often difficult to determine which is better. You may prefer the flavor of turkey breast over chicken breast, or vice versa. While turkey is a great choice for healthy meals, many people find it dry and tough. When prepared properly, however, its texture is similar to chicken. In conclusion, poultry is without a doubt the best meat source of protein for lean muscle mass.