We often get asked about what kettlebell to buy and also which size (kettlebell weight) to buy too. The purpose of this article is to help you answer the first and most important question – which type of kettlebell to choose. Choosing the proper kettlebell size we'll leave for some other post.
There are many options available when purchasing kettlebells for your home gym. Differences in brands, weights, designs, and costs may make it difficult for a beginner to make a selection. Keep this information in mind when deciding on which kettlebells to buy.
Kettlebells fall into two main categories:
Professional-grade steel kettlebells
Standard cast iron kettlebells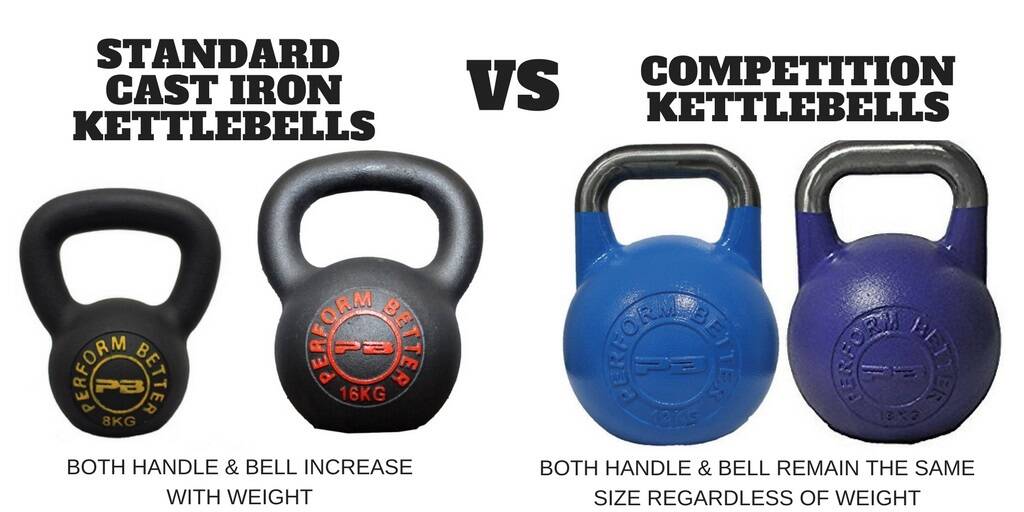 What are the differences between professional-grade and standard kettlebells and which type is right for you?
When choosing kettlebells for a home gym keep in mind the following differences:
Professional-grade kettlebells are made from steel.
Standard kettlebells are cast iron. Since standard kettlebells are made from solid cast iron, the size of each bell increases slightly as the weight gets heavier. You will have to adjust your technique as you increase the amount of weight you use when you are working out with standard kettlebells.
The dimensions of all professional-grade kettlebells (also called competition kettlebells) are the same, regardless of the weight of the bell. Instead, the lighter weights are hollow to maintain the same size as the heavier ones. This means that the kettlebell will rest in exactly the same place on your forearm whether you are using a light or heavy weight. Your technique will not need to change at all even though the weight does. This is why these are the preferred kettlebells for competitions.
Standard kettlebells usually have a painted finish. They may have a rougher surface than competition kettlebells.
Professional-grade kettlebells have a finish made of bare steel. The smooth surface is more conducive with big lifts like the snatch because it allows the bell to roll easier in your hands.
The thickness, width, and shape of the handle and bell of standard kettlebells may vary some between weight sizes and manufacturers.
Professional-grade kettlebells meet specified size criteria. It means that all bells – regardless of the weight – have the same handle and bell shape, thickness, and width.
Professional-grade kettlebells are considerably more expensive than standard kettlebells.
Summing Up: Purchasing Kettlebells for a Home Gym
So what is the bottom line when it comes to purchasing your own kettlebells? Kettlebells have no moving parts and will normally last a person for their entire lifetime. If you are serious about training with kettlebells, try to get the best kettlebells that you can afford to buy. However, keep in mind that professional-grade kettlebells are generally required for competitions and are not necessary for average lifters. Consider the pros and cons of both types, shop around for different brands, and make the selection that best fits your budget.