When buying a kettlebell for your home gym you have to consider two main questions. You have to decide which type of kettlebell to buy, and choose the right size (kettlebell weight) to buy. Choosing the kettlebell's right size is inevitable because it helps you attain the training's full benefits and prevent injury.
Because of their Russian heritage, kettlebells are measured in kilograms (kg), instead of pounds (lb). And unlike dumbbells (which increase by 1-, 2 1/2-, and 5-pound increments) and sandbags (which you can adjust to practically any poundage you wish, down to the ounce), kettlebells take far greater leaps from one size to the next. They also offer fewer size choices.
What is the most common range of kettlebell weights?
The weight of the kettlebell differs, but usually ranges from 8kg to 48kg in increments of 2 or 4 kg. Decades ago, you would have been hard-pressed to find more than three different sizes – with 16 kg, 24 kg, and 32 kg being the most common. Today, the most common sizes you're likely to find are:
4 kg (8.81b), 8 kg (17.61b), 10 kg (221b), 12 kg (26.5 lb), 14 kg (30.8 lb), 16 kg (35.3 lb), 18 kg (39.71b), 20 kg (44.1 lb), 22 kg (48.5 lb), 24 kg (52.91b), 26 kg (57.316), 28 kg (61.71b), 32 kg (70.5 lb), 36 kg (79.4 lb), 40 kg (88.2 lb), 44 kg (97 lb), 48 kg (105.8 lb)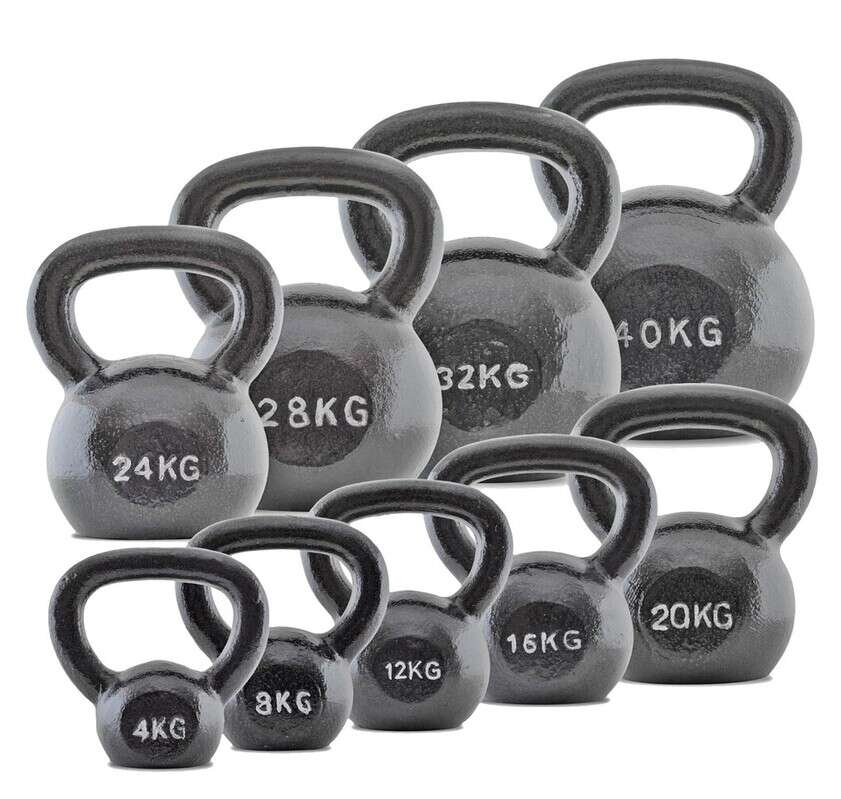 So which one is just right for you?
Most experts feel that the best size for men to start with is a 16-kg (or 35-lb) kettlebell. One easy way to determine if a 16-kg size is either too heavy or too light for your body is to try to push it over your head with one arm and lock your elbow. You should be able to keep the weight stable but still experience a certain degree of resistance. If you can't muster the strength to keep it there for 10 seconds, choose a lighter weight.
Just don't make the mistake of going too light. Many kettlebell exercises – especially many of the mainstay moves, such as Swings and Cleans – are a lot easier to learn using a weight that offers your body a challenging level of resistance. The same warning can be said about choosing a size that's too heavy, which can make it much harder to learn proper form.

To be honest, if you're stronger than the average guy, you may be able to handle a size that's heavier (between 18 and 24 kg). But if you're new to kettlebell training, it may pay off in the long run to start with an average-size kettlebell so that you can focus on form. Once you feel comfortable with your choice, you're done—for now, at least.
Most fitness experts recommend that people learn proper technique first, particularly with the Clean and Press, Snatch, Squat, and Swing. But even once you've mastered these four moves, you may want to wait before investing in a heavier kettlebell. The smarter purchase would be a second bell of the same size, which would allow you to pull off a variety of more advanced double kettlebell exercises. In these exercises you hold a bell in each hand rather than having both hands hold a single kettlebell.
Closing thoughts: Choosing the right kettlebell weight
The giyra, Russian for kettlebell, ranges from very low weight 9 pounds (4 kg) to competition style weight 140 pounds (64 kg), and even higher weights exist. Because many kettlebell exercises involve multiple muscle groups, it can be difficult to determine training loads. The amount of weight recommended for kettlebells depends on the strength and fitness level of the user as well on the exercise itself. You can try with the kettlebell starter sizes chart to see how it goes.
Consider that, unlike bodybuilding, you will not outgrow these kettlebell weights for years. Kettlebell training is geared more for endurance than strength. Therefore you can use the same ones and just add more repetitions as you need to or you can continue to use the lighter kettlebells for exercises that require less weight.