The commando pull-up (also called Tarzan pull-up) is a variation that is fairly popular in military training regimens. This is where the name of this exercise comes from. The military training team will often require you to perform commando pull-ups to help you prepare for rope climbing, and many people found them so effective that they carried on performing them once they had left the military. They are a kind of mixture between a pull-up and the row that we looked at earlier, and have some good carry-over strength to the more difficult movements like the front lever.
Exercise instructions for commando pull-ups
Here are step-by-step instructions on how to perform the in-line pull-ups using the perfect technique to get the most out of this amazing back exercise.
The key idea here is that you will have to pull yourself toward the side on the way up in order to avoid hitting your head. This inevitably creates a unique challenge for your trunk as well as your grip due to the increased lateral instability. Also, here you use a narrow and neutral grip on the bar.
STARTING POSITION:
Stand underneath a pull-up bar so that the bar crosses right between your eyes and grab it with the palms facing in toward each other, making sure that they are close enough on the bar to be touching.
Hang with straight arms and cross your feet to help prevent excessive body motion.
Before you begin the pull, shrug your shoulders down.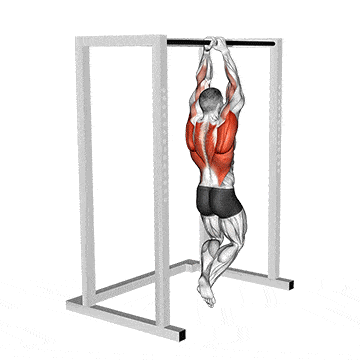 MOVEMENT:
From here, pull as hard as you can and attempt to get your right shoulder touching the bar.
Once you have pulled as high as you are able to, extend your arms again until you reach the start position.
Repeat on the other side, with your left shoulder touching the bar.
Try to perform three sets of eight to ten repetitions.
This counts as one repetition.
For each rep, alternate your head movement from one side to another
Coaching points (performance pointers) for commando pull-ups
These additional tips will help you even further with the proper execution of the exercise.
The first picture shows the hand position for the in-line pull-up.
Ensure that your hands are as close together as possible. Palms next to each other, facing in opposite directions.
Try to keep your elbows as close to your body as you can while pulling yourself up to one side.
Try to pull yourself up until your shoulder touches the bar on one side.
For each set alternate the hand that is in front of your grip.
Squeeze your abs so your trunk doesn't rotate during the move.
Try to perform three sets of eight to ten repetitions.
The difference between regular pull-ups and commando pull-ups
The commando pull-ups engage more bicep and chest than regular pull-ups. This is because you use a narrow and neutral hand grip. However, this is also the case with chin-ups or any narrow grip pull movement. We would say that the most noticeable difference is that the commando pull-ups require you to engage your core muscles to keep your body in the right position. As soon as you even slightly deviate from the coronal plane, your body is going to want to rotate around, you need your core and back to keep you aligned. Also, because you are using a narrow grip, you are recruiting slightly different areas of your back and rear shoulder muscles.
Muscles engaged in commando pull-ups
The commando pull-ups engage the same muscle groups as the regular pull-ups. However, the muscles listed below are engaged in a slightly different intensity (compared with regular pull-ups) for the reasons already mentioned previously in the article (mainly due to the hand position on the bar – both hand grip and width).
MAIN MUSCLES: latissimus dorsi, biceps (short head), teres major
SECONDARY MUSCLES: pectoralis major (lower and outside), triceps (long head), teres minor, rhomboids, brachioradialis, biceps (long head), deltoid (front and rear)
ANTAGONISTS: deltoid, pectoralis major (upper), triceps
Benefits of commando pull-ups
We would distinguish these four main advantages of commando pull-ups:
Build grip strength.
Diversify your workout routine.
Hitting your muscles from different angles.
Prepare you for more advanced pull-up variations.
Core stabilization.
Exercise variations & replacement exercises
There are many different types of pull-ups you can substitute commando variation with:
In-line pull-ups
Towel Pullup
Some variations will be harder on your grip, some will attack your abs, and some will zero in on your upper back—but they're all tough. There are simply no easy pull-ups, that's for sure.
Closing thoughts
We don't think commando pull-ups are any better or worse than regular pull-ups, they are just different. It is a good idea to incorporate this pull-up variation into your back workout from time to time. Mixing up your hand position while doing pull-ups will always result in hitting your muscles from different angles. The main challenge with this pull-up exercise is the increased lateral instability that you will experience while pulling yourself up.