Components of muscular fitness
This article will help you to identify the three essential components of muscular fitness: muscular strength, muscular endurance, and flexibility. We call them primary components because they are the ones most related to health. We'll cover other components, such as speed, power, agility, balance, and coordination in one of our future articles.
Muscular strength, endurance, and flexibility are separate components of muscular fitness, and each requires specific training to obtain optimal results.
Many years ago, muscular fitness occupied an awkward position on the fringe of the fitness movement. We recognized its contributions to performance in sport and some forms of work, but we lacked conclusive evidence linking muscular fitness with health and the quality of life. That situation has changed, and we can now say with con­fidence that both aerobic fitness and muscular fitness contribute substantially to health.
Muscular fitness training increases muscle mass, the furnace that burns fat. Exercises that improve muscular fitness help prevent osteoporosis. Attention to muscular fitness is essential if you are to avoid the lower back problems and repetitive motion injuries that plague millions of Americans. Continued participation ensures the capacity for indepen­dence and mobility in your postretirement years.
1. Muscular strength
When we think about muscles, we normally think in terms of strength. Muscular strength is the foundation of most physical activities and sports. Your body relies on its strength for explosive, quick movements to carry the load you're lifting.
Muscular strength is the amount of force a muscle can produce – for example, the amount of weight that can be lifted. This is developed by heavy weights. Generally, the larger the muscle, the stronger it is, although other factors such as neuromuscular adaptation (the number of fibers controlled and recruited by your nervous system) also affect your strength.
The ability to produce force in our muscles is very important in sports.
There are three main types of strength:
Static strength. This is the greatest amount of force that the muscles can generate. This occurs in sport when the resis­tance we are trying to overcome is great – for example, when we push in a rugby scrum.
Explosive strength. This is when we use our muscles to produce a very quick movement. Examples of this would be when a sprinter leaves the starting blocks, or when we perform the vertical jump test. This is very similar to the fitness component of power. Muscular power is the ability to produce both strength and speed. It involves generating a great force as rapidly as possible and is therefore characterised by explosive movements. It is developed by lifting near maximal weights (a weight heavy enough to allow 1–5 repetitions) very rapidly (see p. 196) and is an important aspect of performance for most sports.
Dynamic strength. This type of strength is used by a sportsperson to support their own body weight over a period of lime. For example, on a downhill run, a skier requires a large amount of dynamic strength in their quadriceps in order to keep their balance. This is similar to the fitness component of muscular endurance.
2. Muscular endurance
Muscular endurance reflects the ability of a muscle group to generate force repeatedly in multiple contractions. Therefore muscular endurance means reps. Lots of reps!
The ability of a muscle to work for a sustained period of time is also important in most sports. Not having a good level of muscular endurance leads to muscle fatigue, causing our arms and legs to feel tired and heavy. This often means that our performance becomes worse, and some cases we may have to stop playing.
Muscular endurance is also important for maintaining our body posture. Even when we are sitting, we constantly use muscles to keep us upright, and it is these muscles that must maintain their muscle tone.
As you get stronger, you are able to perform more repetitions in the same amount of time. Endurance also breeds tolerance in the muscles. As you train this way, your systems can tolerate greater stress loads for a longer period of time.
3. Flexibility
This third component of muscle fitness is linked to the muscular and skeletal systems. Muscles that are not stretched regularly become tight, causing pain when we stretch them. A loss of flexibility can also be caused by problems in the joints, such as worn-down cartilage or lack of synovial fluid.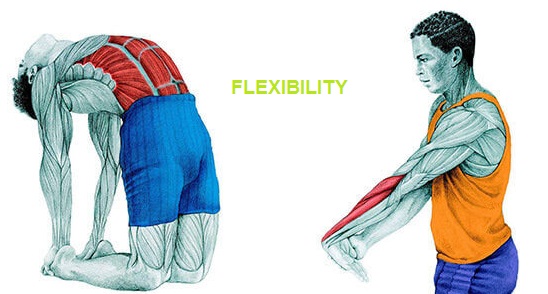 Flexibility is important in most sports as it helps to reduce the risk of injury. Swimmers, javelin throwers and tennis players all need good shoulder flexibility, while gymnasts need a high level of all-round flexibility. Flexibility is often called suppleness or mobility.
Yoga and other forms of stretching depend on a wide range of joint movement and promote flexibility in all muscles. A solid stretching pro­gram can also reduce the risk of injury, muscle pain, and inflammation associated with stress caused by strenuous exercise.
Relationship between components of muscular fitness
There is generally a direct relationship between these three components of muscular fitness, but improving one component does not necessarily cause increases in the others.
For example, sprint­ing requires maximum power to be developed against low resistance, and strength training alone will do little to improve sprint speed. At the other extreme, pure strength sports such as weightlifting require training at near maximum strength. Thus, the desired outcome dictates the specific type of training.
In addition, many sports, such as team games, require optimising all three components of muscular fitness using periodised training. The mode of training, along with other important variables such as speed of movement, movement pattern (e.g., in one or more planes) and relative degree of force to be generated, must also be considered when developing a program to train muscular fitness.
The amount of weight lifted, the speed of movement and the number of repetitions will determine which aspect is developed most. In general, using heavy weights for a lower number of repetitions (fewer than 12) develops strength and size; using lighter weights for a higher number of repetitions develops endurance; explosive movements develop power.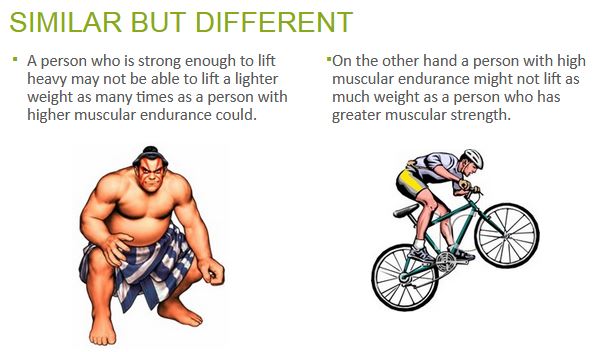 Final thoughts: components of muscle fitness
The essential components of muscular fitness are strength, muscular endurance, and flexibility. Other important components include power, speed, agility, and balance.

Different activities require different relative contributions of each. For example, rowing requires high level of muscular power and endurance, whereas Olympic weightlifting requires high levels of muscular power and strength.

Young folks use muscular fitness to improve performance in a favorite sport or activity, or to look good in a bathing suit. Middle-aged people rely on abdominal tone and flexibility exercises to prevent or minimize lower back problems. Older folks employ strength and endurance activities to retain bone density and to remain active and independent, capable of performing important activities of daily living.

With most physiological capabilities, you either use them or lose them, and that is certainly true for muscular fitness. Strength, endurance, flexibility, power, agility, and balance all decline with age. But the rate of decline is much slower for those who remain active. And numerous studies show that we have the capability to build strength even into our 90s.
Related posts