Ever found yourself standing in front of a mirror, eyeing those extra layers of fat with reluctant acceptance? Ever wished there was a magic potion that could melt it all away, painlessly and without those dreaded detour trips to the gym? Wishes are one thing, but reality tells a different story. The only way to achieve lasting weight loss is through a combination of a healthy calorie-deficit diet, regular exercise, and a supplement that supports your efforts. In this whole story, the contribution of supplements is maybe 10% at best. Nevertheless, we still want to pick the best product out there in an endless sea of dietary supplements.
At first glance, the Instant Knockout supplement attracts with its distinctive fist-shaped container, promising to deliver a knockout punch to your stubborn fat stores. The packaging also makes it quite obvious this product is somewhat erroneously targeted at fighters – MMA competitors, boxers, martial artists, etc. But, as is often the case, it's what's inside that counts. This is where we move beyond initial impressions to the nitty-gritty of its formulation.
Here, we dive into a formal analysis of the Instant Knockout Cut fat burner – a popular supplement from Roar Ambition. This review takes up a scientific lens to examine its ingredients, reported benefits, potential side effects, and overall user experience. Buckle up, and let's illuminate all that you need to know to make an informed decision about this supplement.
Brief product description & key product features
Description & key features
Instant Knockout Cut Fat Burner
Instant Knockout Cut* by Roar Ambition is a scientifically formulated thermogenic fat burner supplement designed to effectively target and reduce unwanted body fat. Harnessing a potent blend of natural ingredients, this supplement aims to enhance metabolism, suppress hunger, and boost energy levels. Marketed predominantly for those in fitness and bodybuilding communities, its advanced, efficacious formulation is what sets Instant Knockout apart.
*It is worth noting that Instant Knockout and Instant Knockout Cut are two names for the same product. In August 2021, Roar Ambition rebranded its product to Instant Knockout Cut.
Key product ingredients and their positive impact
It pays to read the ingredients label before you invest in a new fat burner supplement. Instant Knockout Cut Fat Burner contains all the ingredients necessary for an effective fat burner supplement. In our opinion, 95% of judging a fat burner comes down to the ingredients and their dosing. But what exactly are these ingredients, and what roles do they play in this weight loss equation? Let's take a closer look.
In a single serving size (4 capsules) of Instant Knockout Cut from Roar Ambition, you get the following:
The positive impact of each ingredient
Each ingredient contained in the Instant Knockout Cut fat burner packs a punch on its own, but when combined, they form a synergistic team that works together to maximize benefits.
Scientific literature houses considerable evidence supporting the weight loss and fat-burning abilities of Instant Knockout's various ingredients.
Vitamin B6. This potent nutrient plays an indispensable role in both the metabolization of lipids and the regulation of energy expenditure. By assisting in the breakdown and oxidation of fatty acids, Vitamin B6 (pyridoxine) contributes to enhanced fat metabolism, catalyzing weight loss processes. Furthermore, as shown in a study published in the Journal of Nutrition and Metabolism, enhanced levels of B6 can aid in increasing metabolic rates and, thereby, enhancing caloric expenditure. Together, these two mechanisms synergistically potentiate the weight loss effects of Instant Knockout. Moreover, vitamin B6 plays a part in the secretion of hormones like serotonin and norepinephrine, which could promote mood regulation and stress reduction. Numerous studies have linked stress, emotional eating, and weight gain, making the potential benefit of pyridoxine in stress reduction a critical factor in weight management.
Vitamin B12. Turning our attention now to Vitamin B12, this ingredient is a crucial player in the weight loss process due to its role in metabolism enhancement. Vitamin B12 is instrumental in the assistance of converting carbohydrates into glucose in the body. This glucose is then utilized to produce vital energy, contributing to an enhanced metabolic rate. Consequently, an increased metabolism can lead to the efficient burning of calories, facilitating weight loss. Moreover, Vitamin B12 aids in the regulation of the nervous system, diminishing the stress and depression often associated with weight loss plans. Thus, the incorporation of Vitamin B12 in the Instant Knockout Cut fat burner confirms its comprehensive approach to weight management, further substantiating its favorable standing in the market.
Zinc. Shifting the focus to another formidable ingredient, Zinc, this mineral plays an eminent role in the weight loss journey. Principally, Zinc participates in the regulation of various metabolic functions, a key mechanism in mediating weight loss. It contributes significantly to nutrient metabolism, protein synthesis, and hormonal balance, all of which have a substantial impact on weight management. Besides, Zinc shows an impressive aptitude for controlling one's appetite. By modulating the body's ghrelin level, the hormone responsible for eliciting hunger feelings, Zinc indeed aids in subduing unnecessary food cravings. Finally, zinc plays a considerable role in the production and regulation of thyroid hormones. The thyroid gland uses zinc to convert thyroid hormone T4 into the active form T3. The role of these hormones is to regulate your body's metabolic rate. This functionality aligns perfectly with the intent of a fat burner supplement like Instant Knockout, aiming at strategic and sustainable weight reduction strategies. Hence, the inclusion of Zinc in their formulation reaffirms the supplement's multidimensional approach to weight loss.
GTF Chromium (as picolinate). How does chromium specifically interact with the body's weight reduction mechanism? The magic lies within chromium's influential role in the regulation of insulin, a hormone fundamentally connected to the metabolism of carbohydrates, fats, and proteins. Chromium increases the sensitivity of insulin receptors and promotes better utilization of glucose in the body, thus preventing its conversion into fat stores. Consequently, a stable blood sugar level discourages intermittent cravings, enhancing the overall satiation after meals and reducing unnecessary calorie consumption, ergo aiding weight loss. Furthermore, research has revealed chromium's attribute of preserving lean body mass during the weight loss journey, a key feature that helps in keeping off unwanted pounds in the long run. Hence, chromium picolinate's contribution to the Instant Knockout formula undoubtedly brings the weight loss efficacy of this acclaimed supplement to compelling heights.
Green tea extract (leaf). The significance of Green Tea Leaf Extract in weight loss is underscored by its biological mechanisms which act synergistically to promote fat reduction. Of particular note is its high content of bioactive compounds, including Epigallocatechin Gallate (EGCG), a type of catechin renowned for its potent antioxidant properties. EGCG has been scientifically proven to stimulate thermogenesis, the process by which the body expends energy by generating heat. This acceleration of energy expenditure aids in breaking down and oxidizing fat, thus assisting in weight loss. Furthermore, the caffeine present in Green Tea Leaf Extract acts as a stimulant that enhances fat burning by improving exercise performance. Its role in weight management extends to influencing hormones that regulate fat oxidation and thermogenesis, thereby optimizing the body's innate fat-burning capacity. In summation, the integration of Green Tea Leaf Extract into the Instant Knockout Cut fat burner serves as a testament to its well-rounded formulation aimed at maximizing weight loss effects.
Green coffee extract (bean). Green coffee extract, a chief component of the Instant Knockout fat burner, contributes immensely to weight loss through its inherently unique bioactive compounds. Among these compounds, chlorogenic acid holds significant relevance due to its two-pronged action on the body's metabolic processes. Firstly, it interferes with glucose absorption, consequently reducing the body's glucose availability. This phenomenon propels the body to burn accumulated fat to generate the energy required for various physiological activities, resulting in a plausible weight loss. Secondly, chlorogenic acid operates on the adipocytes, the body's fat cells. It encourages lipolysis, a biochemical process responsible for the dissolution of stored fat. This action leads to a decline in the body's overall fat content, further enhancing the weight loss efforts. Therefore, the inclusion of green coffee extract in the formulation of the Instant Knockout fat burner substantively aids in weight loss, holistic metabolism management, and overall well-being.
Cayenne powder (fruit). Cayenne powder, a key ingredient of Instant Knockout, contributes significantly to weight loss through multiple scientifically validated mechanisms. Chief among these is the substance's thermogenic properties, which are attributed to its active compound – capsaicin. Thermogenesis is a metabolic process during which the body burns calories to produce heat, essentially transforming energy stores (particularly fats) into thermal energy. With its thermogenic prowess, cayenne powder provokes a natural increase in metabolic rate, thereby inducing amplified caloric expenditure and facilitating weight reduction. In addition to thermogenesis, capsaicin also aids appetite management. Research delineates capsaicin's ability to induce satiety and curtail caloric intake, a beneficial facet when one is striving to reduce weight. Moreover, the compound has been linked to the activation of brown adipose tissue (BAT), which plays a crucial role in energy metabolism and fat burning. By accelerating the activity rate of these special adipocytes, capsaicin promotes further weight loss, making cayenne powder an integral component of the Instant Knockout formulation.
Glucomannan (konjac root). Glucomannan, derived from the root of the Konjac plant, is another noteworthy ingredient in the Instant Knockout formula that has been recognized for its weight loss virtues. Functioning primarily as a dietary fiber, it holds significant water-absorbing capabilities, making it swell in the stomach and thus giving a feeling of fullness. This satiating effect may result in a reduced caloric intake, as the individual may feel less compelled to eat frequently or in copious quantities. 
Caffeine Anhydrous. Caffeine anhydrous, another prominent ingredient in the formulation, plays a profound role in the weight loss mechanism. A derivative of caffeine, it is a dehydrated form that is potent and concentrated, thus facilitating a higher efficacy in terms of energy mobilization and caloric expenditure. Scientifically, caffeine anhydrous has been linked to the stimulation of thermogenesis, a metabolic process that results in calorie burning. Additionally, caffeine anhydrous is acclaimed for its appetite-suppressant qualities, thereby helping control caloric intake. It bolsters physical performance, alertness, and mood elevation, rendering it a favored constituent in many weight loss and performance-enhancing supplements. The sustained-release mechanism of caffeine anhydrous in the formulation ensures a steady energy supply throughout the day, diminishing the propensity for energy slumps and food cravings. Therefore, caffeine anhydrous is an integral part of the fat-burning process and remains a cornerstone ingredient in the Instant Knockout Cut formulation.
Black Pepper Extract. Black pepper extract, scientifically known as Piperine, plays a crucial role in weight management, primarily attributed to its potent thermogenic properties. Increasing thermogenesis, therefore, can enhance calorie burning. Piperine, by facilitating this process, helps to eliminate excess fat, contributing to weight loss. Furthermore, black pepper extract aids in improving digestive functions and enhancing nutrient absorption by stimulating the taste buds, which signal the stomach to secrete hydrochloric acid. This acid is instrumental in the efficient digestion and absorption of nutrients, including those pivotal to weight loss and metabolism regulation. In a broader sense, an efficient metabolic process can support weight management endeavors. Thus, in the realm of fat-burning and weight control, black pepper extract plays a pivotal role and understandably is a key ingredient in Roar Ambition's Instant Knockout Cut fat burner.
In summary, the ingredients that stand out in this blend are as follows:
Green tea leaf extract – Thermogenic / Focus Booster
Green coffee bean extract – Thermogenic
Cayenne pepper – Thermogenic / Appetite Suppressant
Glucomannan (konjac root) – Appetite Suppressant
Caffeine Anhydrous – Metabolism Booster / Energy Booster
Instant Knockout Cut Fat Burner Pros & Cons
Just like two sides of a coin, every supplement, including Instant Knockout, carries its own unique set of advantages and setbacks. Awareness of these pros and cons aids in making informed decisions and balancing the dynamics of optimal performance with personal comfort and budget. This understanding facilitates an individual's navigation through the world of health supplementation, thereby cultivating a journey that is as safe as it is beneficial.
Therefore, a high dosage of caffeine, essential for the supplement's energy-boosting claims, might not sit well with everyone, particularly those sensitive to stimulants. Hence, it's crucial to monitor intake (avoid other supplements or beverages containing stimulants) to avoid overdosing and potential sleep disruptions or caffeine-related discomfort. Moreover, the product skews high on the price point, possibly deterring individuals on a budget. Some users might also find the suggested dosage of four capsules a day somewhat inconvenient, complicating otherwise straightforward consumption.
How do you take Instant Knockout Cut?
The suggested directions indicate taking one capsule, four times a day—with breakfast, before lunch, a mid-afternoon snack, and before dinner. Seem like a lot? Maybe. But, think of it like a power-boost button that you have to press four times daily. By distributing four equal doses throughout the key parts of your day, you are not only extending the duration of fat burning but also maximizing the absorption of each dose. Beware though, the last dosage shouldn't be taken within 4 hours of sleep to avoid sleep disturbances. And remember, diligence is the key. To tap into the full potential of its fat-burning powers, be consistent with your intake.
Maybe you'll need a reminder to take 4 pills per day, however, with this way of taking the supplement the effects tend to last longer, unlike one serving a day, where you only enjoy the benefits for a few hours.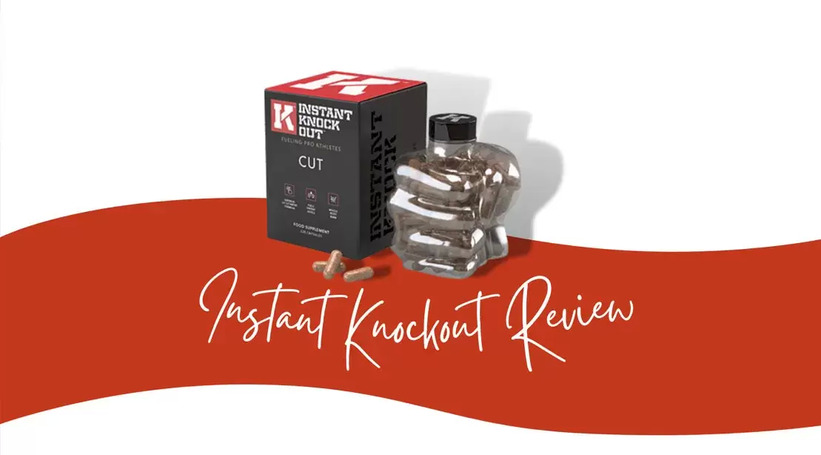 Side effects and warnings
Like any dietary supplement, Instant Knockout Cut may have potential side effects for some individuals. While the product is generally well-tolerated, and most people will experience no adverse reactions (largely courtesy of its natural ingredient's formula), every body system responds differently to new supplements. Therefore, it's always sensible to maintain a level of caution. The common potential side effects to take note of include jitters or feeling nervous due to the naturally derived caffeine (300 mg or roughly the same amount you get in 2 large coffees). So, you should avoid using this product with other caffeinated products or products containing other stimulants.
However, certain populations should consult with their healthcare experts before hitting this fat-burning regimen. These groups comprise:
Any woman during pregnancy or breastfeeding period,
Anyone under the age of 18,
Individuals with medical conditions,
Individuals taking any form of medication, and
People who are allergic to any of the ingredients from the list.
Where to buy Instant Knockout Cut? Instant Knockout Cost?
If you decide to buy this product the safest option is to make a purchase directly from the company's official website to ensure original products are delivered to you and to obtain potential discounts (bulk-order prices). In today's market, a myriad of sham products lurks ominously, posing a substantial risk to your health. More troubling still is the prospect of procuring a legitimate product, only to discover it had reached its expiration date an entire year prior. Furthermore, the official website offers free delivery when you order three bottles (plus a bottle for free), or free delivery to the USA and the UK if you order two bottles.
If you just want one bottle (120 capsules) at a time it'll cost you $65. That's $0.54 per 1 capsule or about $2 a day (you're taking 1 capsule 4x a day). One bottle is enough to last for a month with a recommended daily dosage of 4 capsules.
You can also choose from the Instant Knockout packages (multiple bottles) to take advantage of bigger discounts and to take extra advantage of the refund policy if you decide it's not for you. You can check these options yourself on the official website of the manufacturer.
Which company is behind Instant Knockout Cut?
Roar Ambition – a sports performance supplements company founded in the UK that has been running since 2014.
Products of similar rank (competitors)
Rating fat burners always come down to the chosen ingredients, and most diet products either pick the wrong ones or don't make them strong enough – below the effective range established by most relevant studies. However, the following products stand out. In our opinion, every one of them deserves to be tried. Also, you can check how Instant Knockout Cut stands among other big players in the weight loss industry.
| Product | Manufacturer (Brand) | Rating |
| --- | --- | --- |
| Hydroxycut | MuscleTech | 7.6/10 |
| Animal Cuts | Universal Nutrition | 9.0/10 |
| Burn-XT | Jacked Factory | 8.9/10 |
| Trans4orm | Evlution Nutrition | 6.2/10 |
| PhenQ | PhenQ | 9.6/10 |
| Lipo 6 Black UC | Nutrex Research | 8.8/10 |
| Hourglass Fit | Roar Ambition | 9.3/10 |
| Lean-PM | Jacked Factory | 8.5/10 |
| Therm | Swolverine | 7.7/10 |
| Leanbean | Ultimate Life Ltd | 8.1/10 |
| Instant Knockout | Roar Ambition | 9.4/10 |
| Clean Burn Powder | Kaged Muscle | 8.6/10 |
*Rating is based on our own and our client's experience and the scientifically proven effectiveness of the ingredients (and proper dosage). We also take the cost of the product into account so that you get the best value for your money (optimum combination of cost, quality, and benefits). Fat burners are not a must-buy supplement, but if you want to give them a try, we're here to help you make the most educated (and effective) purchase possible.
Let's compare the price of this product with some similar products on the market.
*Information taken from the official websites at the time of writing
It's pricy, but we think this is one of the most effective fat burners on the market at the moment, so no need to complain too much.
Testimonials (Customer Reviews)
As essential as expert analysis is in assessing the effectiveness of a given product, nothing quite compares to experiencing it first-hand, wouldn't you agree? What better judgment than that of the voices of those who have used this fat burner? Unanimously, customer reviews beam positively towards Instant Knockout. From lifestyle bloggers to gym goers, everyone agrees that it's effective in boosting metabolism, curbing cravings, and enhancing energy levels. A handful expressed minor discomforts tied to caffeine sensitivity, but their overall satisfaction was not marred. Only a minority of consumers (below 10%), unfortunately, did not share the same glowing experiences. Some reported little to no change in their body composition, while others complained about side effects such as irritability and insomnia. 
We could best summarize Instant Knockout Cut Fat Burner with the following table:
| Criteria | Rating |
| --- | --- |
| Appetite Supressant | 9/10 |
| Thermogenic Boost | 10/10 |
| Energy Boost | 10/10 |
| Customer Satisfaction | 9/10 |
| Ingredients Quality | 9.3/10 |
| Value | 9.1/10 |
| Recommended (Total Score) | 9.4/10 |
Is Instant Knockout Cut Worth The Investment?
Among 3 top fat burners on the market
We can confirm from both our first-hand experience and from experience of our clients that Instant Knockout definitely is worth the investment. This fat burner is also very safe. It's crafted from all-natural and scientifically backed ingredients ensuring your safety. Looking for a boost in energy, enhanced cognitive function and a kick-start to your body's natural fat-burning process? This supplement could be your ticket. In addition, it's designed to strengthen and preserve muscles while at the same time, ridding your body of unwanted fat. This leads you smoothly to a well-toned body. Nonetheless, it's essential to punctuate that no fat burner, including Instant Knockout Cut, can fully supplant the cornerstone of regular exercise and a calorie-deficit diet. While supplementation may amplify your results, the imperatives for attaining optimal results continue to be a balanced diet and disciplined physical exertion.
User Ratings (

2

Votes)