If you're on the hunt for foods that not only taste great but also assist you in your bodybuilding and weight loss journey, look no further. Cottage cheese comes to your rescue. Rich in vitamins, minerals, and protein, this underestimated dairy powerhouse can play a key role in your health regime. Cottage cheese is the unsung hero of bodybuilders' and Weight Watchers' menus. Throughout this article, we'll explore the benefits of cottage cheese, its nutritional facts and application in weight loss and bodybuilding, how it compares to other cheeses, as well as its exciting uses in meals — especially when paired with tuna. You may never look at this humble cheese the same way again.
What is cottage cheese and how is it made?
Well, in simple terms, cottage cheese is a type of cheese that has a mild flavor and is made from the curds (a byproduct of coagulating milk) of cow's milk. The process of making cottage cheese starts with pasteurized cow's milk. The milk is heated, and then a 'starter' (which consists of bacteria that produce lactic acid) is added. This mixture is left to ferment for a period of time, which may vary from a few hours to overnight. This ferments lactose, the natural sugar in milk, into lactic acid. The acidification causes the milk to coagulate or curdle into solid curds and liquid whey. These curds are then cut and heated to completely separate the whey. Finally, the curds are washed to remove any excess acidity before being drained and packaged. The result is the soft, creamy, and protein-packed cottage cheese we all know and possibly love!
A brief history of cottage cheese
During the late 19th century in Minnesota, when milk went sour, farmers would make something called "Dutch cheese" to avoid wasting it. It is believed that this "Dutch cheese" was actually the first type of cheese made in America, which eventually evolved into what we now know as cottage cheese. Nowadays, its high casein protein and low-fat content have made cottage cheese a favorite amongst dieters, bodybuilders, health fanatics, and athletes. Plus, it's even safe to eat while pregnant! Its versatility ensures that it fits well in numerous dishes like salads, desserts, casseroles, and breads. If you're keen to discover the different ways you can make use of cottage cheese, this article has an array of suggestions to inspire you.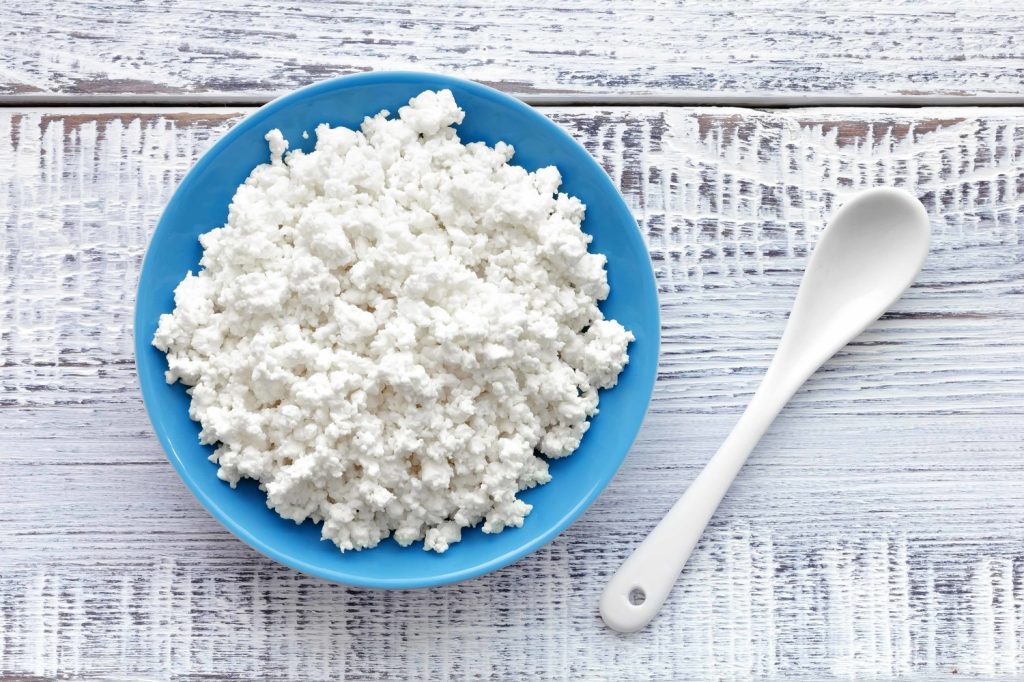 The benefits of eating cottage cheese for muscle building and weight loss
Whether you're a dedicated bodybuilder looking to build muscle or someone aiming to shed a few pounds, incorporating cottage cheese into your diet can be immensely beneficial. Here are the main reasons why this is so:
#1 Packed with protein (casein)
We all know that proteins are essential for muscle growth and recovery. An average serving of cottage cheese can provide up to 25% of your daily protein requirements – up to 14 grams of protein per half-cup serving. The high protein content in cottage cheese comes mostly from casein. Casein protein is a slow-digesting dairy protein that fuels your muscles with a steady stream of amino acids over several hours. It is richly present in cottage cheese, making it highly beneficial for muscle building and for preventing any potential muscle tissue breakdown. It is, therefore, especially valuable during sleep (when your body undergoes recovery and muscle synthesis) or extended periods of fasting, when muscle breakdown can occur. So, that bedtime snack of cottage cheese can actually help you build muscle while you dream.
#2 Low in fat and calories
Cottage cheese is packed with proteins that help boost satiety – they keep you feeling full, helping you avoid those unhealthy snack attacks. Plus, it's low in fat and calories, making it an ideal choice for anyone on a weight loss journey or bodybuilding cutting phase. You'll also benefit from the calcium in cottage cheese. Recent studies have highlighted a connection between increased calcium intake and enhanced fat burning. In other words, the calcium in cottage cheese doesn't just strengthen your bones – it plays a role in weight management too!
#3 Affordable
Cottage cheese is generally very affordable, especially when compared to other high-protein foods. It can fit into most budgets, making it an economical choice for people trying to maintain a healthy diet without breaking the bank.
#4 Versatile (easy to consume)
Thanks to its mild, creamy flavor, it can easily be added to a broad array of meals. It makes a tasty addition to both sweet and savory dishes, effortlessly blending with the taste profiles of many foods. Whether you prefer it as a protein-packed addition to your morning fruit and granola, as a flavorful component in salads and sandwiches, or creatively incorporated into your favorite baked goods, the culinary possibilities with cottage cheese are nearly endless.
#5 Rich in Vitamin B
B-complex vitamins are known to facilitate muscle protein synthesis and boost energy levels.
#6 Great for pre-workout
Opt for the low-fat variety and consider pairing it with fruits or cereal for an additional energy boost. For best results, try consuming cottage cheese about an hour before your training session.
#7 Great for post-workout
For optimum recovery, pairing your cottage cheese with a complex carbohydrate like oats is greatly beneficial. Opt for the low-fat variation of cottage cheese to further aid your recovery process.
#8 Supports strong bones
When it comes to bodybuilding, your muscles aren't the only part of your physique that needs attention. In fact, the strength of your bones plays a vital role in this journey. Your bones are the framework within which your muscles operate. Cottage cheese is a powerhouse of two key ingredients for bone health – calcium and phosphorus. While the role of calcium in promoting strong and dense skeletal structure is well-known, many might be unaware of the importance of phosphorus. This nutrient aids in the production of hydroxyapatite. Hydroxyapatite is a naturally occurring mineral form of calcium apatite, primarily made up of calcium phosphate. It is the main component of human teeth and bones, lending them their rigidity and structure. Finally, protein boosts bone mineral density – a key indicator of bone strength and health. The higher the density, the stronger and less likely to fracture are the bones.
The nutritional profile of cottage cheese
Macronutrients
Here's a breakdown of the macronutrients that average cottage cheese has to offer (based on serving size: 100 g, low-fat, 2% milkfat):
| Carbohydrates | Proteins | Fats |
| --- | --- | --- |
| 3.5 grams | 11.4 grams | 4.3 grams |
| calories from carbs: 14 (14.24%) | calories from proteins: 44 (46.39%) | Calories from fat: 37.8 (39.37%) |
The following nutrition information is provided by the USDA for a 100-gram (about 3.5 ounces)
A 100g serving of cottage cheese typically holds approximately 98 calories. It ranks highly as a beneficial protein source (almost 12 g per 100 g serving size). Typically, cottage cheese is free from added sugars. Being a dairy product, it carries 3.5 grams of carbs – naturally occurring sugar (lactose) in each serving. However, it's crucial to note that cottage cheese does not contain either fiber or starch. The type of cottage cheese you purchase can influence its fat content. Specifically, low-fat cottage cheese offers you approximately 3g of fat, encompassing a modest amount of saturated fat—around 1g—and small quantities of polyunsaturated and monounsaturated fats.
Micronutrients
Here's a breakdown of the micronutrients (vitamins and minerals) that an average cottage cheese has to offer (based on serving size: 100 g):
| Vitamins | Minerals |
| --- | --- |
| Vitamin D 0.1 mcg (0.67% DV) | Sodium 364 mg (16% DV) |
| Vitamin B-6 0.057 mg (4.38% DV) | Potassium 104 mg (2% DV) |
| Vitamin B-12 0.42 mcg (17.5 % DV) | Calcium 83 mg (6% DV) |
| Vitamin B-2 0.234 mg (18% DV) | Iron 0.1 mg (0% DV) |
| Vitamin A 69 mcg (8% DV) | Magnesium 8 mg (0% DV) |
| Vitamin E 0.08 mg (1% DV) | Phosphorus 148 mg (21% DV) |
| Vitamin B-1 0.02 mg (2% DV) | Selenium 14.6 mcg (27% DV) |
The following nutrition information is provided by the USDA for a 100-gram (about 3.5 ounces)
Cottage cheese is packed with minerals such as phosphorus, calcium, selenium, and sodium. As for vitamins, it contains larger amounts of Vitamin B12, Vitamin B2, and Vitamin A.
Choosing the best cottage cheese
Depending on your choice, cottage cheese can contain anywhere from 0% to 4% milk fat. Notably, those with lower fat are rich in protein and carbohydrates, while options with higher fat ratios have less protein and carbohydrates but more fat content. With minimal calorie differences, choosing the right cottage cheese for you comes down to the macronutrient balance. Most bodybuilders typically seek to maximize their protein intake, hence the lower fat variants can be a better fit. This approach ensures you can enjoy a high-protein diet without piling up fats that may compromise your body composition, particularly crucial for bodybuilders in the cutting phase. On the flip side, if you're in the bulking stage and aiming for a higher fat intake, the higher-fat cottage cheese could come in handy.
Are there any alternatives to cottage cheese for high-quality protein in bodybuilding?
Of course, while cottage cheese is a phenomenal source of protein (one of the cheapest, highest-protein foods you can eat) it's not the only option. Bodybuilding alternatives for high-quality protein include Greek yogurt, which is a powerhouse of protein with probiotics, and lean meats such as chicken and turkey. Vegetarians or those looking to diversify their protein intake can opt for quinoa, lentils, and tofu. Fish like salmon and tuna pack in a huge punch of protein, and eggs are a versatile and affordable option. It's all about finding what works best for your body and dietary preferences.
Comparing Cottage Cheese and Greek Yogurt
In a close contest, plain Greek yogurt would emerge as the winner. Why? Due to its slightly enhanced calcium content, lower sodium levels, and a higher probability of incorporating probiotics, Greek yogurt pulls ahead. Important to note though, that selecting a Greek yogurt with added flavors could bump up your sugar intake. So opt for a plain variant and use fruit to add natural sweetness. After all, both Greek yogurt and cottage cheese are nutritious high-protein options (with the same amount of protein per serving), and you won't go wrong with either choice. Ultimately, the choice between cottage cheese and Greek yogurt may come down to personal taste and nutritional goals. Both offer unique advantages and incorporating a balanced combination of both into your diet can provide a broader spectrum of nutrients and flavors.
Comparing Cottage Cheese and Ricotta
When it comes to comparison, both cottage cheese and ricotta deserve a close look. Cottage cheese, on one hand, is particularly rich in protein—which translates into muscle repair and growth, making it an excellent choice for bodybuilders. In a single cup of cottage cheese (1 US cup = 240 g), you'll find roughly 220 calories and 28 grams of protein, which complements the diet of active individuals. Plus, cottage cheese contains less than 10 grams of fat per serving (1 US cup = 240 g), providing a lean source of dietary protein. Ricotta, on the other hand, has a milder flavor, which you might prefer.
However, its nutritional profile isn't as bodybuilding-friendly as cottage cheese. While still a rich source of proteins and other essential nutrients, a cup of ricotta packs about 170 calories and just 14 grams of protein. Furthermore, ricotta has a slightly higher fat content than cottage cheese, averaging around 13 grams per cup. In sum, both cheeses can certainly find a place on your menu, but if your goal is muscle gain, you might want to opt for cottage cheese more regularly due to its higher protein content.
How to incorporate Cottage Cheese into Your Diet?
Cottage cheese is incredibly versatile and can be easily included in your diet. Enjoy it straight from the jar, spread it on whole grain crackers for a nourishing snack, or use it to add a creamy element to your salads. Looking for a high-protein breakfast? Mix cottage cheese with fresh fruits or top it on your oatmeal.
Also, cottage cheese is a fantastic substitute for heavier creams in many dessert recipes. Think along the lines of cottage cheese pancakes or a light and fluffy cheesecake. And for a simpler sweet treat, try it mixed with honey, a sprinkle of cinnamon, and topped with fresh berries.
Here are a few ways that you can enjoy cottage cheese:
Straight Up: You can simply scoop out a serving of cottage cheese and enjoy it as is. It's a hassle-free, high-protein snack that's perfect for active individuals.
Mixed-in Salad: Add a dollop of cottage cheese to your fresh salad for a protein boost. The mild flavor pairs well with a variety of fruits and vegetables.
On Toast: Spread a layer of cottage cheese on toasted whole-grain bread. You can add thin slices of avocado for a nutrient-rich breakfast or pre-workout snack.
With Honey and Fruits: Sweet-lovers, rejoice. Cottage cheese goes well with a drizzle of honey and fruits like bananas or berries. It's a satisfying morning or post-workout treat that comes packed with protein.
Blend into Smoothies: For a creamy, rich texture, try adding cottage cheese to your protein shake or smoothie. It'll provide an extra protein punch without changing the flavor.
Experiment with these ideas and find your personal favorites. Remember, a beneficial diet is often a versatile one, so keep exploring various ways to enjoy cottage cheese in your meals and snacks.
Cottage Cheese and Tuna Combo
Bodybuilders and gym-goers often incorporate a mix of cottage cheese and tuna into their diet, because this combination creates a super-power meal full of protein, vital for muscle building and recovery. Cottage cheese itself is packed with casein, a slow-digesting protein. This unique property is useful for maintaining a steady release of amino acids into your bloodstream, gradually feeding your muscles over time, making it particularly beneficial as a pre-sleep snack. Tuna, on the other hand, provides an instant hit of protein for immediate use. This serving of proteins from both cottage cheese and tuna promotes muscle synthesis, fueling your workouts and fostering faster recoveries. Not only does this duo excel in protein content, but it also offers an array of nutrition, adding value to your overall fitness regimen. Not to mention, tuna augments the B-vitamin content, contributing to muscle development and energy production. Plus, it brings a host of heart-healthy fats and omega-3 fatty acids.
And, there's more. This combination is not just about the numbers. The taste and texture complement each other beautifully, creating a unique, savory delight for your palate. So, next time you're looking for a nutrient-packed snack, go ahead and try this. Who knows, it might just become one of your favorites!
Our favorite recipe: Avocado Toast With Cottage Cheese
Avocadoes blend really nicely with cottage cheese and tomatoes over a hot slice of toast. This recipe is so easy to put together! Avocado toast and cottage cheese works well for breakfast, pre-exercise, or late-night post-workout snack.
Ingredients:
2 slices of sourdough brown bread
1/2 an avocado
2 tbsp cottage cheese
6 piccolo tomatoes, sliced
sea salt and freshly ground black pepper to taste
Preparation:
Toast your bread on a grill or in a toaster.
Scoop out the flesh from the avocado, mash with a fork then spoon it onto the slices of toasted bread and spread out evenly.
Spread the cottage cheese across the top of the avocado.
Lay the sliced tomatoes on top of the cottage cheese. season with salt and pepper and serve.
Key features:
Low in fibre and therefore easily digested
Great source of potassium from the avocados
Great post-training snack for muscle recovery due to slow-releasing protein from cottage cheese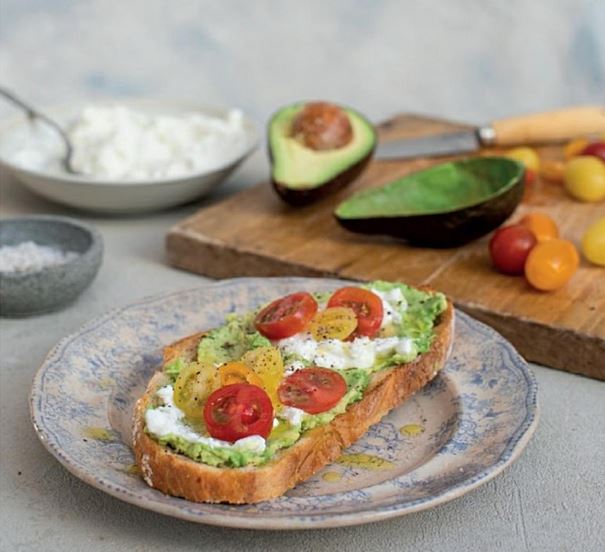 Conclusion
In conclusion, cottage cheese plays a crucial role in bodybuilding due to its high protein content and other essential nutrients. Distinguishing itself from other cheeses with its unique composition and texture, it offers numerous health benefits including aiding in weight loss. Whether combined with tuna for a protein-packed meal or incorporated into various dishes, it enhances the nutritional value while adding a delightful twist. So, embrace cottage cheese into your diet and discover the path towards a healthier, fitter physique.