Creatine is a popular and essential bodybuilding supplement used for growing muscle and improving athletic performance. We can rightly say it's the grandfather of muscle-building supplements. Everyone involved in the exercise industry has heard of or used creatine, or at least known other men who used it. Why has everyone gone berserk over creatine? Because it's the real deal. It's one of the few supplements that has been rigorously tested and proven to work. In this article, you will find out everything you ever wanted to know about this popular dietary supplement. It should be noted that whenever we use the term creatine – we actually mean creatine monohydrate (unless otherwise noted). Creatine monohydrate is by far the most widely studied form, and it's also the most common form you'll see sold in stores and online.
What is creatine?
Creatine is a nutrient normally found in the body, particularly in muscles. It is made from a combination of three amino acids. Creatine helps provide the energy to help our muscles move. It has been available as a supplement since the early I990s. It usually comes as a white powder.
It is also found in meat and fish, usually at a concentration of about 4 grams of creatine per kilogram. Most people ingest about 1 gram a day from foods. Vegetarians have a much lower intake of creatine than meat eaters. You'd have to eat about 10 pounds of raw steak to get the weight-training benefits of supplementation. The human body is able to make about 1 gram of creatine a day.
How does creatine work?
In essence, creatine works by giving your muscles more energy. When your muscle contracts, it uses up a molecule called ATP (ATP is commonly referred to as the energy "currency" of your body). When ATP is plentiful, a muscle can continue working at maximum strength. As soon as ATP falls, your muscle isn't able to keep working at the same capacity. Creatine works by replacing ATP molecules that are lost during exercise. Creatine is also being investigated for its ability to act as a cell messenger–sending messages to muscle cells telling them to grow. Therefore, the goal when adding a creatine supplement to your diet is primarily to prevent premature muscle fatigue, so you can work out harder for longer.
The benefits of creatine
Creatine helps the body function better in several ways, including:
Boosting energy and extending training capacity;
Increasing strength;
Increasing muscle mass (however, this is not due to the creatine interaction with the muscle – read more under paragraph Creatine and water retention)
Increasing endurance;
Working as an antioxidant to assist with muscle repair;
Faster recovery;
Regulating calcium levels;
Improving sporting performance;
Improving brain function and keeping neurological diseases at bay;
Overall, most of the claims for creatine have at least some evidence in their favor.
Because creatine helps boost strength, build muscle mass, and increase endurance, it is of particular use to bodybuilders, powerlifters, and endurance athletes. But it can also be beneficial to anybody who is physically active and looking to improve their performance.
You will very quickly notice the benefits of taking creatine in movements such as the bench press, squat, and deadlift. In fact, it's a good idea to monitor your progress before and after taking creatine. However, you should take out any other variables such as diet, training, and sleep. After two to three weeks, you should see that you've gotten stronger.
Also, one of the great benefits of creatine is that it can help in movements such as sprinting. The reason for that is that sprinting is not normal running, it requires short but powerful bursts of energy for a very short time.
The types of creatine
After deciding to take creatine, the next conundrum people get into is deciding which type of creatine to use. There are so many types, concoctions, blends, and "special" formulas. However, not all of them are that much of a benefit compared to regular creatine. There are a few reasons why there are so many types of creatine, but the main one boils down to more marketing and hype advertising to sell more products. Creatine is already a cheap supplement, so what some companies do is that they add more flashy items on top of the cheap creatine to sell it for much more than what it's worth and so many people fall for that. In reality, you don't need any fancy types of creatine.
[1] Creatine Monohydrate
Undoubtedly, creatine monohydrate is the most popular and widely known type of creatine because it's the one that has been tested the most for its safety and performance. It consists of creatine molecules and a water molecule, hence the term monohydrate. Once the water molecule is removed from this combination, you then have 100% pure creatine. Companies continue to process monohydrate even more which is why micronized creatine is so popular recently. The latter is just a monohydrate with better water solubility. If you pick creatine randomly from a store, it's highly likely that it is going to be creatine monohydrate, and for good reason. It's useful, effective, safe, and perfect for someone trying to get stronger and more muscular.
[2] Creatine Hydrochloride (Creatine HCL)
Creatine HCL is still creatine, but there's a different molecule added to the creatine (hydrochloride). The HCL enhances the solubility of creatine, which improves its uptake by the intestines. As it is more quickly absorbed, water retention is not a concern and by absorbing faster into your bloodstream, side effects are reduced. Therefore, there are two reasons why hydrochloride is also popular. The first one is, as already stated, its high water solubility. The second reason is its higher potency. You only need a gram of creatine hydrochloride whereas you need five times that amount for monohydrate due to its water solubility. However, not enough research has been done on hydrochloride. You can read our article "Creatine HCL Vs Creatine Monohydrate: Which One Is Better?" to find out all the details.
[3] Free Acid Creatine
Another potent form of creatine is free acid creatine which is free of salts and acids. It is as pure as it gets when it comes to creatine. Monohydrate is about 87 percent creatine and the rest is water. However, free acid creatine is a lot more concentrated. It's a common form of creatine often for people who did not like monohydrate or did not have any significant effects from it. Not to mention, creatine monohydrate can give people bloating which free acid creatine does not.
[4] Kre-Alkalyn Creatine (Buffered Creatine Monohydrate)
Another popular form of creatine is Kre-Alkalyn which is also known as buffered creatine. Kre-Alkalyn is a form of creatine that contains a slightly alkaline powder (such as sodium bicarbonate, soda ash or sodium carbonate, and magnesium glycerol phosphate) and does not convert into creatinine before it reaches the muscle cells.
Manufacturers claim that the addition of this "buffering" creates a slightly more alkaline compound, which can reduce creatine breakdown in the stomach and improve creatine uptake into the muscle. Kre-Alkalyn is processed at a higher pH level than regular creatine monohydrate. It is believed the conversion of creatine to creatinine, a waste product, is a function of pH level. That conversion can be halted by pH level manipulation during the manufacturing process. The conversion being slowed or stopped may help the body absorb more creatine, thus lowering the dosages required for beneficial results. However, in our opinion, the difference is not staggering and it's not worth paying extra.
[5] Creatine Ethyl Ester
This form of creatine claims it can absorb better and have a longer half-life than creatine monohydrate or other forms of creatine. However, no studies have confirmed the validity of this statement. Not to mention, ethyl ester creatine tends to cause higher plasma concentrations of the creatinine by-product which is definitely not something you want since it's not very friendly to the kidneys.
Choosing the right type of creatine
We really don't see many reasons to take any creatine other than monohydrate. Other forms might actually be slightly better, but they might also cause adverse side effects that you don't want. Monohydrate has been studied the most not only for its performance but also for its safety which is why it's also added in stimulants such as pre-workout. However, if you tried creatine monohydrate with absolutely no results, it might be a good idea to try other forms of creatine that absorb faster or have a longer half-life. Moreover, if you have any stomach problems while taking monohydrate, it might be a good idea to try out another brand or another type of creatine (creatine hydrochloride, for example).
How to take creatine (research-based dose)?
There are two schools of thought regarding creatine supplementing: loading, vs. a steady dose.
With creatine loading, you'd take 5g of creatine 3 or 4 times per day – for a total of about 20g per day. After about a week of loading, you switch to the maintenance dose. This is oftentimes repeated as a cycle. This method of taking creatine only helps you benefit from creatine faster (but not more) and it can upset your stomach and cause other minor side effects, so we generally don't recommend it.
The other school of thought is to take the normal daily dose. This "normal" dose is generally between 5-10g, with 5g being the most commonly recommended. Studies show that 0.02 grams per pound of body weight (3-to-5 grams for most men) of creatine monohydrate once per day is effective. We highly recommend taking creatine that way only! No loading phase!
To maximize absorption, take creatine with a sugary drink because it's been shown that creatine taken with a high glycemic index drink helps your body absorb and utilize the creatine.
Creatine side effects
When creatine first exploded in the bodybuilding community, there seemed to be a public health message that creatine was dangerous. Creatine was unfairly accused of causing minor annoyances like cramps to life-threatening kidney damage.
Hundreds of studies later, we know better. In general, creatine is extremely well tolerated although, in some people, it may cause stomach upset.
Creatine is not only the most tested supplement out there, but it is also the most used supplement after whey protein. It's safe because we know exactly what it's doing in our body. The way creatine is processed in your body is straightforward. First, it gets in your stomach, and then it goes to the liver stores as well as the muscle and the brain. Creatine can also be loaded on other parts of the body. After that, the way creatine behaves is similar to glycogen, once you need it, it's there to be used and when it's used, the byproduct goes through the kidneys effortlessly.
Research shows that creatine isn't harmful to the kidneys, as is sometimes claimed, even if you have impaired kidney function. As a precaution, however, if you have any kidney issues, speak with your doctor before taking creatine.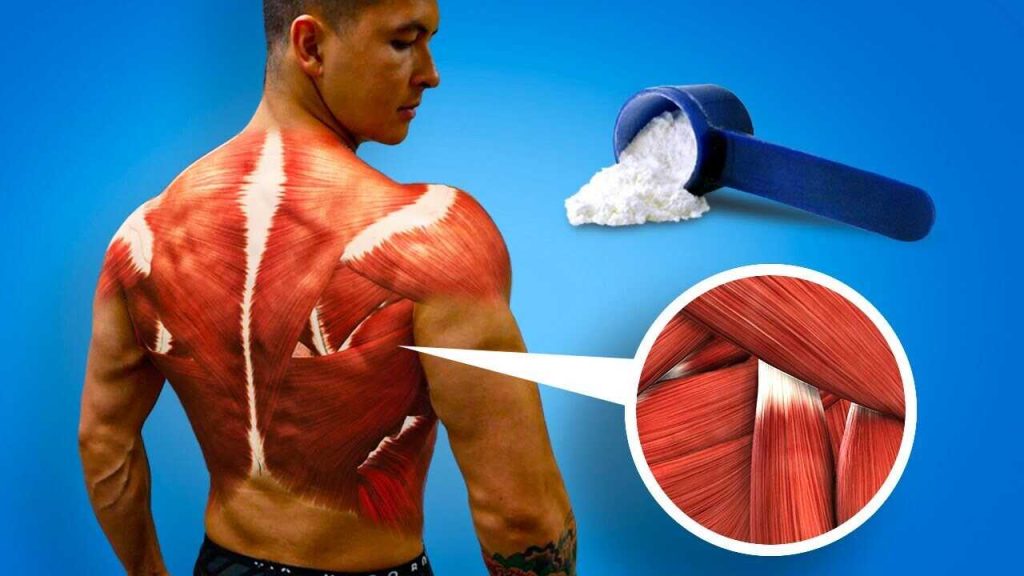 Creatine and water retention
Creatine may also act as a cell volumizer, meaning that your muscle cells retain more water.
Creatine can surely increase muscle size; however, it is not due to the creatine interaction with the muscle, but it is due to the effects of creatine which are mainly water retention and strength increase. Water retention happens because creatine monohydrates involve water molecules and when that happens, the muscle size slightly increases due to more hydration. This retention of water happens at an intra-cellular level and not outside the muscle tissue.
Another reason why creatine increases muscle size is thanks to strength. A bigger muscle is potentially a stronger muscle. It's common sense, a muscle that has more fibers is a stronger muscle. However, there are other components at play such as explosiveness, contraction, and nervous system demands. The reason why strength increases muscle is because of something called progressive overload. The more you push your muscle, the more it'll react to that stimulus. The muscle fibers are going to have small tears which will result in those fibers getting stronger and bigger.
Other important points & tips about creatine
Take it with high-carb meals. The combination may increase creatine's effectiveness by up to 60 percent. A recent study found that athletes who took creatine with carbohydrates ran faster, jumped higher, and gained more muscle mass and strength than those who took creatine alone. The carb-creatine combo also appears to improve anaerobic (weight-lifting) performance by 30 percent.
Drink a lot. Creatine draws water into your muscle cells. This is good because it makes muscles larger. Get a few extra glasses of water or sports drink daily.
Choose a supplement that contains sodium. New research shows that creatine is more efficiently absorbed when it's combined with sodium. The combination is also less likely to cause an upset stomach, a common side effect of creatine supplementation. Don't bother with creatine supplements that include sugar. They're not as well absorbed as the sodium-combo supplements.
Take creatine breaks. Studies show that the body adapts rapidly to creatine. The benefits slow or stop after about 6 to 8 weeks. Plan to take it for 8 weeks, stop for 6 to 8 weeks, then start taking it again.
Powder, capsules, or chewable tablets
There is really no difference in how the creatine gets into your system. Pills are appealing because all you have to do is swallow. But the creatine won't get into your muscles any better or quicker with one preparation or another. Effervescent formulas get into the blood faster, but once any creatine is in the blood, it's in the same form so there is no difference in uptake rate by muscle cells.
Closing thoughts about creatine supplements
Most of the supplements that claim to boost muscle growth and recovery are a letdown, but not creatine—the most-researched molecule in all of sports nutrition. Hundreds of studies have shown that creatine enhances muscle and strength gain, anaerobic endurance, and post-workout recovery, and it does these things safely, too.
Creatine comes in many forms, including creatine monohydrate, buffered creatine, creatine hydrochloride, and others, and while we could spend a few pages discussing them all, let's make the long story short: powdered creatine monohydrate is the most-researched and time-proven form, and if you find the texture of regular creatine monohydrate too grainy, choose a micronized monohydrate powder. The same applies if creatine monohydrate bothers your stomach. Yes, certain forms of creatine are more water-soluble, such as creatine citrate, nitrate, and hydrochloride, but this doesn't make them more effective in your body.
The only time you may want to avoid creatine is if you have some sort of chronic kidney problem. Otherwise, feel free to load or take a normal dose at your own pace. Either way, you'll be stronger, faster, and more muscular than you were before.