Muscle pain occurs under normal circumstances with exercise, and does not necessarily indicate weight lifting injury. There are two types of pain people often experience. First, pain which occurs during exercise but disappears when the activity stops and generally leaves no after-effects (ischaemic pain).
Secondly, there are many individuals who experience muscle soreness that does not begin until several hours after exercise and lingers on for a day or two after exercise. Much of what causes ischaemic pain is still the villain in the days after a hard workout. This second type of pain that does not occur immediately afterwards but comes on a number of days later – delayed onset muscle soreness or DOMS – is the subject of this article.
What is delayed onset muscle soreness (DOMS)?
Delayed onset muscle soreness (DOMS) is residual muscle pain which occurs 24-48 hours following unaccustomed bouts of intense exercise.
Delayed-onset muscle soleness is more likely to occur and to be more severe after exercise involving eccentric muscle actions. For example, prolonged downhill walking or running causes DOMS in the quadriceps muscles (on the front of the thigh) because these muscles act eccentrically to counteract the force of gravity. It is generally believed that muscle soreness occurs because fewer muscle fibres are activated during eccentric than in concentric muscle actions.
What are the symptoms of DOMS?
Symptoms of delayed onset muscle soreness (DOMS) include pain, swelling, tenderness, reduced ROM (range of motion), and stiffness.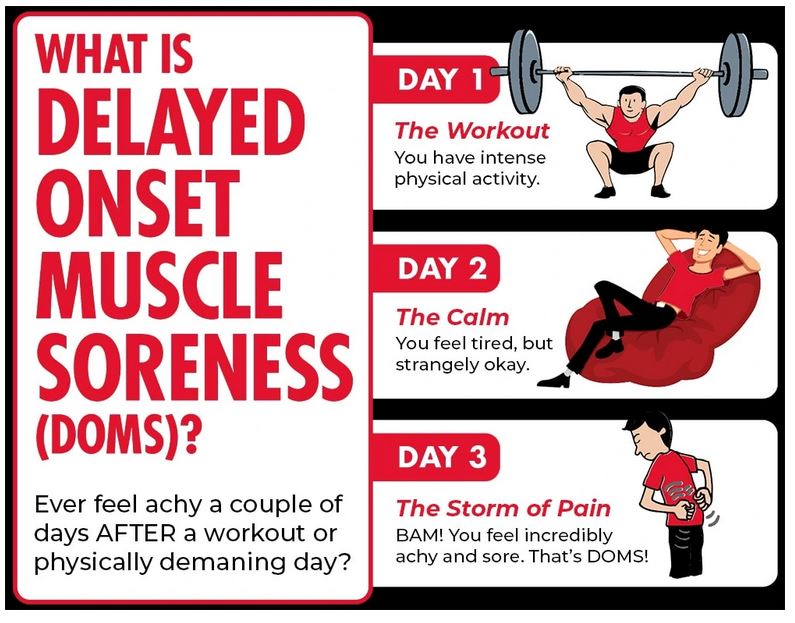 What are the causes of delayed onset muscle soreness (DOMS)?
A number of possibilities exist for the cause of this pain, and it is probable that it is the result of a combination of factors, the contribution of each being related to activity type and individual differences.
Lactic acid accumulations. However, this cause is now mostly abandoned since it can't explain DOMS. For example, lactic acid levels are not elevated in the types of exercise most likely to cause DOMS, such as downhill walking.
Muscle spasms during and after exercise. This was also proposed as a mechanism for DOMS, although there is little experimental evidence to support this concept.
Skeletal muscle damage (mechanical trauma). Damage to both individual muscle fibres and connective tissue surrounding the fibres resulting from intense, prolonged, or eccentric exercise is the most likely cause of DOMS. Damage to muscle fibres and connective tissue initiates an inflammatory response, causing influx of inflammatory cells from the circulation, tissue swelling, and the sensation of pain.
Why DOMS is actually more than welcome?
First of all, DOMS is only temporary, lasting usually less than one week (usually two to three days). Secondly, muscle fibres are rapidly repaired, and there is no evidence for permanent tissue damage associated with DOMS. Lastly and most importantly, some level of tissue breakdown and repair is important in initiating training-induced adaptations in skeletal muscle, in particular gains in muscle size and strength. One interesting feature of DOMS is that a single session of eccentric exercise provides protection for up to several months against a subsequent occurrence of DOMS within the same muscle.
What are the methods to relieve DOMS?
Stretching is very useful to reduce pain in the muscles, and would certainly seem to be able to reduce muscle spasm. Increasing the blood flow to the muscle during the warm-down period is also helpful. You can achieve this by gentle exercise, hot showers or massage. In each ease, a possible mechanism of relief is that of flushing fresh blood through the muscle to remove metabolic wastes and pumping the lymphatic vessels to remove local oedema and reduce interstitial pressure.
How you can avoid DOMS or at least mitigate its effects?
The most important step you can take is to have a specific training plan and gradually acclimate to exercises and weights. Don't take up where you last started if you have been away from the gym for some time. Likewise, if you have never trained with weights, starting slowly with light weights is more appropriate for muscular and joint health than moving quickly with heavy weights.
Make sure that you get sufficient rest and recovery time. Muscles can get slightly damaged from weight training, and there is always an eccentric component. Waiting at least 48 hours between weight sessions for the same muscle group, or until the pain is gone, is appropriate. Also, limit your use of prolonged eccentric contractions. If you make yourself so sore that you don't want to strength train anymore, you only succeed in demotivating yourself.
Why you should not use nonsteroidal anti-inflammatory drugs (NSAIDs) for treating DOMS?
The first thing you should know is that nonsteroidal anti-inflammatory drugs (NSAIDs) such as ibuprofen and acetaminophen do not work on DOMS, and will actually interfere with muscle recuperation.
A study published in the American Journal of Physiology demonstrates this in a striking way. Researchers gave twenty-four men recommended doses of ibuprofen, acetaminophen, or a placebo (a "dummy pill" that doesn't contain active ingredients) on the day following a hardcore eccentric weight workout. They then measured both muscle soreness and skeletal muscle fractional synthesis rate (SMFSR) – the muscle-building response to exercise twenty-four hours after the workout.
They found that not only did NSAIDs not help with muscle soreness at all, they completely halted all SMFSR (that is, the muscle made no gains toward recovery). While the placebo group increased its SMFSR by 76 percent, there was no increase in the NSAID groups. In other words, muscle building was completely negated by the NSAIDs.
Closing thoughts about delayed onset muscle soreness
Soreness and stiffness that you experience in your muscles about 24 to 48 hours after strenuous eccentric exercise is referred to as delayed onset muscle soreness (DOMS ) and is an indication that the body is adapting to the demands of exercise with which it is not familiar. This is common in people trying to develop muscle strength.
Several causes of delayed onset muscle soreness have been proposed over the years. These include lactic acid build-up, torn tissue, muscle spasm and connective tissue damage. Available evidence suggests that DOMS results from tissue injury caused by excessive mechanical forces acting on the muscle and connective tissue.
Proper intake of carbohydrate, protein, and antioxidants and the use of stretching and massage will greatly reduce the incidence of DOMS in your training program. Common anti-inflammatory medications taken before or after eccentric exercise do not decrease that pain. It is possible that the soreness is not entirely related to the inflammation. Also, it's possible that the inflammation seen in DOMS is not the typical inflammation seen in other types of muscular injuries. Regardless, it seems that taking anti-inflammatory medications may be harmful to the healing process and possibly even delay it.