Dumbbells vs. Barbells: What's Better For Strength & Size?
Making the choice: Dumbbells versus barbells
Dumbbells and barbells are two of the most basic forms of exercise resistance. We also call them free weights. A dumbbell is made of a short bar with weights on each end, designed to be held in one hand. A barbell is made of a longer bar with weights on each end, designed to be held in both hands.
As you already know, you can perform many movements with both dumbbells and barbells. For example, while sitting on a bench, you can either press a bar overhead (the Military Press) or press up two dumbbells (the Dumbbell Shoulder Press). Which is the better option? Are dumbbells better than barbells? Are dumbbell exercises better than barbell exercises?  Which is best for your workout routine? Actually, both have their benefits.
In this post we are going to compare the main pros and cons of each. You fill find out what's better for strength & size.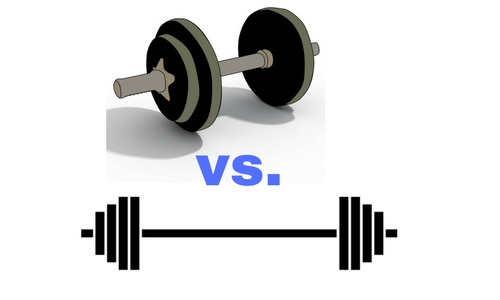 Benefits of Training With Dumbbells
#1: Dumbbells allow each arm to work independently
Dumbbells are helpful because they allow each arm to work independently (unilateral training). If one side of your body is stronger than the other — which is a common phenomenon — this imbalance is apparent when you're working with dumbbells. How? Your weaker arm may start wobbling or may wear out sooner than your dominant arm. Using dumbbells can help correct strength imbalances because each side of your body is forced to carry its own weight, so to speak. By contrast, if you use a bar, your stronger side may simply pick up the slack for your weak side. For example, if the left side of your chest is larger than the right side, you can perform one-armed bench presses to work on correcting that imbalance.
Therefore, dumbbells can help you to stay symmetrical.
#2: Dumbbells are excellent for stimulating supporting muscle groups and building stabilizers
The dumbbell movements help work stabilizer muscles and improve coordination. You have to control two independent implements rather than controlling a barbell with both arms simultaneously. This makes dumbbell training a more complex motor activity when performing many exercises. In other words, your muscles will have to do more work to keep the weights steady.
#3: Dumbbells allow a fuller range of motion (ROM)
Dumbbells allow a fuller range of motion: but be warned, the lower you allow the dumbbell to travel (during bench press for example), the more torque (stress) you place on your shoulder joint, which can be dangerous, especially for someone with weak shoulders.
#4: Dumbbells give you the choice to perform either alternating movements or single-arm movements
Because you are working with two independent implements, you have the opportunity to perform either alternating movements (e.g., alternating bench press, with one arm pressing a dumbbell up while the opposite arm is lowering a dumbbell) or single-arm movements (e.g., one-arm bench press, doing all the repetitions with the same arm).
For many athletes, alternating-arm exercises and single-arm exercises provide a more sport-specific way to train because many activities in sports involve single-arm movements (e.g., throwing a punch, spiking a volleyball, swinging a racket) rather than both arms moving simultaneously through the same movement pattern.
#5: Some exercises are safer when performed with dumbbells
Another benefit of dumbbells is that they are safer than barbells when performing certain exercises, such as one-leg squats or lateral box crossovers because dumbbells are easier to drop safely than a barbell. Say you are performing one-leg squats and you lose your balance—it is easy to safely drop dumbbells held at arm's length in either hand to regain your balance. However, with a barbell across your back, it is more difficult to drop the barbell safely without risking injury to yourself or to someone standing nearby or damaging the equipment.
In addition, dumbbells are safer, especially when you are working out alone. If you can't manage to complete a last rep on presses with dumbbells, you simply drop them.
Dumbbell exercises can be more joint-friendly than their barbell equivalent. Many bodybuilders find dumbbells easier on the wrists as you can rotate the hands slightly inward or outward.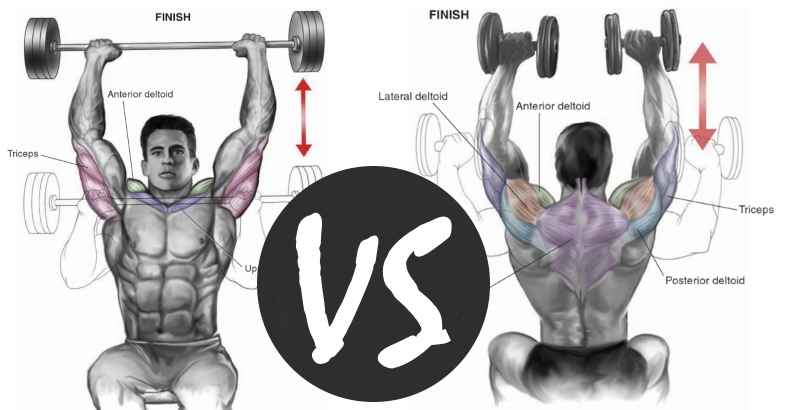 Benefits of Training With Barbells
#1: Barbells allow you to go for heavier weights
Because of this, barbell exercises should always be done before working out with a dumbbell. Barbells will also allow you to use bigger weights more comfortably. So, in terms of progression, barbell exercises are nearly always better than dumbbell exercises. That's because barbells are easier to use than dumbbells when the weight gets heavy. Furthermore, unlimited progression is possible because you can always add more weight to the bar.
#2: Functional aspect: Barbell helps you impart an equal load across your spine while lifting
It also helps you in doing your power lifts as it makes your body coordinate and function as a single unit.
#3: Simplicity: It won't take long before you learn the basic lifts for a barbell
You have a fixed and stable weight so you most likely won't deviate from it. Wear and tear won't be an issue — barbells are (and should be) built sturdily.
#4: Versatility
Other equipment and machines only allow you to do a movement or two, but barbells can assist you in strengthening almost every muscle in your body. It's also easier to store compared to other resistance equipment.
Drawbacks of Training With Barbells
Here are the most important drawbacks of training with barbells when compared to training with dumbbells.
#1: Unnatural movement pattern
With a barbell, your hands are tied together and constrained in how they can move throughout the lift. Similar to machines, this will force your shoulders and elbows to move through a pattern that is not truly natural. In other words, your hands are not allowed to rotate in any direction, forcing your elbows and shoulders to compensate. Over years of lifting, it is quite probable you will suffer pain and/or injuries to these joints.
#2: Less involvement from stabilizer muscles
A barbell eliminates the involvement of many stabilizer muscles and requires less coordination.
#3: Single plain of motion
The barbell is only lifted up and down. You don't lift a barbell forwards or backwards, or left or right.
#4: Barbells are not able to provide such a long range of motion like dumbbells
For example, during a bench press, dumbbells stretch the chest muscles better because they allow the hands to go lower than they could with a bar. This is not able to achieve with barbells. The bar stops at the chest level.
#5: Barbells are less wrist-friendly
Many bodybuilders find dumbbells easier on the wrists as you can rotate the hands slightly inward or outward. Barbells can not give you that opportunity.
Drawbacks of Training With Dumbbells
#1: Some exercises just don't feel as good when you use dumbbells
Any seasoned lifter can tell you that nothing is quite like doing the bench press — it's considered the quintessential meat-and-potatoes chest exercise. Even though the dumbbell chest press is a perfectly good exercise, it may not deliver quite the same amount of satisfaction, probably because you can't lift as much total weight. For example, if you can do the dumbbell chest press with a 10 kilogram dumbbell in each hand, there's a good chance that you can lift at least a 28 kilogram barbell.
#2: Many movements do not correlate well with dumbbells
Many movements such as the Olympic lifts, squats, and deadlifts, do not correlate well with dumbbells. Although you certainly can do variations of these movements with dumbbells, they are generally not as effective. Some exercises simply require a certain explosiveness that cannot be attained with dumbbells (power cleans, and snatches for example).
#3: Dumbbells are not the best training tool for progression
It is statistically proven that most of you will be 20% stronger when you're using barbells for the same exercise. Most of you will also find it easier to progress with barbells rather than dumbbells. And that's to be expected. Barbells allow you to lift heavier weights because you don't have to worry about stabilizing the weight and you are practically using two hands to move one weight, instead of two.
Closing thoughts: Dumbbells vs. Barbells – What's better for muscle strength & size?
Do you really expect to get a straight answer? Well, you are not going to get one here! Dumbbells vs. barbells is far more complicated than saying one is better than the other.

Barbells and dumbbells are the two principal training tools we use for free weight training. Each comes with its own pros and cons. You don't have to make any choice: you must use them both. Since the main benefits of using dumbbells are also the main disadvantages of using barbells (and vice versa), the only logical solution is to incorporate both training tools into your weight training regimen.

Barbells offer greater potential for loading than dumbbells, enabling you to move greater weights during maximal efforts. The bilateral nature of a typical barbell exercise allows maximal effort to be applied through the bar with each side of the body providing a counterbalance to the force produced by the contra-lateral limb.

However, in everyday life and sport it is rare for activities to involve both hands being fixed to a bar and working in the identical plane and range of movement. Recreating this unilateral challenge requires equipment that allows each limb to operate independently of the other, and that is where dumbbells come in. Dumbbells also make it possible to load the body asymmetrically placing a far greater demand for stability through the kinetic chain.