The popularity of energy drinks with names like Red Bull, Absolute Bull, American Bull, Dynamite, Rockstar, Spiked Silver, Indigo Extra, Lipovitan B3, Shark, Monster, and Full Throttle has soared over the past decade. They promise to keep you alert to study, work, drive, party all night, and perhaps excel at your next athletic competition.
Energy drinks are sold alongside sports drinks, and manufacturers of these beverages often sponsor athletes and athletic events. But what exactly differs sports drinks from energy drinks? Should energy drinks be used as ergogenic aids? Is taking energy drinks a safe way to improve your game? Can energy drinks be used in place of sports drinks? These are some of the questings we'll try to answer in this article.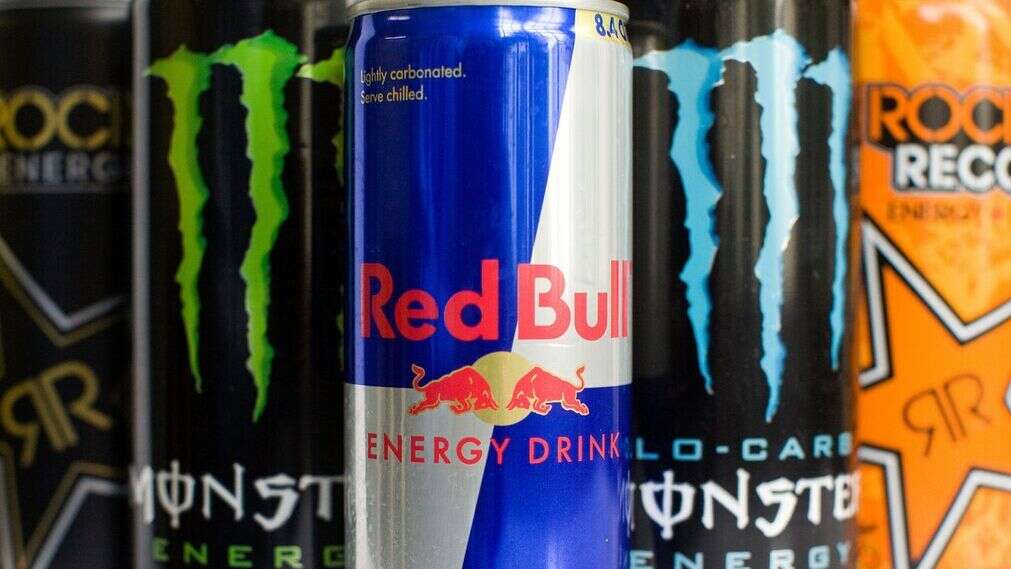 What are sports drinks in a nutshell?
Sports drinks are a unique category within the beverage industry and are formulated for the quick replacement of fluids and electrolytes that are lost by sweating during exercise, and to provide carbohydrates (sugar) to replenish glycogen stores, thus sustaining performance capacity. The hydration effect of sports beverages is not immediate since the fluid must be absorbed in the proximal small intestines, where 50%-60% of any given fluid ingested orally is absorbed. Thus, the "ideal" sports drink should provide a rapid gastric emptying rate, a body fluid balance, minerals that are typically lost through sweat during exercise and an adequate carbohydrate source to aid in energy supply and performance Among the available sports drinks, there are three main types (isotonic, hypertonic, and hypotonic) containing different amounts of fluid, electrolytes, and carbohydrate.
Components of Sports Drinks. Sports drinks typically provide a small amount of carbohydrates (e.g., 6-8g/100mL) and electrolytes (sodium, potassium, calcium, magnesium).
What are exactly energy drinks and what are their components?
Energy drinks are designed for the specific purpose of providing real or perceived enhanced physiological and/or performance effects. Consuming energy drinks before exercise is thought to improve mental focus, alertness, anaerobic performance, and/or endurance performance. According to The Stimulant Drinks Committee, the products referred to as "energy" or "stimulant" drinks belong to a class of products, in liquid form, which typically contains stimulants, amino acids, an energy source, vitamins, and/or other substance(s). Evidence indicating that some of these substances are important for proper body function is widely accepted; however, it does not mean that a person has a deficiency.
Components of Energy Drinks. Energy drinks can contain more than 15 ingredients, which typically include high amounts of carbohydrates along with nutrients marketed to improve perceptions of attention and/or mental alertness (you can read more about these ingredients below).
What are the main issues regarding energy drinks?
The main ingredients in energy drinks are sugar and caffeine. Glucose is an important fuel for exercise, and caffeine is known to enhance endurance, so these drinks may seem like an ideal ergogenic aid.
1. Sports drinks versus energy drinks: sugar content
A traditional sports drink, like Gatorade, contains about 28 g of sugar in 16 o; a typical energy drink provides twice this much – 55 to 60 g (or about 14 teaspoons). Since carbohydrate fuels activity, it may seem that the additional sugar would provide energy for prolonged exercise. But more is not always better during activity. Providing more sugar does not increase the rate at which it is absorbed, so energy drinks don't get any more glucose to the muscles than sports drinks do. The unabsorbed sugar in the stomach can cause GI distress and also slow fluid absorption.
2. The caffeine content of energy drinks
The caffeine content of energy drinks is similar to coffee and ranges from 50 to about 500 mg per can or bottle (see Table 1 for the exact numbers). Caffeine is an effective ergogenic aid that enhances endurance when consumed in moderate doses (3 to 6 mg/kg body weight. or about 200 to 400mg for a 150-Ib person).
So, the caffeine in energy drinks is likely responsible for the ergogenic effects of these beverages. But too much caffeine, referred to as caffeine intoxication, causes nervousness, anxiety, restlessness, insomnia, gastrointestinal upset, tremors, increased blood pressure, and rapid heartbeat. This is a particular concern in young athletes because their lower body weight means that the energy drink supplies more caffeine per kilogram than in an adult. A number of cases of caffeine-associated death, seizure, and cardiac arrest have occurred after consumption of energy drinks.
The timing of energy drink consumption may be important; caffeine ingested in the evening has less of an ergogenic effect and more side effects. If energy drinks are used as a fluid replacement beverage during exercise, particularly in a hot environment, enough caffeine may be consumed to alter fluid and mineral balance and increase core body temperature. The FDA limits the amount of caffeine in soft drinks to 0,02% (about 71 mg in 12 oz), but energy drinks are considered dietary supplements, and therefore the caffeine content is not regulated.
| Beverage | Caffeine (mg) | Sugar (g) |
| --- | --- | --- |
| Coffee | 180-300 | 0 |
| Coca-Cola Classic | 46 | 52 |
| Mountain Dew | 72 | 62 |
| Monster or Jolt | 160 | 54 |
| Arizona Caution Extreme Energy Shot | 200 | 66 |
| Red Bull | 160 | 56 |
Table 1: Caffeine in certain beverages (per 16 oz serving)
3. Other ingredients present in energy drinks
Energy drinks often also contain other ingredients that promise to improve performance, such as B vitamins, taurine, guarana, and ginseng. B vitamins are needed to produce ATP, so they are marketed to enhance energy production from sugar. But unless you are deficient in these vitamins, drinking them in an energy drink will not enhance your ATP production.
Taurine is an amino acid that may reduce the amount of muscle damage and improve exercise performance and capacity, but not all research supports these claims. Guarana is an herbal ingredient that contains caffeine as well as small amounts of the stimulants theobromine and theophylline. The extra caffeine from guarana (not included in the caffeine listed for these beverages) may contribute to caffeine toxicity.
Ginseng is also claimed to have performance-enhancing effects, but these effects have not been demonstrated scientifically. In general, the amounts of these ingredients are too small to have much effect, and the safety of consuming them in combination with caffeine prior to or during exercise has yet to be established.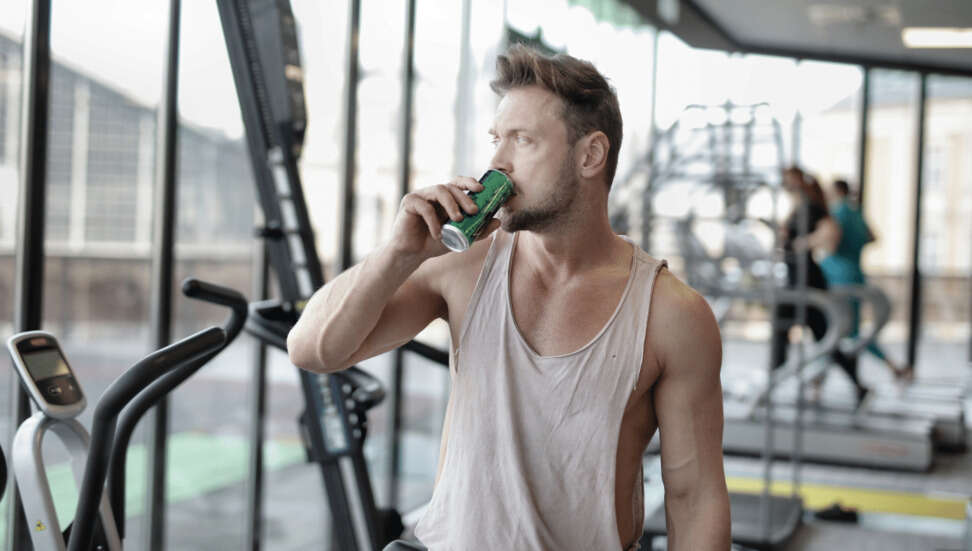 Conclusion: Energy Drinks for Athletic Performance?
Sports drinks are safe and recommended for athletes when the consumption is well-oriented, according to the individual variability and the exercise characteristics; however, they should not be encouraged for nonathletes.
Energy drinks may show positive effects on performance in various sports activities despite being difficult to be evaluated from the nutritional and ergogenic perspective, due to the variety of ingredients they contain (e.g., water, sugars, caffeine, other stimulants, amino acids, herbs, and vitamins).
Short-term, high-intensity performance could be improved by energy drinks, but it is required to ingest high volumes to deliver enough caffeine; and although ergogenic, high doses of caffeine could result in negative side effects that could counteract the caffeine's ergogenic effect. The negative effects of excessive caffeine intake have been proven, but the positive effects of many of the other additives, such as taurine and glucuronolactone as well as the combined effect of these ingredients in energy drinks, remain unclear.
Due to their high carbohydrate concentration and lack of salts, energy drinks are not a good beverage choice when prolonged exercise in a warm environment is likely to require rehydration. Thus, ingestion of energy drinks before an event or during training can increase blood pressure; and may result In dehydration. Excessive intake of energy drinks by healthy people and the combination with alcohol may lead to severe adverse events. Hence, individuals with medical illnesses, as well as children and adolescents should avoid energy drinks.