Effect of weight training on blood pressure
Blood pressure and exercise are closely related. We all know by now that regular aerobic exercise can improve circulation and reduce blood pressure. But what about weightlifting? Should you worry about your blood pressure if you are lifting heavy weights? Can regular weight training help you to lower your resting blood pressure and heart rate in the long run? What about individuals with high blood pressure (hypertension)?
Lifting weights can raise or lower your blood pressure. There are differences between how weightlifting effects your blood pressure during rest and exercise. Knowing how weight training might lower blood pressure can lead to improved cardiovascular health.
Blood pressure during weight training session (short-term effect)
During exercise that is more anaerobic or that which involves more isometric type muscle contractions such as weightlifting, the changes in blood pressure are very different compared to aerobic exercise. In this instance, both systolic and diastolic blood pressures rise significantly, largely due to the performer holding their breath, which increases the pressure within the thorax and abdomen and squeezes on the peripheral blood vessels, increasing overall mean blood pressure.
For a healthy person this should be no problem.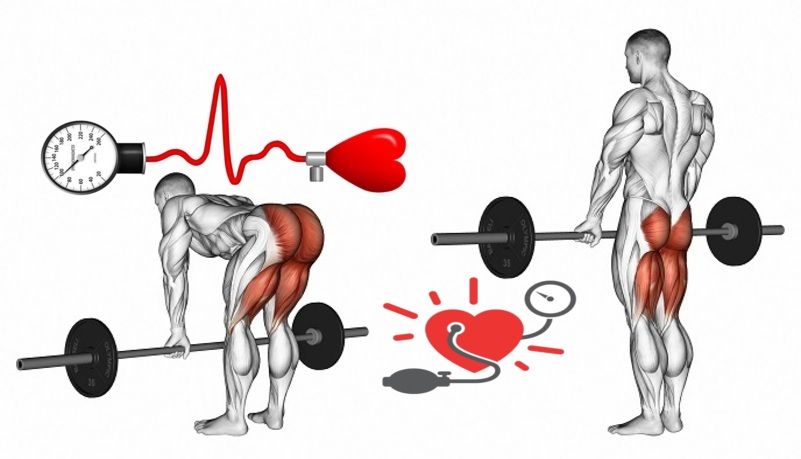 Long-term effect of weightlifting on blood pressure
Unlike aerobic training, vascular resistance increases in weight training due in part to mechanical compression of the skeletal muscle vascular beds. While some long-term strength training protocols have resulted in reductions of systolic and diastolic BP, these have been modest at best.
The recent adoption of circuit training, which involves moving quickly between higher repetition and lower resistance exercises, adds a component of aerobic training to the workout and may result in improved blood pressure effects.
Several programs including resistance training to aerobic exercise regimens have shown favorable reductions in both resting systolic and diastolic BP. This, and the fact that resistance training is correlated with improved glycemic control and a reduction in total body fat mass, has led the American Heart Association and the American College of Sports Medicine to endorse resistance training as a complement to aerobic exercise in the treatment of hypertension. This is only true if you're not lifting heavy weight.
Weightlifting and people with hypertension
If you're planning to embark on a weight-lifting program, check in with your doctor first. People with hypertension are at greater risk for a stroke if they don't control their blood pressure. This is because the strain of weightlifting will briefly raise the blood pressure.
With regular workouts, the rise in blood pressure will usually become less substantial, as long as your resting blood pressure is normal. Of course, people with untreated heart problems, such as unstable blockages and congestive heart failure, should not exercise until their problems are under good control. A few heart conditions, such as serious heart valve disease and severely thickened heart muscle walls, make weightlifting unacceptably risky.
Furthermore, a study by a team of Yale University researchers found that some weight lifters may be at risk of rupturing the aorta (the main artery coming from the heart) during workouts. The muscles in your body contract when you lift a weight causing a spike in your blood pressure. The heavier the weight, the stronger the muscular contraction is. The stronger the contraction, the larger the spike is. In a number of cases, this blood-pressure spike has caused the lifter's aorta to tear open. The team of researchers believes that people who already have weak arteries due to genetics or other factors are at the greatest risk for this type of injury.
Heavy resistance weight training should be avoided at any cost. If you decide to weight train, try to follow the guidelines listed in the paragraph below.
How to make weight training safer for people with high blood pressure?
Use caution if you choose to weight train as heavy weight (strength) training can elevate your blond pressure to dangerous levels. It's wise to ask your doctor if resistance training is OK for you before starting.
Here are some guidelines for a safe workout:
Emphasize muscular endur­ance over strength and power. The goal should be to do a higher number of reps with a lighter load. In other words, avoid lifting heavy.
Circuit training, with lower weights and multiple repetitions is safer. This type of training have more blood pressure-lowering benefits than conventional weight training.
If your blood pressure is above 160/90, check with your doctor before resistance training (weight training).
Be careful of overhead moves.
Always make time to adequately warm up and cool down. People with vascular issues such as high or low blood pressure can get into trouble if they start out too hard and stop exercising abruptly. Be alert that blood pressure medications can cause sudden drops in blood pressure with postural moves such as getting up too quickly.
Don't hold your breath while training.
Ask your doctor what influ­ence your medication has on exercise.
If you can't whistle while you're exercising, you're work­ing too hard.
The effects of aerobic exercise upon blood pressure
Performing cardiovascular (aerobic) exercise, such as a long distance run or a distance swim, causes systolic blood pressure to increase. This increase is usually in direct proportion to the exercise intensity. Systolic pressure can rise from its resting value of 120mmHg to values approaching 200mmHg. This increase results largely from the increase in cardiac output and the vasoconstriction of arterioles that help the vascular shunting of blood towards the working muscles.
However, once steady state is reached, systolic blood pressure may in fact start to gradually decrease due to the arteriole dilation supplying the working muscles. This has the effect of reducing the total peripheral resistance, thereby lowering mean blood pressure to only just above that of resting levels. The diastolic pressure changes little during this endurance type activity.
In the long run the benefits are straightforward. The mechanism behind this is quite simple. Regular cardiovascular exercise makes your heart stronger and more efficient in the long-run. A stronger heart can pump more blood with less effort. If your heart can work less to pump, the force on your arteries decreases, lowering your blood pressure.
Closing thoughts
Weightlifting can cause a temporary (during weightlifting session) increase in blood pressure. This increase can be dramatic, depending on how much weight you lift and some other factors. Regular exercise, including moderate weightlifting, provides many health benefits, including helping to lower blood pressure in the long term. These long-term benefits to blood pressure can easily outweigh the risk of a temporary spike for most people.

But if you have hypertension (high blood pressure), you may want to discuss with your doctor before you increase the intensity of your workouts. Because when it comes to weight lifting and hypertension, there are some precautions and safety measures. Your doctor can help you develop an exercise program tailored to your needs and medical conditions.

The combination of dynamic aerobic exercises with weight training would provide optimal benefit in lowering blood pressure.