The EZ-bar spider curl is a great and very effective exercise that targets your bicep muscles. Because your torso is rested against an incline bench you will successfully isolate the biceps. Moreover, since the torso remains rigid (due to chest support from the bench) you will have the unique opportunity to exclude other muscle groups (such as your back and shoulders) from lifting the load and force your biceps to work at their hardest.
In order to perform this bicep isolation exercise you must have access to an incline bench and EZ-bar. You can also use a preacher bench, however, in that case you have to approach it from the opposite side than you would for traditional preacher curls. You probably have this equipment at any gym you use.
EZ-bar spider curls exercise instructions – proper form
Follow these steps to perform EZ-bar spider curls safely and effectively.
STARTING POSITION (SETUP):
Adjust the bench to a 45-60-degree angle and lie your stomach down on the bench.
Your head should be just above the bench and your chest pressed against the backrest of an incline bench.
With your arms placed at either side of the bench, hold an EZ bar using an underhand grip (palms are facing upwards) and extend your arms toward the ground.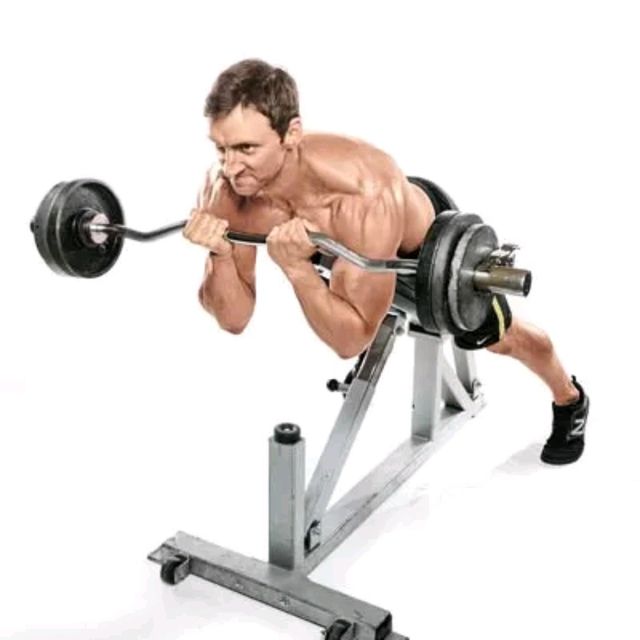 MOVEMENT (ACTION):
Using just the elbows as the hinge, pull the EZ bar upward toward your front delts using just your biceps. Restrain from swinging your upper arm.
Pause briefly when you feel your biceps fully contract,
Lower the bar under control until your elbows are completely locked out.
Repeat for the desired number of reps.
EZ-bar spider curls versus classic standing biceps curls
EZ-bar spider curls provide several crucial advantages over other types of bicep curls.
Compared to free-standing dumbbell/barbell bicep curls, there is less support from the surrounding muscle groups and core. This means you can isolate the biceps much better.
With your chest resting on an incline bench you will remove any momentum assistance (more difficult to cheat). Momentum is always counterproductive in weight training because it decreases the work a muscle does, thereby decreasing the effectiveness of the exercise.
The use of the incline bench provides a greater range of motion (ROM) to the spider curl which adds further challenge to the bicep than other curling variations.
It's likely you won't be able to lift as much weight as you could with other variations.
Spider curls will force you to keep your elbows in the correct place. This is almost never the case with standing biceps curls.
Spider curls offer increased time under tension as compared to other options. Increased time under tension can optimize muscle growth, helping you build bigger muscles.
Performing spider curls can be surprisingly uncomfortable.
Try to keep your upper arms perpendicular with the ground (avoid swinging) while curling the bar.
Additional tips & performance pointers for EZ-bar spider curls
Here are some useful tips you should pay attention to while doing spider curls on an incline bench.
Choose a manageable load to perform spider curls. Only that way you'll be able to contract the biceps throughout and work through the full range of motion.
Stay pressed against the bench. Always try to keep your torso, shoulders, and upper arms completely still to avoid cheating and getting the most out of the exercise.
Use a wider grip if you are using a barbell. A narrower grip will activate the entire bicep instead of just the short head that we want to target with spider curls.
Lift the bar until it's in line with your shoulders. Squeeze your biceps when you bring the weight to the top of the curl. Pause for a moment here to get the full benefit of the squeeze.
We highly recommend using this exercise as a finisher after your full-body workout routine or exercises that focus on your entire arm.
Muscles engaged in EZ-bar spider curls
Spider curls target the biceps, brachialis, and forearm flexors. More precisely, spider curls target the lower part of your bicep (the short head of the bicep muscle). The activation of the short head of the muscle is achieved primarily by keeping your arms in front of your body instead of at your sides. All this makes spider curls beneficial to providing mass and definition not just in your upper arm but also in your lower arm.
Exercise variations
Straight-bar spider curls. You can do spider curls using a straight bar. However, EZ-bar provides a more comfortable wrist position.
Dumbbell spider curls. Hold two dumbbells using a supinated grip and follow the same instructions as for the basic exercise. With dumbbells, you can work each arm independently.
Standing spider curls. This version of the exercise is performed without a bench and requires a different positioning. Take the same body position as you would if you were to perform standing barbell row exercises. Your arms will end up in front of your body as they would if you were to perform a standard spider curl. Due to the lack of a bench for support, the biceps will not be as isolated in this variation.
Replacement Exercises
Closing thoughts about EZ-bar spider curls
Implementing a variety of bicep curls is advantageous to ensure well-rounded bicep training. Positioning on the incline bench helps isolate the biceps (the short head of the bicep muscle) and enforces a strict form.