A barbell is a piece of exercise equipment unavoidable in weight training, weightlifting and powerlifting. Only once you walk into the gym will you realize just how many different types of barbell there are. There are different types of barbells according to their shape, size and its uses. Some of the barbells are as follows: Olympic barbell, EZ barbell, standard size barbell, triceps barbell, trap bar/ hex bar, fixed barbell, thick-handled barbell, and much more. The list is almost endless. However, for this article we have selected an EZ curl bar as the main object of interest.

What is an EZ curl bar?
An EZ bar is a type of barbell that has a wavy (angled, zig-zag), bent shape to it that allows your wrists to be in a more natural position than a straight barbell allows. In other words, it looks like curved or bent versions of a typical barbell. As is the case with a straight barbells, an EZ curl bars can vary slightly in diameter and weight. One thing you will notice for sure about the EZ curl bar is that it is significantly shorter than a standard Olympic barbell which typically sits at around 7 feet in length whereas the EZ curl bar is approximately 4 feet. Once again based on preferences they can come with rubber grips at the end so that way it won't give you any calices.
Other names for this popular bar:
curved bar
V-shaped bar
U-shaped bar
EZ barbell
EZ curl bar
What are the main benefits of using an EZ curl bar?
For some people a straight barbell is naturally comfortable to hold. For others, it can be a bit of a strain. This is where an EZ bar finds its place under the sun since it possesses an ergonomic grip. EZ bars allow the palms to take a less supinated (upward), more natural position when curling. This helps ease the wrist or elbow pain (is some cases even the shoulder pain) that some lifters experience on a typical barbell. In short, the EZ bar makes curling a bit easier and less painful. This reduces the risk of repetitive stress injury in exercises performed using this bar.
Further, it offers better balance when the bar is loaded with weight. Olympic barbells are very long. Using them for curling is very problematic because half of your effort and stabilization muscles are spent keeping the weight balanced. EZ bar will bring the weight plates closer to your natural center of gravity.
Finally, these bars are smaller, lighter and more practical to use for many lifters (especially for beginners). They're also ideal for anyone training at home who is short on space.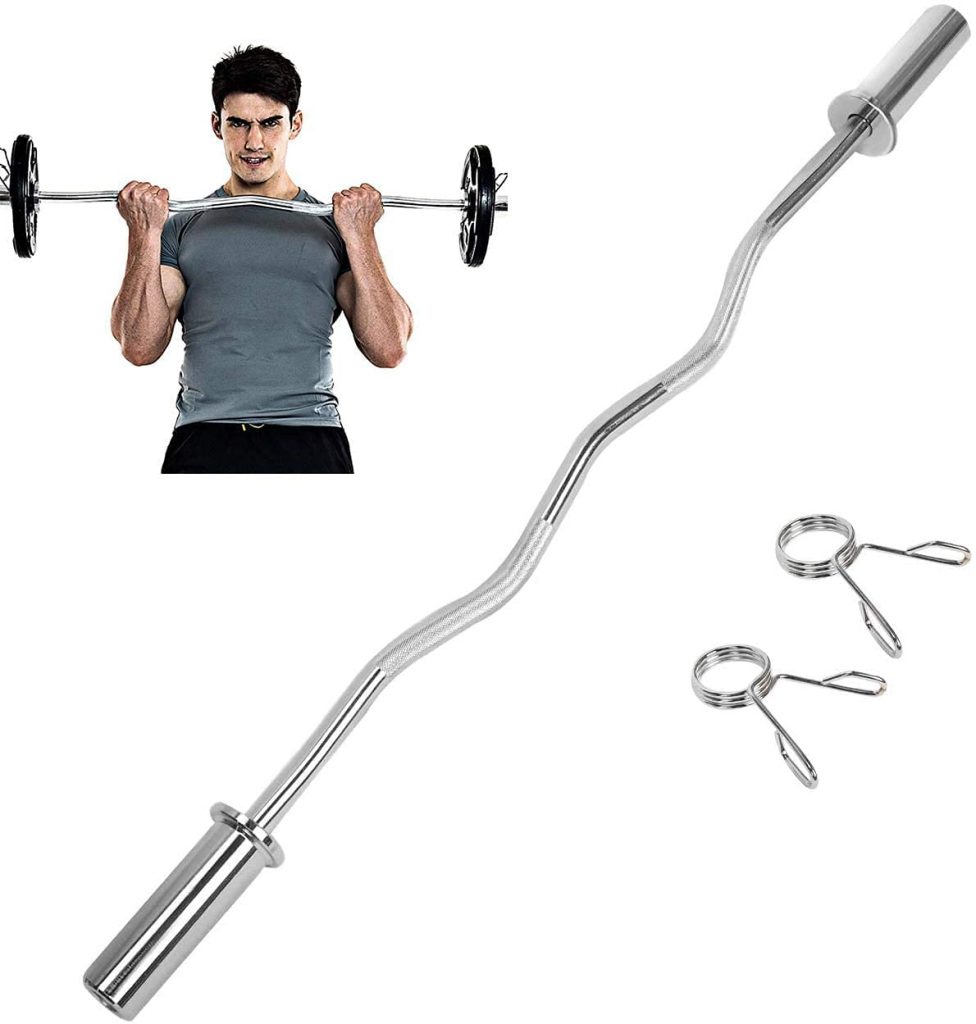 When to use an EZ barbell?
These bars are primarily used for both bicep and triceps exercises. The reason this bar is called an EZ bar is because it is much easier on your wrists and many people we come across have weak wrists and forearms. They are highly effective and in our opinion the most popular used bars.
Originally known as a Dymeck curling bar after its inventor Lewis G. Dymeck, the EZ ("easy") curl bar is a variant of the barbell that is often used for biceps curls, upright rows, bent over rows (with either an underhand or overhand grip) and lying triceps extensions (skull-crushers).
List of exercises for which EZ bar is best suited:
What are the disadvantages of using an EZ-bar?
When performing the biceps curl, using an EZ curl bar prevents full contraction of the biceps – which can only occur with the wrist fully supinated – and thus may prove a less effective exercise. Therefore, the straight bar is better for activating your biceps because it puts your forearms in full supination. It's superior from a muscle growth standpoint.
Also, it's best to avoid heavy compound lifts with an EZ curl bar such as squats and deadlifts. Whilst it's certainly possible to undertake the movements using the EZ curl bar it is best suited to isolation exercises such as skull crushers or bicep curls due to its small frame and lightweight design.
Closing thoughts
The EZ bar is a special barbell with a curved bar that allows you to grasp it with your palms in a more natural, less supinated (upward) position.
If you suffer from any wrist or elbow pain using an EZ curl bar will be significantly better option for you than using a straight bar. On the other hand, if you want to maximize your bicep activation and growth, go with the straight bar when performing curls.
Although straight barbells are better at maximizing bicep muscle activation, your results over the long term are unlikely to differ much, irrespective of what bar you use. If anything, the EZ curl is better for overall arm development because it works the brachialis and the brachioradialis more than the barbell version does. Therefore take the best of both worlds – use them both!