The 5 Components of physical fitness
What does "being fit" mean?
The answer depends on the five key components of physical fitness. The term fitness is not easily defined. Many attempts at developing a simple and concise definition have failed. The major problem with defining fitness is that it is not a simple con­cept. Early attempts at describing fitness were based on the notion that "being fit" means that a person can complete his or her daily routine and still have enough energy to engage in recreational activities.
While this may sound reasonable, such a description does little to account for differences in "daily routines." One person's daily routine may be composed primarily of desk work, with very little physical activity, whereas another person may spend most of the day in relatively strenuous physical activity such as construction work. The construction worker may be less than enthusiastic about rushing to the gym to work out than a friend who works behind the desk, but does this mean he or she is less fit?
From a practical standpoint, fit­ness is simply the extent to which the body can function efficiently. "Being fit," therefore, means having a healthy body that allows you to enjoy life to its fullest.
The concept of health-related fitness may be best understood by looking at the specific components that compose it: aerobic (or cardio­respiratory) fitness, muscular fitness (muscular strength. muscular endurance, flexibility), and body composition.
What are the five components of physical fitness?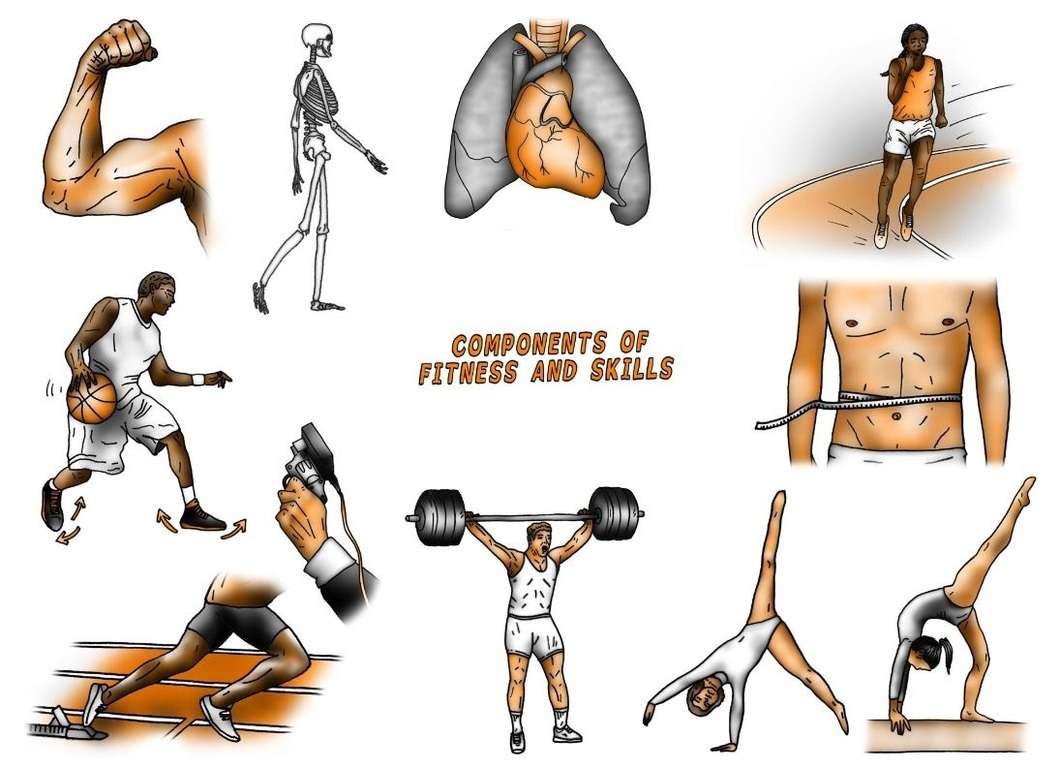 There are five basic components of physical fitness. These include:
Cardiovascular endurance
Muscular strength
Muscular endurance
Flexibility
Body composition
The 5 components of physical fitness are often used in our school systems, health clubs and fitness centers to gauge how good a shape we are truly in. There is unanimous agreement in the fitness community that these are the five components of physical fitness, though the definition of what level of fitness needs to be achieved is a personal one.
Total fitness, therefore, can be defined by how well the body performs in each one of the components of physical fitness as a whole. It is not enough to be able to bench press your body weight. You also need to determine how well you can handle running a mile etc.
I. Cardiovascular endurance (cardiorespiratory endurance; aerobic fitness)
Engaging in physical activity, even breathing, requires oxygen. Without oxygen, you would not be able to burn the food you need for energy. To supply oxygen to the various parts of the body, you must have a transport system. The body's transport system consists of lungs, heart, and blood vessels. When you breathe, you inhale air that contains oxygen into the lungs. The lungs absorb oxygen into their blood vessels and transport it to the heart, where it is pumped out through other blood vessels to all parts of the body.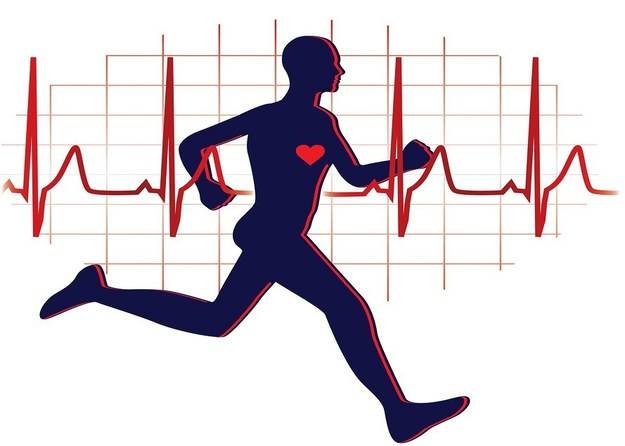 The more efficiently and effectively you transport oxygen, the greater your cardiorespiratory endurance (cardio for heart and respiratory for lungs and breathing)—the ability to supply and use oxygen, over a period of time and in sufficient amounts, to perform normal and unusual activities.
Many fitness experts consider aerobic or cardiorespiratory fitness to be the most important single exercise-related health fitness component because of its relationship to the prevention and control of America's number one killer, cardiovascular disease.
Aerobic exercise is exercise that produces positive physiological effects on the heart, blood, vascular system, and lungs. Examples of aerobic exercises include cardio machines, spinning, running, swimming, walking, hiking, aerobics classes, dancing, cross country skiing, and kickboxing. There are many other types.
Muscular fitness
Muscular fitness is the second major health fitness component. To be more precise, muscular fitness is really three separate and distinct components that combine to produce a functionally efficient muscular system.
II. Muscular strength
The first component of muscular fitness is muscular strength. Muscular strength is simply the ability of a muscle or muscle group to contract forcefully against a resistance. Lifting a load or moving an object depends on muscular strength.
Strength is generally more directly associated with athletic prowess than with health fitness, though it is widely accepted that everyone needs a modicum of muscular strength to function effectively on a day-to-day basis, especially if the daily routine requires lifting, pushing, pulling, or carrying heavy objects.
Probably the most common type of muscular strength exercise is weight training— the systematic lifting of free weights or work with other devices designed to produce muscular strength gains.
III. Muscular endurance
The ability of a muscle or muscle group to contract repeatedly without undue fatigue or to sustain a contraction is called muscular endurance. As already said, lifting a load or moving an object depends on muscular strength. Doing that repeatedly over time requires muscular endurance.
Unlike strength, endurance is most effectively developed through systematically engaging in exercise requiring the muscles to work repetitively against moderate resistance.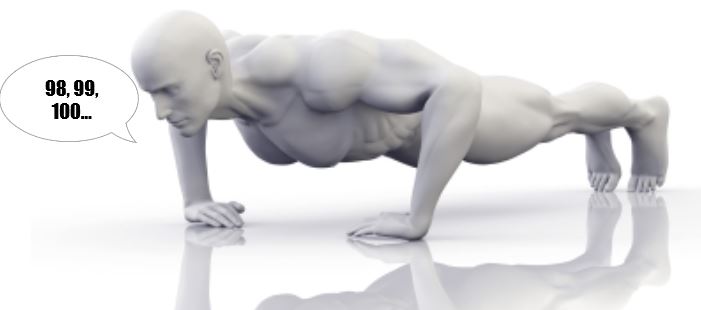 IV. Muscular flexibility
The third muscular fitness component is flexibility. The range of motion around a joint, or more simply the degree to which you can move your limbs with grace and efficiency, is flexibility. Flexibility is important in performing exercise efficiently, safely, and enjoyably. Without adequate flexibility, you might not be able to stretch sufficiently, might overstress a muscle or ligament, and might even feel uncomfortable moving.
Flexibility is probably the component of physical fitness that is most overlooked, yet the consequences of ignoring muscular flexibility can be pain and discomfort, injury, and poor health.
The old adage "Use it or lose it" is never more appropriate than when referring to flexibility. Children are generally very flexible, as noted when an infant chews on his toe or puts her foot behind her head. As adults, we can lose flexibility rather rapidly unless we make a conscious effort to maintain it. In short, flexibility does not have to dissipate with age, but it often does because of a simple lack of exercise.
V. Body composition
The final major component of physical fitness is body composition, which is simply a person's relative amount of fat versus fat-free weight.
Your body contains some parts that are made up of fats and others that are not. The fat component is usually referred to as fat weight, and fat in relation to the body as a whole is referred to as percent body fat.
To function efficiently, the body needs a requisite amount of fat, since fat plays a vital role in the conduction of nerve impulses, insulation and protection of vital organs, utilization of fat-soluble vitamins, and maintenance of healthy skin. This call this type of fat essential fat.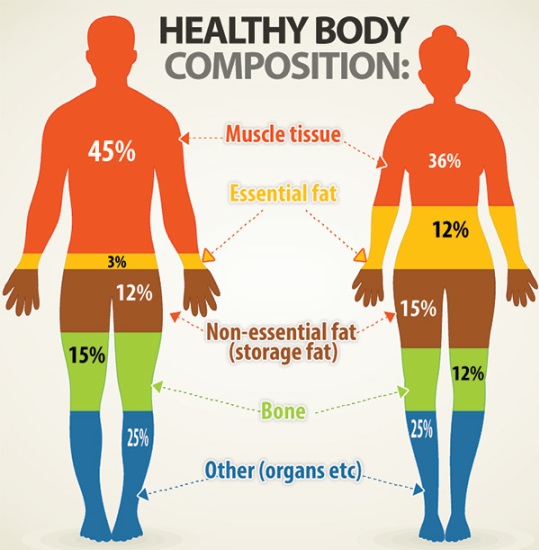 The body generally stores additional fat to be used for energy should the need arise. This fat is often referred to as expendable fat. When one's fat stores become excessive, the results are health-threatening and may include the inability to regulate body temperature normally; the tendency toward diabetes; stress on the lower back, knees, and ankles, leading to chronic orthopedic problems; and stress on the cardiorespiratory system, resulting in an enhanced probability of cardiovascular disease.
The non-fatty component is called lean body mass. Body composition is the relationship between these two components.
In the past, people relied on height-weight charts to evaluate body composition. We now realize that someone can weigh many more pounds than what a chart based on height indicates is appropriate but still have good body composition. This condition can occur in a person who is muscular and has a good deal of lean body mass. Conversely, someone at just the right weight according to a height chart could be overweight because of too much fatty tissue and not enough lean body mass.
Related posts
Closing thoughts: components of physical fitness
If you really want to measure the overall fitness of a person you have to take into consideration the five components of physical fitness. For an average person, workout should be based on these 5 health related fitness components described above.

Other skill related components of physical fitness like speed, agility, balance, coordination, reaction time and power are considered for judging the physical fitness of an athlete.