Flaxseeds and Flaxseed Oil in Bodybuilding Diet
Just as your body requires complete protein foods to obtain the essential amino acids, it also demands certain types of fat. These essential fatty acids are linoleic (omega-6) acid and alpha-linolenic acid (omega-3), which the body can transform into any kind of fat it needs. Omega-3 and Omega-6 are referred to as good fat and are required for optimal health.
However, what if you don't like fish but you want to obtain omega-3 fatty acids from food sources? We have a great news for you. Flaxseed is the best plant source of omega-3 fatty acids and is packed with fiber and other nutrients. In this post you'll discover the real value of flaxseeds and flaxseed oil for every person's diet – including athletes, weightlifters, and bodybuilders. But, as always, it's not that simple. You'll find out why flaxseeds and flaxseed oil are only a backup, not a substitute for the omega-3s in fish and fish oil.
Nutritional facts of flaxseeds
What makes flaxseeds & flaxseed oil so special? Flaxseeds and flaxseed oil offer a wonderful source of omega-3. One option is to use flaxseed oil in salad dressings or to sprinkle ground flaxseeds into a morning shake or juice, or on cereal or a salad.
One tablespoon (10 g) of whole flaxseed contains:
54 calories
1.9 grams protein
3.0 grams total carbohydrate (2.8 g dietary fiber; 0.2 g sugars)
4.3 grams fat (including 0.4 grams saturated, 0.8 grams monounsaturated, and 2.9 grams polyunsaturated fat)
2338 mg total Omega-3 fatty acids
606 mg total Omega-6 fatty acids
0.2 mg thiamin (11 %DV)
0.3 mg manganese (13 %DV)
40.2 mg magnesium (10 %DV)
Source: nutritiondata.self.com
Why are flaxseeds a good choice for athletes, weightlifters, and bodybuilders?
Flaxseeds contain many nutrients that are important for losing body fat and building muscle. They are one of the best plant sources of healthy omega-3 essential fatty acids, which help reduce inflammation.
Reducing inflammation in the body is important when building muscle. This means the muscles will not be sore after intense workouts and the body will be able to heal muscles faster.
Plus, they are rich in fiber, which help boost energy and increase stamina. They are also a source of complete protein, containing all the essential amino acids that your body requires.
The omega-3 fatty acids, in addition to their health benefits to the brain, help in making the muscle cells more insulin sensitive, which helps to absorb greater amounts of glycogen and amino acids into the muscle cells.
A bodybuilder should eat oily fish at least three times a week and add one or two tablespoons of flaxseed oil to his or her diet daily to consume a sufficient amount of omega-3 fatty acids.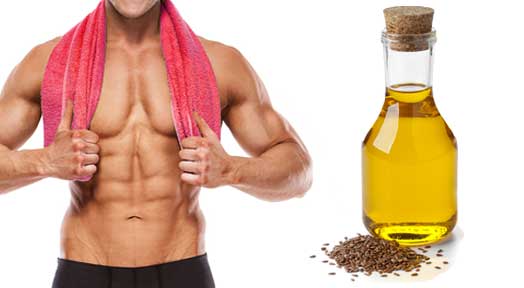 Health benefits
Flaxseeds' health benefits are mainly attributed to the omega-3 fatty acids, lignans and fiber they contain.
Studies have shown that flaxseed:
reduces the risk of cancer and tumors in the breast, prostate, and colon;
lowers total cholesterol and blood pressure;
stimulates development of brain tissue;
keeps hunger at bay (helps with weight control);
improves digestive health (helps reduce constipation);
Tips for adding flaxseeds to your diet
Many people simply don't know how to include flaxseeds in their diet. Therefore, here are some great suggestions.
First and foremost, grind the flaxseeds to get the most benefits out of them. Most nutrition experts recommend ground over whole flaxseed because the ground form is easier to digest. Whole flaxseed may pass through your intestine undigested. This means you won't get all the benefits. A coffee grinder, food processor or blender will do the job. To ensure freshness, after grinding, store your flaxseeds in an airtight, dark container.
Take one tablespoon of ground flaxseeds with yogurt or milk before going to bed. You can also eat them in salads, cereals, soups, smoothies and protein shakes. Add ground flax to salad dressing (or use flaxseed oil instead), hummus, whole grain cereals, milkshakes, or nut butters. You can also sprinkle them over berries or cooked vegetables. You can actually sprinkle flaxseeds on almost any dish.
While preparing cakes, breads, muffins or other baked items, add ground or toasted flaxseeds for additional nuttiness and flavour.
Tips for using flaxseed oil
When using flaxseed oil, never heat it. It is not suitable for cooking and should always be stored in an opaque, airtight container in the refrigerator or freezer. If the oil has a noticeable odor, it is probably rancid and should be discarded.
Why flaxseeds and flaxseed oil can never be a substitute for the omega-3s in fish and fish oil?
In terms of reaping the proper amount of EPA and DHA from flaxseed, the results show that flaxseed is just not enough.
Although the major type of fat present in flaxseed oil, ALA, can be converted to EPA and DHA (the two types of omega-3 fat more readily absorbed by the body), for the majority of people, the conversion appears to be inefficient.
For example, fish oil has been shown to have anti-inflammatory effects for conditions such as rheumatoid arthritis, while the effects of flaxseed oil on inflammation are inconclusive. Fish oil can reduce platelet aggregation (the stickiness of your blood cells), which is a risk factor for heart disease; however, flaxseed oil did not demonstrate the same results. There are some health benefits that have been associated with the use of ground flaxseeds or flaxseed oil, such as reduced cholesterol and help with constipation.
Food Fact: Research suggests you need to take almost 10 times the amount of flaxseed oil to get the equivalent amount of DHA and EPA found in fish oils. Approximately 7.2 grams of flaxseed oil is equivalent to the benefits of 1 gram of fish oil.
Flaxseed oil salad dressing
2 tablespoons extra virgin olive oil
1 tablespoon flaxseed oil
One tablespoon white balsamic vinegar
1 teaspoon lemon juice
2 tablespoons capers
1/2 teaspoon fresh chopped garlic
Salt and freshly ground black pepper to taste
In a small bowl, whisk together the olive oil, flaxseed oil, vinegar, lemon juice, chopped garlic and capers. Season with salt and pepper.
Summing up
Flaxseed oil doesn't get a lot of attention, but is a superb source of nutrition for bodybuilders. Flaxseed oil and fatty fish such as salmon, mackerel, and sardines are an excellent source of omega-3 fatty acids. As a versatile food ingredient, flaxseeds or flaxseed oil are easy to add to your diet. Therefore, incorporating both flaxseeds and flaxseed oil into your bodybuilding regime has never been easier. However, they should not be relied on as a source of omega-3 due to their inefficient conversion to EPA and DHA.