A number of dietary weight loss supplements contain water-soluble fiber, which can absorb water in the gut and, therefore, decrease feelings of hunger and, in turn, reduce food intake ultimately leading to weight loss. Examples of some of the most common sources of fiber in these products are glucomannan, psyllium, and guar gum.
What exactly is glucomannan?
In short, glucomannan is a polysaccharide (long chains of simple sugars, primarily mannose, and glucose) that is classified as a soluble fiber. Glucomannan is derived from several plants, but the primary source is an Asian plant called konjac (also known as elephant yam). It has the highest molecular weight and viscosity of any known dietary fiber. What that means in plain English is that GM absorbs a huge amount of water which causes it to expand.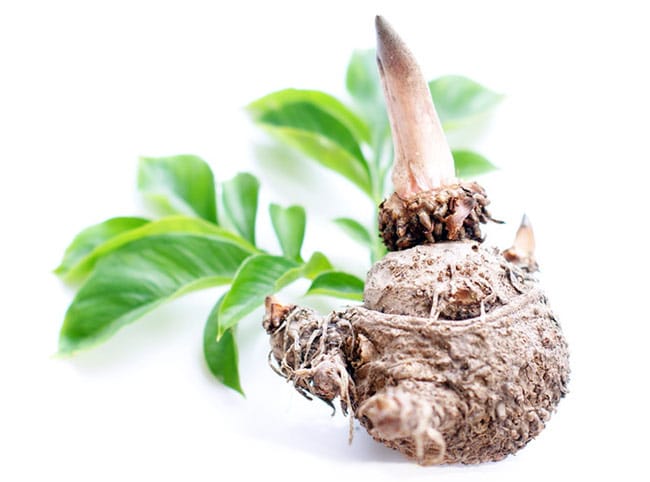 How does glucomannan help you lose weight?
Like many soluble fibers, glucomannan can bind with a variety of substances in the digestive tract to slow digestion, relieve constipation, and reduce the absorption of fat and carbohydrates. Because it can absorb a great deal of water (up to 200 times its weight in water) and promote a feeling of fullness, glucomannan is frequently used in supple­ments intended to promote weight loss. Of course, this is the effect seen with fiber in general and foods high in fiber, thus why higher fiber diets are recommended in general when trying to lose weight.
What are the claimed benefits of taking glucomannan supplements?
Lowers cholesterol and triglyceride levels
Reduces fat absorption
Promotes blood sugar control
Increases feeling of fullness (satiety)
Promotes weight loss
What does scientific research say about glucomannan?
A handful of clinical studies confirm that glucomannan lowers cholesterol (total and LDL). In childhood obesity, glucomannan has been shown to decrease cholesterol and triglyceride levels significantly. In one study, two groups of twenty-five severely obese patients underwent very low-calorie diet therapy for three months (with or without a 4 g per day glucomannan supplement). The results showed that the glucomannan group had a significant loss of body weight and fat mass compared to the group receiving diet therapy alone. The glucomannan group also had a more pronounced change in lipid status and carbohydrate tolerance.
In another study, twenty obese subjects were given 1 g of glucomannan with 8 oz of water one hour prior to each meal for two months (versus a placebo). Subjects were instructed not to change their eating or exercise patterns. Results showed a significant weight loss (5.5 lb) as well as a drop in serum levels of total and LDL cholesterol (15 to 20 mg/dl) in the glucomannan group, but no significant change in the placebo group.
In terms of gastrointestinal benefits, seven to ten days of glucomannan consumption has been shown to increase the growth of beneficial bacteria in the gut (Bifidobacterium) and relieve constipation (3 to 4 g per day in divided doses) without causing excessive diarrhea or flatulence.
In animal studies, glucomannan has been shown to help control blood sugar levels—possibly by slowing the absorption of glucose into the bloodstream.
Safety & Side Effects
Like other soluble fibers, glucomannan has the potential to bind with and reduce the absorption of certain nutrients. Therefore, a daily multivitamin supplement may be advisable for individuals consuming high doses of glucomannan on a regular basis. In high doses, glucomannan may lead to diarrhea, bloating, and flatulence, but cutting back the dose relieves these unpleasant side effects.
Dosage
Typical dosage recommendations for glucomannan are 1 g consumed with at least 8 oz of water approximately one hour prior to a meal (can be repeated 3 to 4 times per day at each meal). If combined with other fibers, follow the directions on the specific product, because different fiber products may have different dosage/use recommendations.
Combining with other weight loss supplements
As a weight loss aid, glucomannan is sometimes combined with other fi­bers, such as chitosan, to increase the fat-binding effects and feelings of fullness—both of which may be effective in promoting weight loss and weight maintenance as well as for controlling mildly elevated cholesterol and blood sugar levels.
Buying glucomannan supplement
If you can't find any glucomannan supplements, look for "konjac root" or "konjac mannan." which are exactly the same as glucomannan. You might want to compare prices between traditional retailers and online distributors. The price of glucomannan can vary and does not necessarily reflect quality.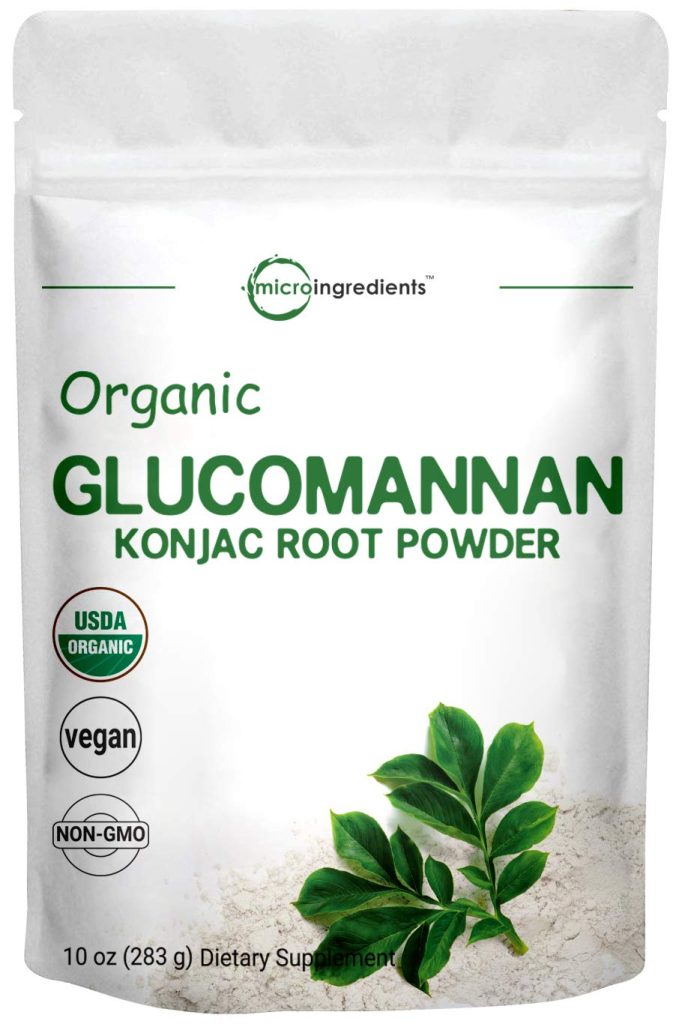 Capsule or powder form?
Reported adverse effects of glucomannan in the capsule form include gas, bloating, and mild diarrhea. Some reports of esophageal obstruction when glucomannan is ingested in the tablet form were reported, as the tablets swell before reaching the stomach. Fortunately, glucomannan is no longer available in tablet form.
Worth for money
Glucomannan supplies no nutrients other than fiber whereas most foods high in fiber supply many nutrients such as vitamins, minerals, various phytonutrients, etc.
Eating low GI, high fiber foods will lead to essentially the same results, which are an improvement in blood lipids, a feeling of satiety with meals, and improvements in blood sugar regulation.
Because most studies find GM effective for weight loss and no serious side effects have been reported, we add GM to the "might be worth a try" list.
Recommended readings
Summing up and closing thoughts
Glucomannan is a highly purified, water-soluble dietary fiber that is derived from the konjac root also known as elephant yam. It is a very soluble and highly viscous dietary fiber that, like any fiber, adds bulk (i.e., occupying space in the stomach) to the diet. Evidence suggests that GM exerts some of its beneficial effects by promoting satiety, and perhaps, the release of certain hormones involved in satiety (e.g., CCK, etc). All of this can lead to reduced calorie intake.