Hanging Knees to Elbows Exercise Guide
Hanging Knees to Elbows are a great core exercise that will also do wonders for your agility and grip strength. Work hard to get your knees all the way up to your elbows and you'll really notice the difference in your midsection strength. The only Hanging Knees to Elbows equipment that you really need is the chin-up bar.
How to Perform Hanging Knees to Elbows?
STARTING POSITION (SETUP):
Grab a pull-up bar with a double underhand grip at shoulder width. Hang from a bar with your legs extended.

Your arms should be also relatively straight.
This will be the starting position for the exercise.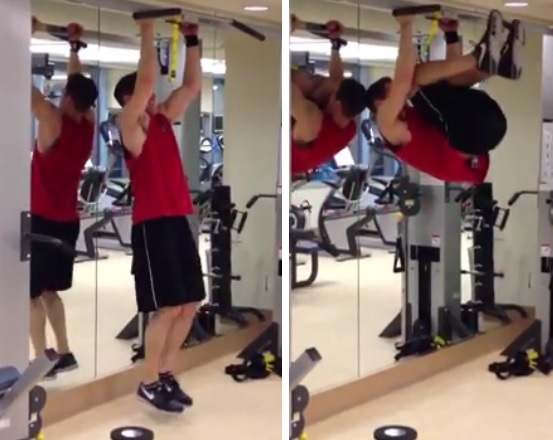 MOVEMENT (ACTION);
Initiate the motion by retracting your shoulder blades, and driving your hips up and forward. In other words, using your lower abdominal and core muscles, tilt your pelvis under, bend your knees and raise them (while crunching your core) as as high as you can in a smooth, controlled movement.

Bring your knees up to the tips of your elbows.
Your hips will naturally move forward slightly, but don't let the momentum swing your body.
Hold for a second, then slowly return to a full hang/full extension through the elbow and shoulder before repeating.
Additional Tips & Tricks
Try to avoid swinging your body and using momentum in order to to raise your body up to the top position.
If it's

impossible

for you to

completely

prevent your lower body from swinging, then at least avoid swinging wildly with jerky movements.
Focus on curling your legs up and feeling the tension directly on the core muscles as you crunch up from the bottom to the top.
Full range of motion can only be achieved by engaging and tilting the pelvis upward. This engages the lower abdominal region.
Muscles Engaged in Hanging Knees to Elbows
This multipurpose exercise strengthens the upper, lower, and oblique (side) abdominal muscles, as well as muscles in the front hip (hip flexors). What's more, Hanging Knees to Elbows also develops grip strength as the exercise requires the athlete to execute a static hang from a bar.
Easier Variations (Replacement Exercises)
This is very advanced and demanding exercise. If you've never done this before we definitely recommend trying out something more appropriate for your level of physical fitness. Developing core strength is a gradual process. Because the movement can potentially cause injury when performed with poor form, you should only attempt it after you have mastered a good range of basic core exercises.
You can make this exercise easier by performing the following core/abdominal exercises: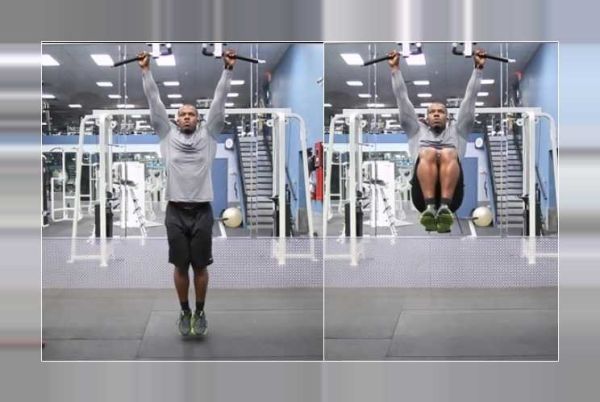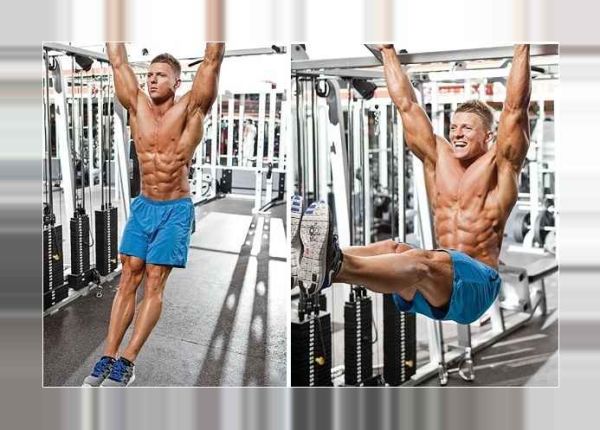 Parallel Bar Leg/Knee Raise. In this version your back is supported against a backrest and your elbows rest on pads. This prevents your legs and torso from swinging.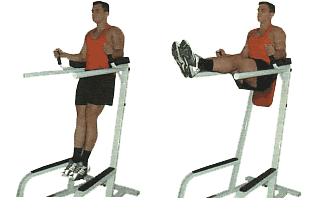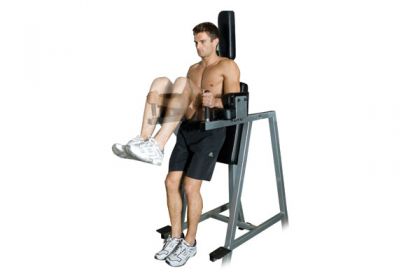 Lying Elbows to Knees. Lie on your back. Raise knees and feet toward your chest. Clasp your hands together at the base of your neck, then curl your upper body, bringing your elbows to your knees. Slowly lower your upper body to the mat. The lower half of your body remains motionless. Exhale as you bring elbows to knees.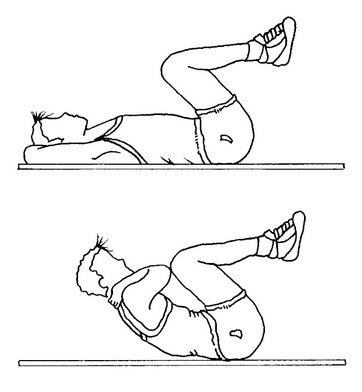 Lying Knees to Elbows: Lie on the floor, with hands clasped at the base of your neck. Raise your head and shoulders off the floor. Your upper body remains in this position. Now raise your knees and feet in a tucked position toward your elbows, keeping your lower back pressed to the floor. Lower your toes to the ground, then ex­hale as you raise knees to elbows to begin the next rep.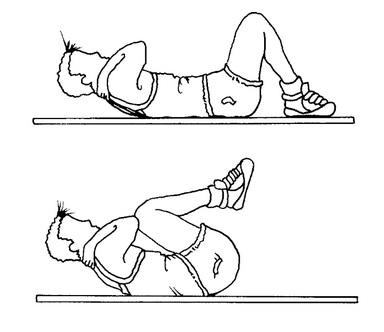 Closing Thoughts
It can take a bit of time to build core strength, so don't start the advanced core exercises too early if you aren't yet mastering the basic core exercises. The worst thing you can do is try to perform an exercise you aren't ready for. Doing so can make you perform the exercise with poor form, causing an injury.
The Hanging Knees to Elbows is an excellent exercise for those with an expert level of physical fitness and exercise experience who demand a total core strengthening movement. Once you completely master this exercise you'll be ready for the next step – Hanging Toes to Bar exercise.