Hanging Toes to Bar Exercise Guide
Hanging Toes to Bar are an advanced progression of Hanging Knees to Elbows and require a good degree of core and grip strength. Performed while hanging from a pull-up bar, this exercise involves hinging at the pelvis, jack-knifing your feet overhead and touching your toes to the bar.
Exercise Instructions
Follow the instructions below in order to perform Hanging Toes to Bar exercise correctly and effectively.
STARTING POSITION:
Hang straight down from a pull-up bar with a shoulder width grip. Palms can be underhand or overhand (recommended).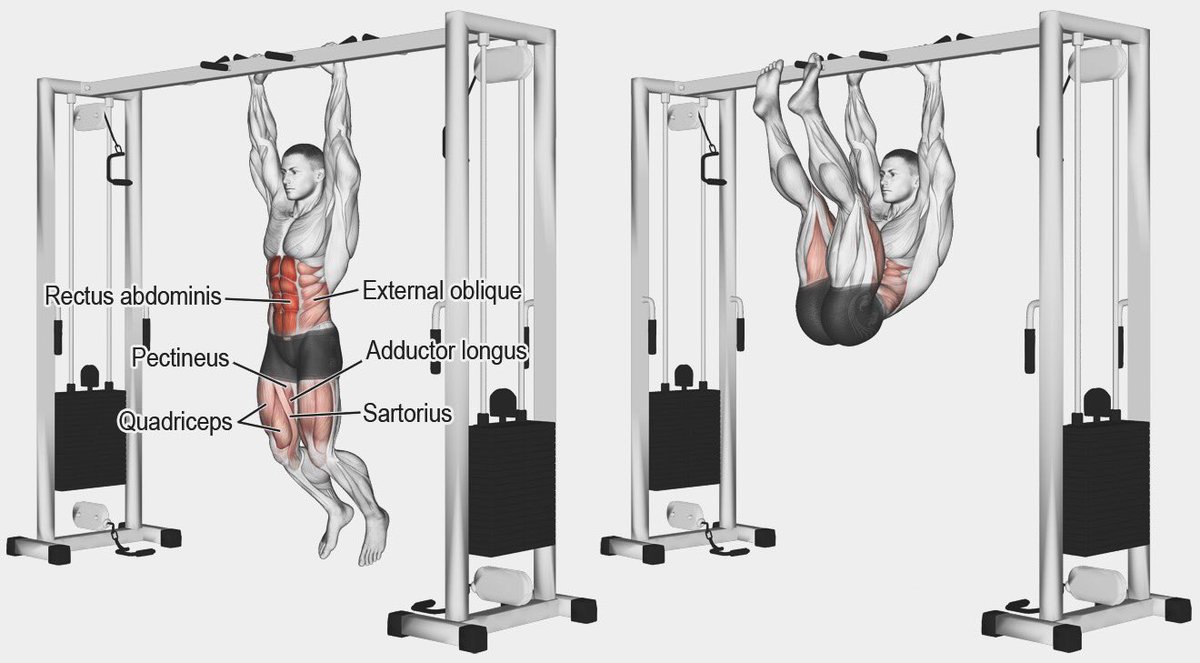 EXERCISE EXECUTION (ACTION):
With knees just slightly bent raise your legs up until they touch the pull-up bar, while actually curling your pelvis as well.
Return to a full hang/full extension through the elbow and shoulder before repeating.
Again, bring your toes up to touch the bar.
Hanging Toes to Bar Key Points
Your back should round as you curl pelvis up.
Without curling the pelvis up during this exercise, it uses very little abdominal activity, while focusing exclusively on hip flexors.
The most important point to actually do this exercise correctly is the curling-up action of the pelvis. Done correctly, it will properly strengthen both abs and hip flexors.
Hanging Toes to Bar exercise can be done with straight arms or a slight bend at the elbow. Find out what works for you.
Minimize momentum (don't swing) and use slow, controlled movement to lower your legs back down to starting position.
By using a gymnastic kip (swinging) you'll make this more efficient. However, if you're

strictly

focusing on an abdominal strength development you want to avoid any momentum or kipping.
You can perform this core exercise with bent knees. However, you should really aim to do it with straight legs if possible.
Muscles Engaged
Hanging Toes to Bar exercise is a very challenging all-body exercise that hammers hip flexors, abdominals, latissimus and your grip (forearm muscles): it emphasizes hip flexion and abdominal strength. The kipping version, which loads up the body with torque like a tight rubber band, then releases it by flexing the hips, additionally teaches the use of momentum.
Modification /Scaling for Beginners
Lift your legs with bent knees as high as they will go. Also try flutter kicks (in which you lie supine on the floor and scissor your legs while keeping your lower back pressed into the floor) or V-ups.
Beginners should also master these easier core exercises (abdominal exercises) first:
Make it Even Harder
Closing Thoughts
This is very advanced exercise. If you've never done this before we definitely recommend trying out the hanging knee raise and the hanging leg raise first. Once you master that level, you can try the next step – hanging knees to elbows. Only then you'll be ready to take the final challenge presented with this exercise.