The regular (classic) step-ups are a good way to improve the shape and definition of your legs. The high box step-ups with knee raise are more advanced and a far more effective exercise than the classic ones. This exercise is performed using a slightly higher sturdy box along with raising the knee of one leg as high as possible (up to full hip flexion). This places an additional requirement on your leg muscles as well as on your stabilizing muscles of the core. Performing this exercise can help make activities that involve a lot of climbing less difficult.
Exercise instructions for the high box step-ups with knee raise
Follow the instructions below in order to perform high box step-ups with knee raise correctly and effectively.
STARTING POSITION (SETUP):
Hold a dumbbell in each hand at your sides, palms facing in. Instead, take an empty or weighted Olympic barbell and place it your rear shoulder muscles. Alternatively, perform the exercise using only your body weight for resistance.
Stand in front of a step, sturdy box, or bench with your feet roughly shoulder width apart. Tighten your abdominal muscles to help protect your back.
Place your right foot flat and entirely on a bench or box that is 45 and 65 cm high. In other words, the step or bench should be high enough so that your upper leg is slightly more than parallel to the ground when you step up. Keep your back flat and your head in a neutral position.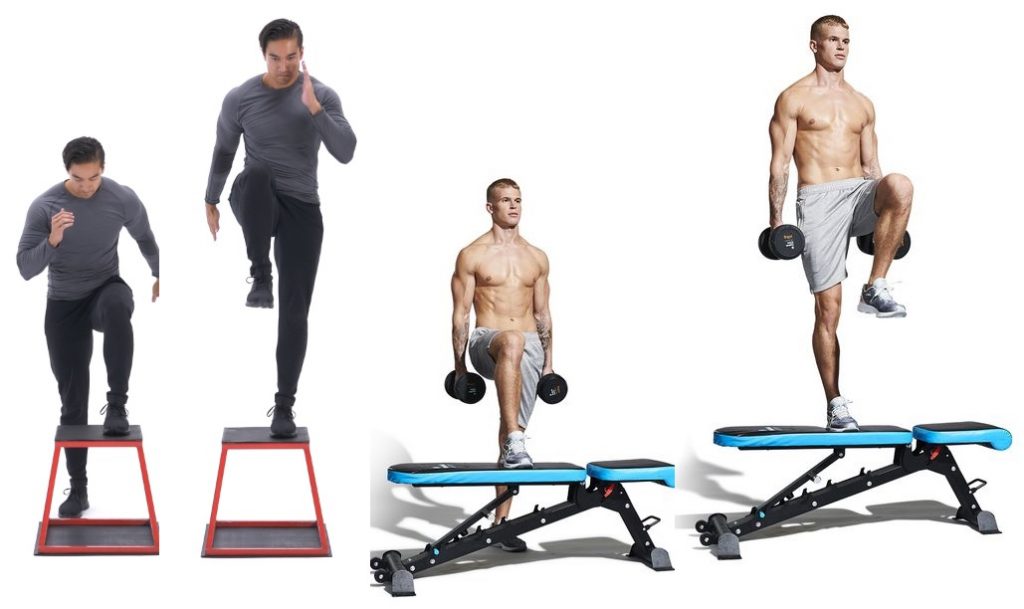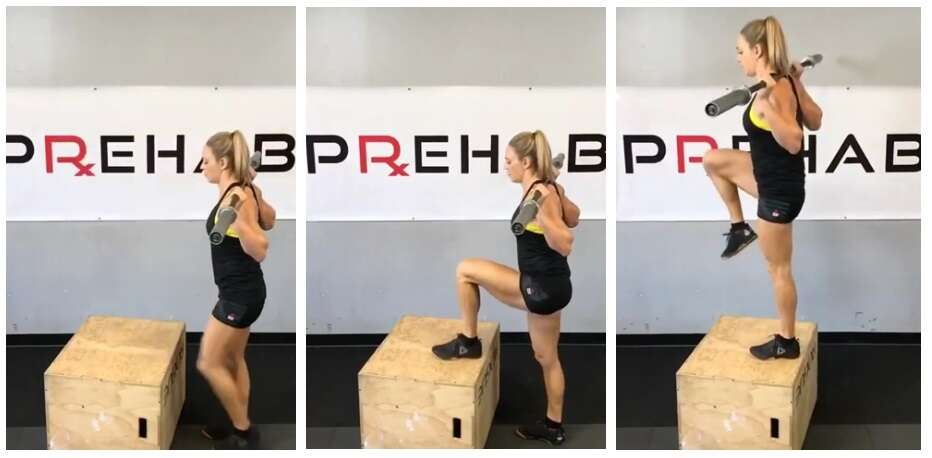 MOVEMENT (ACTION):
Drive up through the heel of the foot that is on the box or bench (your right foot) by extending your knee and hip. Raise the knee of your nondriving (trailing) leg (left one) up as high as you can. Return the nondriving (trailing) leg slowly to the floor. The foot of the trailing leg should never touch the platform.
Step off the box with your right leg.
At this point you can either alternate legs or continue to work the same leg until a complete set is accomplished. If you choose to work one leg at a time, don't bounce off your back leg; rather, take control and force the lead leg to do as much as possible.
High box step-ups with knee lift: video demonstration
This video will show you exactly how to perform this exercise safely and effectively.
Additional tips
When performing the high box step-ups with knee raise, make sure the step or bench is large enough to accommodate your entire foot, so you can pull yourself up onto the step or bench with your entire foot instead of just the ball of your foot.
Do not step up onto the ball of your foot. Make sure your entire foot steps up onto the step or bench and you pull yourself up through your heel.
Do not hunch or arch your back. Make sure your head, neck and back form a straight line during the entire exercise.
Use caution when performing this exercise if you have knee problems. You can lessen the pressure on your knees and make this exercise easier by using a lower step, box, or bench.
Don't rely too much on momentum to step up.
The bottom position of the high step-up mimics the back squat because the working leg is in the same position at the bottom of a deep squat. With that said, don't choose a platform height so high that your low back rounds.
Key benefits
Here are the main benefits when compared to a traditional step-ups:
Lifting the trailing leg up to full hip flexion provides a greater range of motion (ROM).
Greater focus on powerful hip extension in the working leg.
Builds hip and leg strength.
Helps with muscle and strength imbalances.
Muscles involved
The high box step-ups with knee raise focus on your quadriceps and hip flexors, but also strengthen your hamstrings and buttocks.
Main muscles: gluteus maximus, quadriceps
Secondary muscles: hamstrings, adductors
Antagonists: iliopsoas, sartori
How can I work my buttocks more?
Varying the height of the box adds variety and changes the focus from glutes (higher box) to quads (lower box).
You can perform step-ups that work your hamstrings and buttocks more by positioning yourself farther away from the step or bench.
To target more of your quadriceps, stay more upright; to target more of your glutes, bend more at the hips. If you're leaning forward more, don't let your hips shoot up.
Exercise variations
There are several ways on which you can perform the high box step-ups with knee raise:
using only your bodyweight
taking dumbbell in each hand
using an empty (or weighted) barbell
with kettlebells
Closing thoughts: High box step-ups with knee raise
By using a more challenging step height, this variation activates your hamstrings and glutes more than a traditional step-up. However, it's still a great exercise to target your quadriceps. This is especially true if, for some reason, you can't perform squats.