How long to rest between workouts?
In one of our previous post we were talking about the optimal rest time between sets and exercises for the same muscle group (on the same workout). In this post you will find out how long to rest between workouts for the same muscle group.
Getting enough rest in between training
Rest is the most important part of any training program. There is no doubt about that. You need to treat your muscles well if you want them to grow, and making sure they get enough time to recuperate between workouts is mandatory. The improvements we see don't come about during training. They happen during the rest or recovery period in between training. That's when your body responds to the training and adapts to it in preparation for the next session. Fortunately the body responds very well to daily training, as long as you have built up to this point slowly and know exactly how hard you can push yourself.
The improvements we see don't come about during training; they happen during the rest or RECOVERY period in between training.

What is really happening in our body after a stressful workout?
Rest between workouts is as important as the training itself. Here's why!
During and immediately after a workout your body is in a catabolic state (i.e. breaking down proteins) and levels of stress hormones such as cortisol are high. As you start to recover from your workout, levels of muscle-promoting hormones such as testosterone gradually rise, the damaged muscle proteins are replaced with new muscle proteins, and glycogen stores are also restored.
Clearly, these processes take time. It is only after completion of the recovery process that the muscles can grow and strengthen. If you attempt to train your muscles before the process is complete then you will experience only minimal growth or none at all. In other words, training before you have recovered
fully is counterproductive.
How long to rest between workouts for the same muscle group?
You can strength train every day of the week, but you have to do different workouts so that your muscles can recover.
Because of the higher-intensity work that your muscles do during strength training, the rule is to let them rest 72 hours before working them again. If you want to add strength training into your daily schedule, you just have to split your workout so that some muscles get to rest while others are working.
A common approach is to split your workouts into upper- and lower-body days or to split up the muscle groups so that you train complementary muscles together on different days (split program).
So if you do an upper-body workout on Monday, you shouldn't do another upper body workout until Thursday at the least.
Or, for example, you could do a two-day split working chest, triceps, and shoulders on Day 1. On Day 2 you could do exercises focused on legs, biceps, and back. Then you can take 1 day off. Alternately, the workout could be split over three days: on Day 1 work legs and shoulders, Day 2 biceps and back, Day 3 chest and triceps. Now you can take 1 day off and start all over again.
Finally, training the entire body over the course of five days allows you to train only one (or two) muscle group in most workouts. In this scenario you don't have to worry about getting adequate rest between workouts since you will hit each muscle group only once per week.
How long to rest between full-body workouts?
The standard advice these days is that you should give yourself at least 48 hours in between full body workouts. Why not more? Because you will need to train up to 11 major muscle groups (chest, shoulders, back, quadriceps, hamstrings, biceps, triceps, forearms, trapezius, calves, and abdominals) in each workout, the number of exercises and sets you can do per muscle group is minimal. This allows you to train each muscle group more frequently because it receives a limited amount of stress at each workout.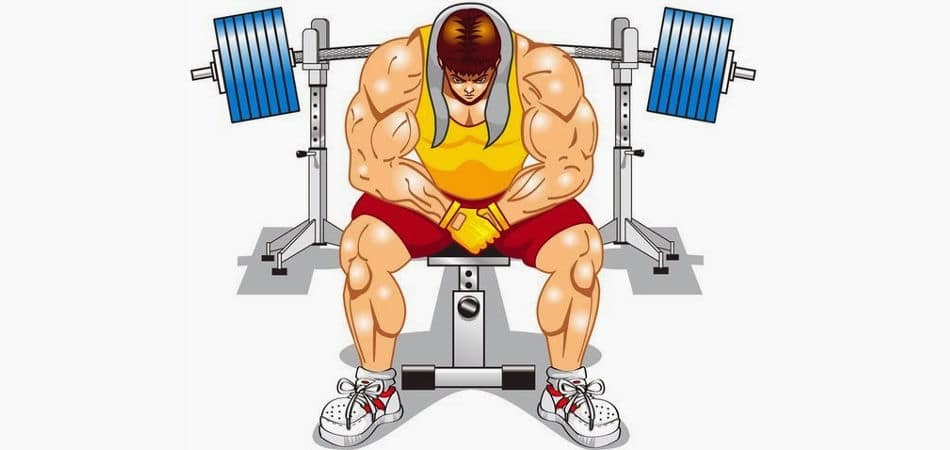 Can I get too much rest?
Yes! Complete rest occurs in 48-72 hours (depending on the type of training), but after 96 hours you actually get too much rest.
How is that possible? If you rest too long, your body will decide that it doesn't need to maintain its new level of ability, so it will actually start to downgrade. This is the basic "use it or lose it" rule. Everything you do in training is designed to improve your body systems, but your body is inherently lazy and wants to maintain minimal homeostasis (the least amount of work it has to do). So after 96 hours without another workout stimulus to keep it going, your body starts to return to baseline.
Are these numbers just another myth among many in fitness industry?
We're definitely not minimizing the importance of recov­ery. However, we are questioning the cookie-cutter approach to recovery. This stan­dard formula (48- and 72-hour rules) might work perfectly for you. But it might just as easily give you more recovery than you need, or less. It all depends on the way you train and how often you want to train.
If you're a busy guy with a family, a full-time job, and a secret life fighting crime, you probably don't want to work out more than three times a week. So if we tell you to do three total-body workouts every 7 days, you're not even tempted to ask whether it's okay to train more often.
But let's say you are 25, work an entry-level job with minimal stress, and are highly motivated to build the best physique you can while you have the time and energy. Do the 48- and 72-hour rules apply to you as well? Will you sabotage your results if you don't let your muscles rest for multiple days between workouts?
The human body will adapt to the demand that's placed on it. If your muscles always have at least 72 hours to recover between workouts, that's how long the process will take. Why? Because you haven't given your body any reason to make those muscles recover faster. You don't know if they  could recover in less time because you haven't tried imposing that particular demand on them.
Consider athletes who work the same muscles every day, or multiple times each day. Do gymnasts have puny shoulders and upper arms because they don't give those muscles 72 hours to recover after using them on the rings or parallel bars? Do speed skaters or downhill skiers have skinny thighs from daily sprints and training runs?
Closing thoughts
To avoid training a fatigued muscle, adequate rest time is needed between training sessions. In general, the higher the intensity of the training, the longer the rest period required between sessions. But typically, if you're overtraining, you'll feel it. So there's no single recovery protocol that applies to every lifter and every type of training. Listen very carefully to your body's signals and you will always know what's the optimal rest between workouts for you. There's no need to blindly follow the cookie-cutter approach to recovery. If your body tells you it needs a break, listen to it. The rest between workouts also depends on your training experience, your diet and supplementation.