In the following review of Crazy Nutrition's Mass Gainer formula, we will discuss (among other things) how the product works, it's ingredients, benefits, pros, cons, taste, pricing, and side effects. We hope the information below will be helpful in making your final decision as to whether or not you're the right candidate for this product. Keep in mind that this type of sports supplement can be very tricky and that one should pay attention to many things before making the final purchase. Mass gainers are sold on the market in ample amounts, but most of them turn out to be gimmicky.
What are weight-gain powders and what is their purpose?
You've seen them: huge cans brightly labeled with alluring product descriptions such as "weight gainer," "solid mass," "lean mass enhancer," or "muscle provider." These products belong to a group of supplements known as weight-gain pow­ders. Most contain various combinations of carbohydrates, proteins, amino acids, vitamins, minerals, and other ingredients thought to enhance performance. They are generally digested faster than whole foods. The manufacturers of these products claim that their specific formulations will help you pack on muscle.
Brief product description & key product features
We have gone through many different mass gainers in order to find the one that we like the best (at least for now) – Crazy Nutrition's Mass Gainer Formula.
Description
Crazy Nutrition's Mass Gainer is a weight gainer supplement to your regular diet, and it will give you extra carbs, proteins, and even fat, to build muscle. It is intended for bodybuilders and anyone who wants to bulk without gaining too much fat. When you want to bulk, calories are essential.
Key product features
55 g of low glycemic carbohydrates;
488 calories;
40 g of protein;
Added MCT oil for healthy fats;
Added digestive enzymes to avoid bloating and stomach upsets and to ensure that all the ingredients are utilized for maximum benefits;
Tastes amazing. Delicious vanilla & chocolate flavors;
Crafted with whole food sourced ingredients;
Suitable for vegetarians;
100% organic and safe ingredients (no harmful fillers or GMOs);
Pros and cons of Crazy Nutrition's Mass Gainer powder
Key benefits of Crazy Nutrition Mass Gainer
Increases size;
Packs on muscle;
Boosts both body and mental energy;
Supports and accelerates post-workout muscle recovery;
No garbage fillers like maltodextrin;
Can serve as a meal replacement;
Doesn't cause stomach upset, blood sugar spikes (linked to sweets and carbs), and gases;
Packed with pure proteins (whey + milk) and clean carbs;
The formula works well for those who track, cross-fit, and do resistance training;
Cons (key disadvantages)
Only available on the official website;
Limited stock due to the high demand;
The price will be a demotivating factor for some;
Contains milk, a food allergen for some people;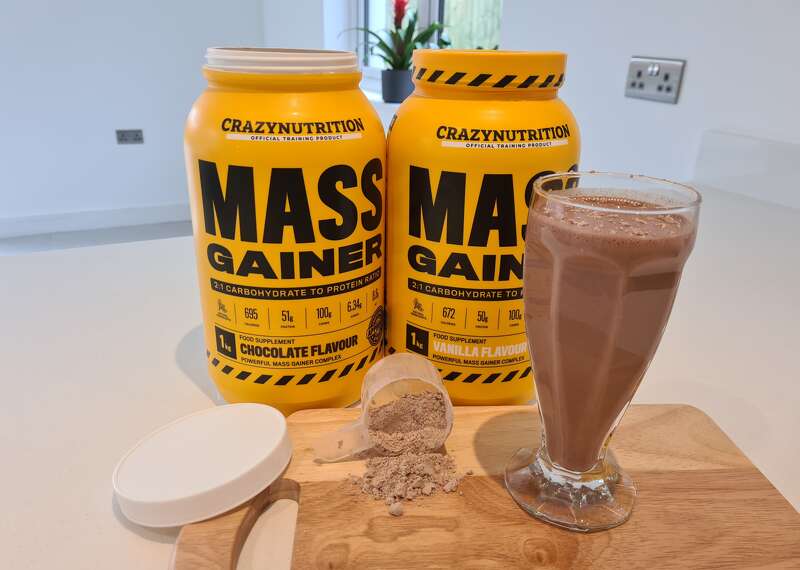 How do mass gainer from Crazy Nutrition differs from other similar products on the market?
Most weight gainers have extremely high levels of refined sugars which cause massive spikes in your insulin levels and will make you gain unwanted body fat versus lean muscle tissue. Even though you might gain weight and bulk up while drinking these weight-gainer shakes, the majority of that weight will be accumulated body fat versus lean muscle tissue. We're pretty sure that's not what you want.
Key product ingredients and their positive impact
Key ingredients in Crazy Nutrition's Mass Gainer
It pays to read the ingredients label before you invest in a fresh pot of mass gainer supplement. Crazy Nutrition's Mass Gainer contains all the ingredients necessary for an effective weight gain supplement. In our opinion, 95% of judging a weight gainer comes down to the ingredients. Many brands use high doses of extra cheap simple carbohydrates such as maltodextrin which causes blood sugar spikes and other unwanted effects.
Let's start with the main efficacious ingredients you can find in 1 serving size (4 scoops = 125 g).
Gluten-free oat flour
Whey protein
Milk protein
Vitamin B12 + B6
MCT oil (derived from coconuts)
Zinc + Magnesium
Digestive enzyme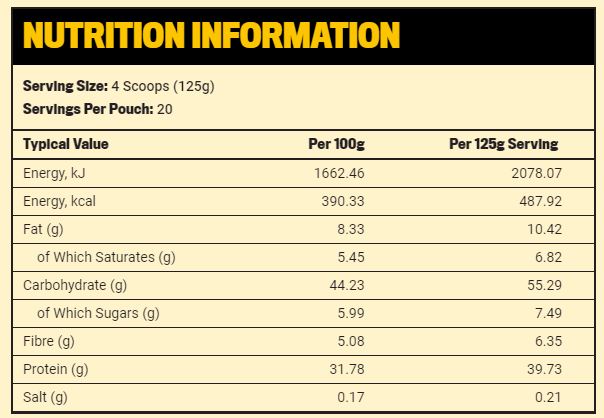 Positive effects of the key ingredients in the formula
Gluten-Free Oat Flour. This is a carb-rich ingredient (complex carb) responsible for early satiety and stomach fullness. It provides sustainable carb energy while still being effective as a post-workout carb source. Since it's a complex carb (low glycemic index) it will ensure a balanced blood sugar level without spiked. Adequate carb intake is an irreplaceable factor in terms of weight gain. In addition, it provides your body with abundant stamina and strength to maximize your weight-lifting performance.
Whey protein blend. Both whey proteins isolate, and whey protein concentrate contributes to rapid muscle recovery and faster gains.
MCT oil. MCT oil derived from coconuts makes muscle repair much easier with the help of beneficial fat components present in it. You may notice slightly more muscular endurance as well.
Vitamin B6 and B12. These two important vitamins endorse high energy levels.
Zinc+Magnesium Blend. The main purpose of this blend is to support more efficient nutrient absorption and an enhanced protein synthesis rate. In addition, they boost the immune system.
Digezyme. Digestive enzymes help promote better digestion and enhanced gut functions. The enzymes include amylase, cellulose, lactase, lipase, and protease.
When and how to take Mass Gainer from Crazy Nutrition?
Crazy Nutrition's Mass Gainer is crafted to be taken on a daily basis either:
Before workout;
After workout;
Between meals;
As a complete meal replacement;
The preparation of the drink is very simple and quick. Simply add 4 scoops of MASS GAINER (125 g) to 15 oz to 20 oz of water, either in a shaker or in a glass. Shake or blend and enjoy any time of the day!
Flavors
You can choose between two flavors:
Chocolate flavor;
Vanilla flavor;
All two flavors taste very delicious.
Who is this product intended for?
Crazy Nutrition's Mass Gainer (or any other weight gainer for that matter) should be a requirement only for people who are really very skinny. Only people who have extremely high energy needs and just can't seem to eat enough food necessary to gain weight (underweight "hard gainers") should consider using this product, provided they have previously tried healthy ways of gaining weight.
A typical protein powder usually contains around 150-200 calories per scoop while one serving of a gainer provides a whopping 500-1400 calories.
To whom this product is not recommended?
Keep in mind that even the low glycemic carbohydrates in the formula can convert to fat if you don't do any physical exercise. Therefore, it is essential to do intense training to grow muscles. If you gain weight relatively easily and quickly throughout a regular diet, then this type of supplement is not intended for you. If this is the case we highly recommend Crazy Nutrition's 100% Tri-Protein and Ultimate CRN-5 Creatine Formula instead of a mass gainer.
Therefore, once again, if your goal is to become an athlete, have a lean physique, or improve your sports performance and want to stay healthy, you should definitely tick a box of whey protein and try to strictly avoid a variety of gainers.
Which company is behind this mass gainer supplement?
Crazy Nutrition is supplied and manufactured by WOLFSON BRANDS (UK) LIMITED, a trusted name that takes pride in leading the supplements industry for over a decade.
All Crazy Nutrition product formulations are based on the latest breakthroughs in sports nutrition. Their products are made with clean ingredients sourced from whole foods — and no garbage fillers to gunk up your system.
It comes as no surprise that hundreds of thousands of amateur athletes (and a handful of pros) lean on their formulas for boosting motivation, energy, focus, and strength.
Where to buy & pricing?
We recommend buying Crazy Nutrition Mass Gainer from their official website. Temporarily this is the only available place to make the purchase.
They have fast and free shipping.
At the time of writing this review, the price for a single purchase (without a subscription) is $89.99 for a package of 2,5 kg (2500 grams). That's exactly $20 per 1 serving (125 g). If you exercise four times a week the pack will last you a little more than a month. But you won't be wasting money on glorified simple sugars!
Are there any side effects?
No side effects were reported by users. However, overconsumption of the supplement can cause bloating, nausea, fatigue, indigestion, and similar mild side effects.
Closing thoughts about Crazy Nutrition's Mass Gainer
Weight gainers are high-calorie shakes/drinks used to aid or supplement calorific intake to ensure it is sufficient for growth.
If you are an underweight person who has a hard time gaining weight even after consuming a lot of calories this is the product for you. In addition to your regular healthy diet, Crazy Nutrition's Mass Gainer will provide you with additional 488 calories per serving. You can even consider it a meal replacement shake and use it instead of regular meals to gain weight and muscles. This comes as no surprise since it contains all macros (proteins, carbs, fat), vitamins, and minerals that are necessary to build a rock-solid physique.
Even if you gain weight rather easily you can still benefit from this formula since it ensures muscle gain without adding too much fat. This is thanks to the low glycemic carbohydrates (whole food sourced ingredients) it contains. This is exactly why Crazy Nutrition's mass gainer is a better choice than many high-calorie "super mass gainers" on the market.
Rating Breakdown: Crazy Nutrition Mass Gainer
In the queue of so many mass gainers available on the market, Crazy Nutrition's Mass Gainer brings something impressive to the table. Formulated by seasoned fitness experts and medical professionals, the Crazy Nutrition Mass Gainer is the ultimate solution for skinny guys who are eager to beef up.
User Ratings (

6

Votes)