Have you ever been in that situation where you're endlessly browsing weight loss products (fat burners), unsure of what's really going to work for you? Today, we're going to grab the bull by the horns and delve into an in-depth review of one such product that's been causing quite a stir: Nutrex Research's Lipo 6 Black.
Lipo 6 Black, manufactured by Nutrex Research Inc., promises a multi-phase approach to fat loss, getting you closer to that desired shredded physique. It sounds impressive right off the bat, but the real question is, does it deliver on its promises? Together, we will break down Lipo 6 Black, examining its ingredients, cost, pros and cons, side effects, and usage instructions. What's more, we'll compare it with similar products on the market to give you a comprehensive picture, aiding your decision-making process.
In the world of fitness, information is power. And that's precisely why we're here, to equip you with the knowledge you need to make the best possible choice for your fitness journey. Plenty of products promise the world, but not all deliver. Lipo 6X, we're looking at you.
Brief product description & key product features
Description
Lipo 6 Black Ultra Concentrate is a very strong fat burner. The strength of this fat-shedding aid is such that a single pill per serving suffices. Its ultra-concentrated composition has been meticulously formulated to provide all-round support for burning fat in your body.
Lipo 6 Black UC acts as a catalyst to ignite your metabolism, thereby enhancing calorie usage. It also extends its functionality by supporting appetite control, which in turn aids in keeping a check on food cravings and indulgent eating. Additionally, it bolsters alertness and energy levels, ensuring that your physical activity remains consistent and high while you are on a diet.
Key product features
Key product ingredients and their positive impact
Each component of Nutrex Research Lipo 6 Black Ultra Concentrate brings about certain individual benefits contributing towards overall weight loss, thereby making this a powerful solution. Let's take a closer look.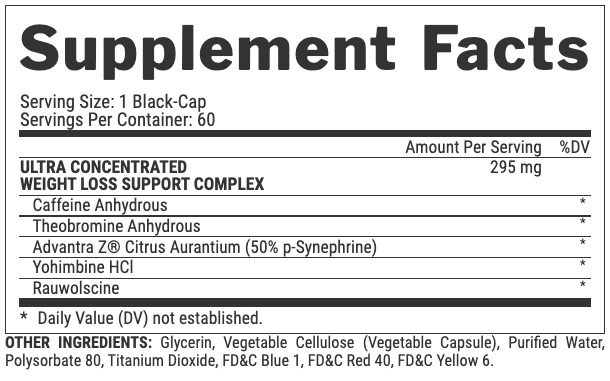 Ingredient list
The positive impact of each ingredient
Each ingredient packs a punch on its own, but when combined, they form a synergistic team that works together to maximize benefits.
Nutrex Research Lipo 6 Black Ultra Concentrate Pros & Cons
Every coin has two sides, and so does Nutrex Research Lipo 6 Black.
Hiding behind a proprietary blend means that you don't see the exact content of each ingredient. This means that you could be overpaying for low-dose ingredients.
Suggested use (method of application)
Understanding how to prudently use Nutrex Research Lipo 6 Black Ultra Concentrate can be highly beneficial for maximizing its effects. Proper consumption not only intensifies the results but also helps to prevent potential side effects. So, how is Lipo 6 Black best utilized?
Nutrex suggests taking only two capsules of Lipo 6 Black UC per day. The first one should be taken in the morning (after you get up) and the second one in the afternoon. This gives your body ample time to adjust to the effects of the product before eventually building up to a higher dosage (3 capsules per week).
It's advised not to exceed the maximum dosage of two capsules within a 24-hour period. Also, remember to avoid taking Lipo 6 Black within six hours of your bedtime to prevent possible sleep disruption. Finally, avoid drinking too much coffee or stacking this supplement with others that contain stimulants. Also, do not combine the product with alcohol.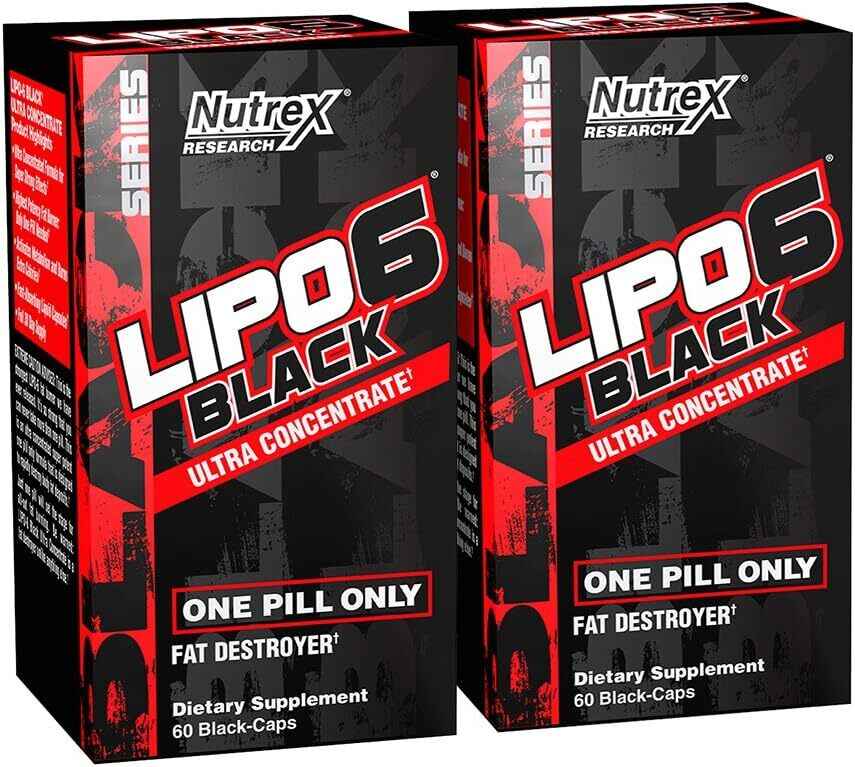 Side effects and warnings
Like all weight loss and fitness supplements, Nutrex Research Lipo 6 Black Ultra Concentrate fat burner may cause potential side effects that you should be aware of. Although the ingredients are generally classified as safe, individuals sensitive to caffeine can experience jitters, restlessness, and insomnia, especially if taken in excess quantities.
Furthermore, there are some question marks over the included synephrine. Given we lack precise information about its quantity in this supplement, caution is recommended. This is because synephrine could potentially elevate your blood pressure and heart rate.
Which company is behind this supplement?
Nutrex Research was founded in 2002 and operates out of its own 80,000 sq ft, state-of-the-art facility in Oviedo, Central Florida. Their focus has always been on developing innovative, high-quality supplements with superior taste powered by the most effective ingredients.
Nutrex Research first hit the industry by storm with its advanced liquid capsule technology making LIPO6® a household name that became symbolic for stronger and faster weight loss results. Since then they have been a trusted brand for almost 20 years as they continued to develop a wide array of results-oriented products.
Today their supplements are distributed and used around the globe in 100+ countries. They are driven by the desire to offer the best possible product solutions so you can reach your physique and fitness goals faster. They are committed to providing continuous and standout product innovations to create stronger and healthier bodies.
Read more about the other reputable sports nutrition and supplement companies & brands.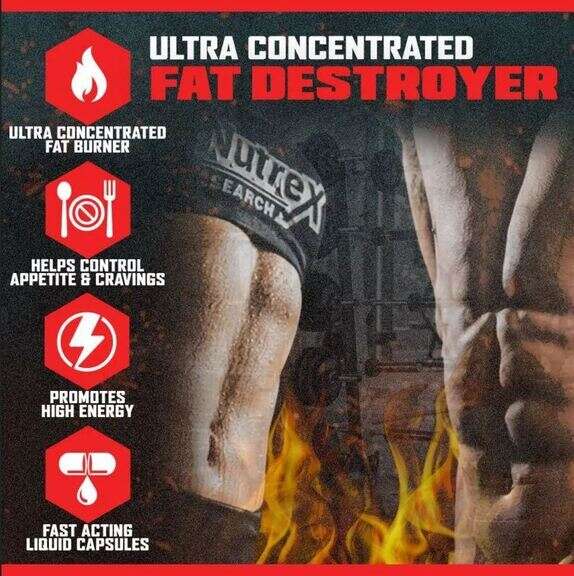 Where to buy & pricing
You can buy a bottle of 30 or 60 capsules from the official Nutrex website for $19.99 (30 Black Caps) or $34.99 (60 Black Caps). As the recommended dosage is one capsule in the morning and one in the afternoon, a bottle of 60 caps should last you for one whole month. Also, you can save $4.99 (12,5% discount) if you decide on a larger package.
If you decide to buy this product the safest option is to make a purchase directly from the company's official website to ensure original products are delivered to you.
At the time of writing, this fat burner was also available at eBay, iHerb, Vitamin Shoppe, Walmart, and Amazon.
Products of similar rank (competitors)
Rating fat burners always come down to the chosen ingredients, and most diet products either pick the wrong ones or don't make them strong enough. However, the following products stand out.
| Product | Manufacturer (Brand) | Rating |
| --- | --- | --- |
| Hydroxycut | MuscleTech | 7/10 |
| Animal Cuts | Universal Nutrition | 9/10 |
| Burn-XT | Jacked Factory | 8/10 |
| Trans4orm | Evlution Nutrition | 6/10 |
| PhenQ | PhenQ | 10/10 |
| Lipo 6 Black UC | Nutrex Research | 9/10 |
*Rating is based on our client's experience and the scientifically proven effectiveness of the ingredients (and dosage)
Testimonials (Customer Reviews)
Insights from various user experiences offer a comprehensive perspective to assess the product's performance effectively. Therefore, we drilled down hundreds of customer reviews and comments. We can conclude that the vast majority of people have positive experiences with this fat burner.
It's important to recognize that these liquid capsules don't have a uniform effect on all body types. Each individual's unique body composition can influence their response to this supplement. This partly explains some negative reviews.
Final verdict: Is Lipo-6 Black Ultra Concentrate worth your money?
Let's be completely honest – Lipo-6 Black Ultra Concentrate is no magic potion for instant fat burning. There's no denying the fact that no weight loss supplement, including Lipo-6 Black Ultra Concentrate, will perform miracles while you rest on the couch. However, armed with a proper diet and a solid fitness regimen, a well-formulated fat burner such as this one can be a potent ally. It can aid in shedding surplus weight from stubborn areas while preserving the muscle mass you've worked so hard to build. It's definitely worth trying.
Rating Breakdown: Lipo 6 Black Ultra Concentrate Fat Burner
Generally speaking, the overall feedback for Nutrex Research Lipo 6 Black Ultra Concentrate Fat Burner amongst customers seemed to be largely positive.
User Ratings (

2

Votes)