At the very beginning a small reminder! Supplement companies are not required to prove supplement safety, effectiveness, and potency before a product is placed on the market as long as the supplement makes the claim that it has not been evaluated by the US Food and Drug Administration (FDA), and that the product is not intended to diagnose, treat, mitigate, cure or prevent disease. As a result, many supplement companies are taking advantage of consumers by selling supplements that contain ineffective compounds. They can make all sorts of claims about their products, even if they have no evidence to back them up. Manufacturers often use words like "could affect" or "may improve" to hoodwink their customers. Many people incorrectly believe that a pill can trigger massive fat loss. This simply isn't true.
It should go without saying that you cannot take the supplement companies at their word and must look to other sources – unbiased reviews. Testimonies from professional athletes are also suspect. Many times these athletes are paid by the companies. This is not to say that all supplements are bad or ineffective and that all supplement companies are scammers.
Despite everything, good weight loss tablets (fat burners) that actually support slimming are available on the market. However, to be clear, they work only supportively. We emphasize keywords again – when you're dieting and training properly. Without this key component, any fat burner is worthless!
In this article, we break Trans4orm down to see if it is really worth the hype or if you should try something else. At the time of writing, this is one of the most publicized thermogenic supplements throughout the media (often exaggerating its benefits). For those who don't know yet, thermogenesis means that it increases your body temperature which also increases your metabolism leading to faster fat loss.
What are fat burners and do I need one?
In short, fat burners are simply weight loss supplements that help the body burn more stored fat. There are several different mechanisms of action by which they accomplish this:
by suppressing hunger and appetite to minimize calorie intake (they make it easier to control cravings);
by boosting metabolism and energy (fat oxidation) – the process of freeing up body fat for use as fuel;
causing a natural elevation in your metabolic rate (process called thermogenesis)
Between these three key ways of burning more fat, there are a variety of different dietary supplements you can use to boost your wellbeing and results.
Do I really need one? No, you don't! Alone fat burners are not enough powerful to produce the desired result, assistance of proper diet and strategic workouts derive the process towards acceleration. The only fat burner —and the most powerful one—is a lifestyle that includes a healthy diet and regular exercise. That's the key thing you can rely on. Fat burners are only useful (give their smaller contribution) when you're dieting and training properly.
Brief product description & key product features
We have gone through many different fat burners on the market in order to pick a few worth mentioning. However, Trans4orm Fat Burner by Evlution Nutrition (a reputable sports nutrition and supplements brand) does not exactly belong to this group for several reasons which we'll explain in detail below. At the time of writing, it was the top product on bodybuilding.com when you search for fat burners. More precisely, when you search fat burners on bodybuilding.com 4 of the top 10 selections that come back are made by Evlution Nutrition and 4 more are made by RSP Nutrition.
Are these companies both so good that they make 8 of the top 10 fat burners out there? We doubt it, it seems like they get more profits from these manufacturers so they jam a bunch of them at the top search results. Some of them aren't even what we would consider true fat burners.
Description
What is Evlution Nutrition Trans4orm? The manufacturer claims that Trans4orm is a scientifically-developed multi-stage thermogenic energizer and weight loss support supplement that works with your body to transform fat and build lean muscle. Each serving, supposedly, contains an effective dose of the most powerful fat-burning ingredients which are scientifically validated. Trans4orm's 100% transparent formula supports increased thermogenesis, energy level, metabolism and appetite support, with energy and mental focus boosters to power you throughout the day.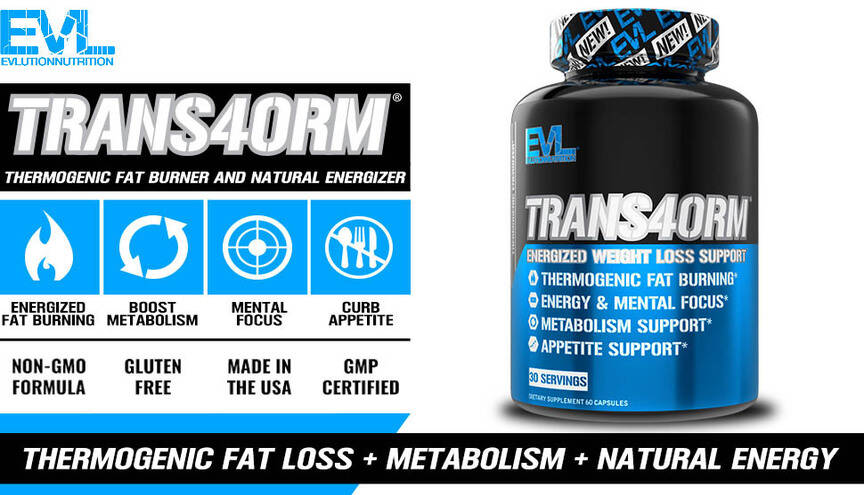 Key product features listed by the manufacturer
Only science-backed ingredients;
Trans4orm combines the most effective fat-burning ingredients into an all-in-one formula;
100% transparent formula (no illegal substances, no proprietary blends);
Designed to burn fat, increase energy, support metabolism and provide mental focus;
Contains only high-quality ingredients;
Reputable brand (giant supplement company) and reasonable price;
Key product ingredients and their positive impact
It always pays to read the ingredients label before you invest in a fresh fat-burning supplement. In our opinion, Trans4orm Fat Burner does not contain all the ingredients necessary for an effective fat burning supplement. In addition, many of the ingredients listed on the label are present in relatively small doses. On the other hand, some ingredients are completely redundant.
Their website claims it is "scientifically developed to support fat burning, weight management, plus deliver natural clean energy & focus". Here's what they state about the benefits of each ingredient represented in a product:
FAT BURNING INGREDIENTS
Green Tea Extract contains compounds called catechins, which include epigallocatechin gallate (EGCG), the main catechin responsible for thermogenic effects. Green Coffee Bean, a natural source of caffeine, is also added to the formula which is a proven supplement to help burn fat and boost metabolism. Coleus Extract supplies the body with Forskolin, which is most effective at accelerating fat burning when combined with caffeine.
INGREDIENTS THAT CONTRIBUTE TO ENHANCED ENERGY
Natural caffeine from Green Tea & Green Coffee Extract gives you the ability to attain a smooth source of energy giving you a powerful fuel source to help you push yourself throughout the day. Yohimbe works with natural caffeine to help increase your energy production, plus it also supports your fat-burning ability. The b-Vitamin Complex containing vitamins B3, B6, and B12, as well as Folic Acid helps support energy production allowing your body to burn more calories as fuel.
COMPLETE METABOLISM BOOSTERS
L-tyrosine is a key amino acid which supports metabolism, and also helps to elevate your mood while reducing fatigue when cutting calories. B-Vitamin Complex contained in Trans4orm enhances metabolism and cellular energy production helping to naturally boost your metabolism throughout the day. Green Coffee Bean is loaded with antioxidants and contains chlorogenic acid which supports how the body handles blood sugar and metabolism.
INGREDIENTS THAT INCREASE MENTAL FOCUS
Huperzia Serrata Extract supports mental focus and concentration. This is important both in the gym as well as during your normal everyday activities. Choline Bitartrate delivers Choline, a vital component of your neurotransmitters that helps in the production of Acetylcholine, a key neurotransmitter component for enhanced mental focus. Alpha-Glycerylphosphorylcholine supports mental activity and focus during training as well as provides an additional Choline source to the brain for Acetylcholine production.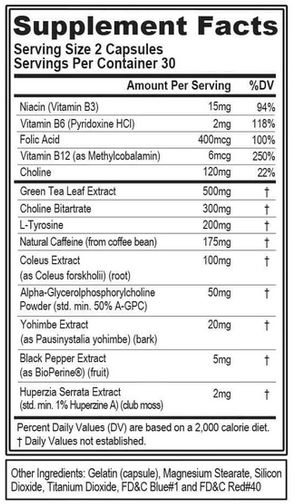 Pros & Cons
Clearly, the product has certain benefits. However, the disadvantages of this product are not insignificant.
Pros
Manufactured in the USA in a GMP-certified facility.
The company is transparent about ingredients. This product contains precisely what's on the label and nothing more. No illegal substances or proprietary blends.
Good dose of green tea extract.
Uses Bioperine for better absorption.
Helpful for fighting diet-related fatigue and providing clean energy.
It helps to some extent in burning fat, and boosting metabolism and brainpower.
No GMO or gluten.
Suitable for adult men and women.
Affordable.
Easy to use and swallow.
Cons
Contains ingredients that can cause side effects (reported by some users). This is especially related to Huperzia Serrata.
Not suitable for vegetarians or vegans.
Mixed reviews.
Uses too many cognitive enhancers that no one cares about and all are in small doses.
No money-back guarantee – only a refund or exchange for the items damaged during transportation.
Missing ingredients: Cayenne Pepper Extract (contains capsaicinoids which can promote weight loss through increased thermogenesis), Glucomannan (fiber that expands in the stomach to provide the feeling of fullness), Green Coffee Bean Extract (helpful in activating fat metabolism in the liver).
Uses Yohimbe which can also have side effects.
Suggested use (method of application)
The supplement is available in a capsule form. Each bottle of Trans4orm either contains 60 or 120 capsules.
Take one serving (serving size 2 capsules) in the morning on an empty stomach and another one 4-6 hours later in the afternoon. Make sure you don't exceed the recommended dose of 2 servings (4 capsules) per 24 hours, and remember to drink 8 glasses of water throughout the day to stay hydrated and avoid possible side effects.
You may take this dietary supplement for no more than 8 weeks, and then it should be discontinued for a minimum of 4 weeks.
Because of the Caffeine content in this supplement, it's probably best not to take it within six hours of when you plan to go to sleep.
Remember to carefully read the directions shown on the label of any product you purchase, as they may vary from the above.
Side effects
Most users tolerate this thermogenic energizer very well.
While Yohimbe can be an effective fat burning ingredient it does come with some unwanted side effects that can be serious. Consuming it may result in irregular/rapid heartbeat, anxiety, panic or heart attacks, seizure, mental episodes, kidney failure, and other negative reactions.
Also, Huperzia Serrata can lead to possible adverse effects like: diarrhea or constipation, vomiting, nausea, dizziness, anxiety, thirst, nasal obstruction, insomnia, hyperactivity, etc.
Trans4orm also contains caffeine, which can cause jitters, anxiety, and other unpleasant reactions in sensitive people, so they're advised not to combine this product with other Caffeine or similar stimulant sources.
That's why it's always a good idea to consult with your physician before you try this or any other supplement.
Trans4orm price
The price for Trans4orm is $29.99 for a one month supply. They also have an offer on bodybuilding.com where if you buy 2 bottles you get one free, this comes with free shipping on all orders over $50.
This price is a little lower than average when it comes to fat burners that actually work. The price is good but you would likely be better off paying more for something that is way more effective.
Trans4orm reviews
We have already mentioned that it is one of the top rated supplements on bodybuilding.com but we don't really trust that rating especially after looking at the ingredients.
We looked around for other reviews on the web and they were not nearly as favorable. In fact. the second review down the search page is a 1-star review, while we don't think it's that bad it does let you know that it's not all sunshine and roses out there for this product.
Suggested readings
Summing up (Final verdict): Is Trans4orm Fat Burner by Evlution Nutrition worth your money?
Trans4orm Fat Burner by Evlution Nutrition contains 13 active ingredients. However, too many of them are cognitive enhancers for focusing and concentration. We would prefer if they would just stick to fat burning and leave the mental focus to another supplement (pre-workout). At the same time some important fat burning ingredients are missing. After looking at the ingredients we find a few of them that can help with fat burning, then there are a few for focus and concentration but there really isn't anything in the way of appetite suppressant. If your intention is to lose weight in an exercise driven way then this supplement may not be for you as the appetite suppressing properties are insufficient compared to other available weight loss aids. For now we suggest Burn-XT by Jacked Factory.
Rating Breakdown: Trans4orm Fat Burner
Summarizing this review of Trans4orm we'd say this particular supplement might get some minimal results with some people but it likely won't be overly effective.
User Ratings (

5

Votes)