Let's say you are training several muscle groups during each workout – big an small ones. With which muscle group you should start with? Is training the largest muscles first really the best way or you should make some turnaround? Nearly all bodybuilding programs suggest that you start your workout with exercises for larger muscle groups and finish with smaller ones. The rationale is that larger muscle groups require more energy and working them after smaller muscle groups may lead to fewer muscle gains. Despite this logic, there hasn't been a lot of research looking at the effects of exercise order and muscle growth specifically.
A recent study examined the effects of exercise sequence in the performance of repetitions and perceived exertion, or how difficult the workout felt. The subjects were 14 men and 4 women, average age 20, with at least six months of training experience. They engaged in two different upper-body workouts, with each workout separated by 48 hours of rest.
In the first workout they began with larger muscle groups and finished with smaller muscle groups. The second workout reversed the exercise sequence, starting with smaller muscle groups and ending with larger. They did each exercise for three sets of 10 reps, resting two minutes between sets.
The experiment showed that whether you train large or small muscle areas first, by the third set you're considerably weaker, as measured in number of reps completed. Exercises done in the middle part of the workout, however, weren't affected in either workout. Past studies show that by the fourth set of any exercise, you're 12.8 to 58.2 percent weaker than you were during the first set.
Most of the subjects said that the workout was considerably harder when they trained larger muscle groups first. That makes sense, since training larger muscle areas requires more energy and produces more fatigue than training smaller muscle areas. Working legs fatigues the average bodybuilder far more than training biceps. For that reason nearly all bodybuilders train larger muscle groups first in any particular workout.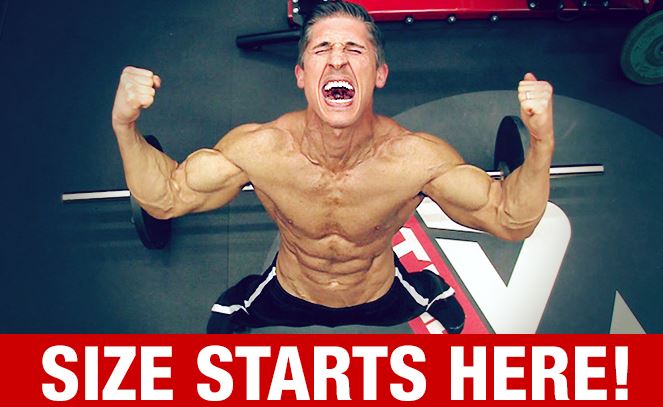 In some cases training a larger muscle area first is so fatiguing that you simply can't effectively train smaller muscle groups afterward. We found (from our own experience) that to be true when we tried to use the popular push-pull sequence of exercises, in which you work pushing muscles, such as chest and triceps, one day, followed by pulling muscles, such as back and biceps, the following day. Legs are usually trained on the days you train chest and triceps, since attempting to train the two largest muscle groups, legs and back, in one workout is just too hard.
What we found was that we got a good workout training the initial large muscle group—legs or back—but we had little or no energy left to effectively train the smaller muscle groups. By the time we got to biceps after training back, we hardly felt the curls. The same was true of training chest after thighs.
From a practical standpoint, as this study shows, the final exercise in any muscle group will be limited by cumulative fatigue. So it's logical to use a lighter isolation exercise as the final exercise. Arnold Schwarzenegger realized that during his competitive days. When training his biceps, he always finished off with some form of dumbbell concentration curl, usually in a standing, bent-over position. Arnold almost never used more than 40 pounds on the exercise, instead focusing on form and feel.
Thus, if you attempt to do three large-muscle-group exercises in one workout, the third exercise will promote little added muscle size. Better to finish off with a lighter isolation exercise and just go for the pump and feel, as Arnold did.
Conclusion: Training the largest muscles first?
It's best to pair large-muscle exercises, like back work, with smaller-muscle movements, like biceps work. Training too many large muscles at one workout diminishes gain. Therefore, for muscle size or muscle strength, large muscle groups or small muscle groups, exercise order should begin with muscle groups and exercises that are particularly important for the training goals of a program. Whatever muscle group you're trying to bring up, train it first in your workout.
Siamao, R., et al. (2005). Influence of exercise order on the number of repetitions performed and perceived exertion during resistance training. J Strength Con Res. 19:152-56.