Introduction – why training calves is so important?
Don't overlook your calves – they're key to a complete physique! The gastrocnemius (the larger muscle) can develop the heart-shaped appearance so highly desired by many bodybuilders. Therefore, you can't put them off forever. Eventually, every guy has to work his calves, even if it's only during the few months leading up to summer. While today's shorts and bathing suits do a good job hiding your thighs and hamstrings, your calves will always be on display during warmer months (that is, unless you refuse to wear shorts because of your calves). We don't blame you for skipping them – even great trainers fail to program calf work into workouts because they don't contribute to overall size, strength, and athleticism like the other muscles do. But that doesn't mean they can't bring your whole physique down if they're undeveloped. In each case, this article will provide you with all the calf training tips and strategies you'll ever need.
To get a complete leg workout, incorporate calf resistance-training exercises into your fitness routine. Be warned, though: your calf muscles can be hard to work, mostly because the Achilles tendon comes into play when you lower or lift your heel. It acts similar to rubber band, transferring energy during the heel-lowering and heel-lifting phases of calf exercises, which means your muscles do less work. To counteract this effect, pause for about five seconds at the bottom of each rep and three seconds at the top.
The fact is, calves are difficult and stubborn and don't often respond to the type of training and basic exercises that other body parts do. That's because calf development depends largely on genetics. Genetics ultimately determines just how much you can build the size of your calves, whether you are trying for the bulging appearance of a bodybuilder or the long, sleek look of a dancer. The good news is, genetics can mostly be bypassed – even overridden – with the correct type of training. Whatever your goal, training your calf muscles will enhance your performance in many athletic pursuits.
Anatomy of the calf muscles
Calf muscles are not only critical for walking, sprinting, and pointing our toes, but they also take a nice pair of heels over the top. We have two main calf muscle groups: the gastrocnemius (more superficial muscle, closer to the skin) and the soleus (our deeper calf muscle). We already have two great articles explaining the functional anatomy of the soleus and gastrocnemius muscle in which you'll find all the key information that a serious bodybuilder or even a regular gym-goer should know about.
The role of genetics in calf development
The calves are a unique muscle group – they're the most stubborn muscle group you can probably find on your body and the embarrassment of weightlifters everywhere. Many people find that no matter what they do, they struggle to grow their calves, whereas certain lucky people don't even have to train them directly to achieve impressive lower-leg development.
A substantial genetic component affects calf aesthetics, and it's not so easy to override your genetic blueprint. We have already published an article that explains in more detail the role of genetics in the development of calf muscles. In essence, the answer to this "mystery" lies in the composition of the calf muscle fibers themselves. We definitely recommend that you read the full article to get a much clearer picture about the genetic barriers to calf muscles development.
Fortunately, our genetics don't ultimately decide whether we are stuck with tiny calves. With proper training, anyone can build bigger (more muscular calves), but you should just know that it may or may not come quickly depending on your DNA.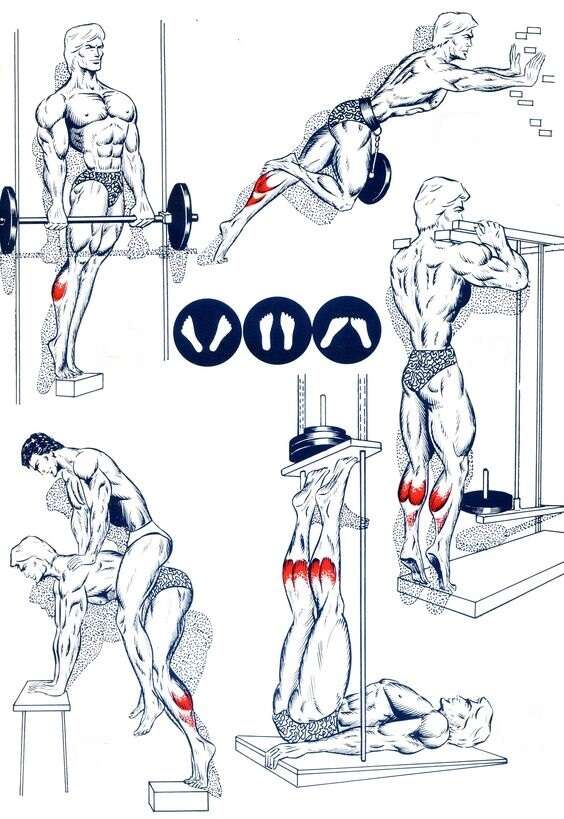 Calf training principles, strategies, and exercises
Targeting the calf muscles is much easier than targeting some other muscle groups of the lower leg. The two muscles (gastrocnemius and soleus) that make up the calf have very distinct functions and can therefore be targeted fairly easy. While the calf muscles may be easy to target, it is very difficult to increase size in this area. There are many reasons your calves aren't growing.
Calf training exercises generally fall into two types: standing and seated. Standing calf exercises such as the standing calf raise machine primarily work the larger gastrocnemius muscle and allow you to use hundreds of pounds of weight. Seated calf raises primarily work the smaller soleus section of the calves, and will not take as much weight.
The truth is that developing big and powerful calf muscles is not rocket science and after reading through this informative article you'll be surprised at just how simple it really is. You will develop both the soleus and the gastrocnemius quickly using the following exercises and training tips. Remember, the more you know, the more you grow. Right!?
Target training: Gastrocnemius exercises
The gastrocnemius, being a multiple-joint muscle, can only be recruited when the legs are straight or at most only slightly bent. Therefore, exercises like the leg-press calf raise, Smith machine standing calf raise, standing barbell calf raise, standing dumbbell calf raise, donkey calf raise, machine standing calf raise, and rotary calf extension are best for targeting this area of the calf.
When the legs are bent at 90 degrees, as with the seated calf raise, the movement isolates the soleus and neglects
the gastrocnemius. It is a waste of time for men and women who are looking to shape their calves. This is because the gastrocnemius muscle provides most of the muscle mass of the calf. The soleus muscle has much less mass than the gastrocnemius.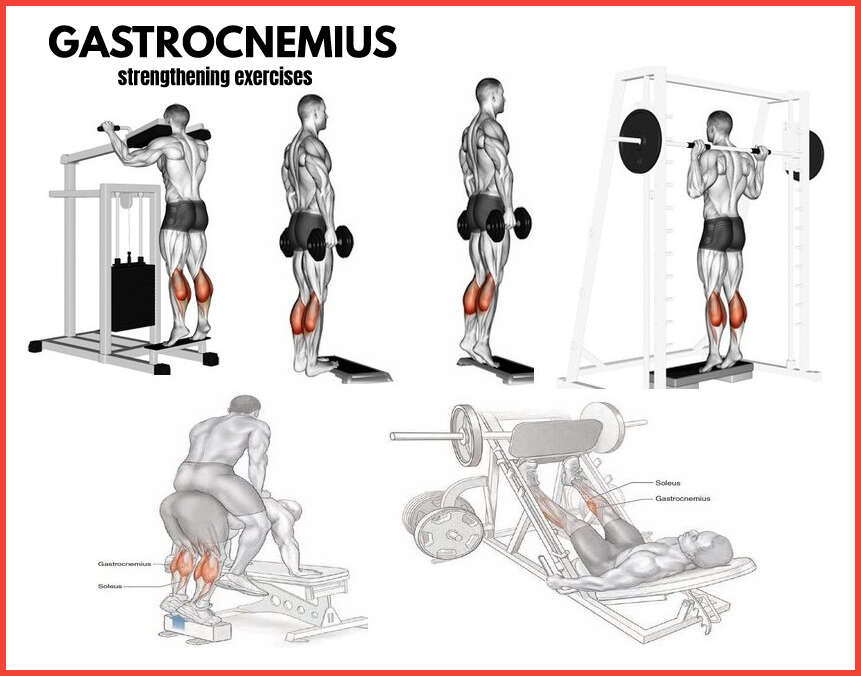 It is possible to target the lateral or medial head of the gastrocnemius by varying foot position. An externally rotated position (feet pointed out) activates the more medial (toward center of the body) gastrocnemius, whereas an internally rotated position (feet pointed in) activates the more lateral (toward the outside of the body) gastrocnemius.
In a large number of cases this muscle is composed of mainly fast twitch muscle fibers (Type 2). That means it responds well to lower number of reps (8 – 12 reps) with a higher load.
Finally, you will often hear that you must straighten your legs completely in order to work the gastrocnemius muscles. This is a mistake. The gastrocnemius muscle is stronger when the knee is just slightly bent because, in that position, the length-tension relationship provides more strength than when the leg is totally straight. Moreover, it is hard to see why nature would have required us to straighten our legs perfectly to get the most strength out of our gastrocnemius muscles.
Target training: Soleus exercises
The soleus works with only one joint (the ankle) and exercises with the legs bent are the best way to target this muscle. So any calf raise that you perform with the knees bent to about 90 degrees will do the job.
Therefore, exercises like the machine seated calf raise, and dumbbell seated calf raise, are best for targeting this area of the calf.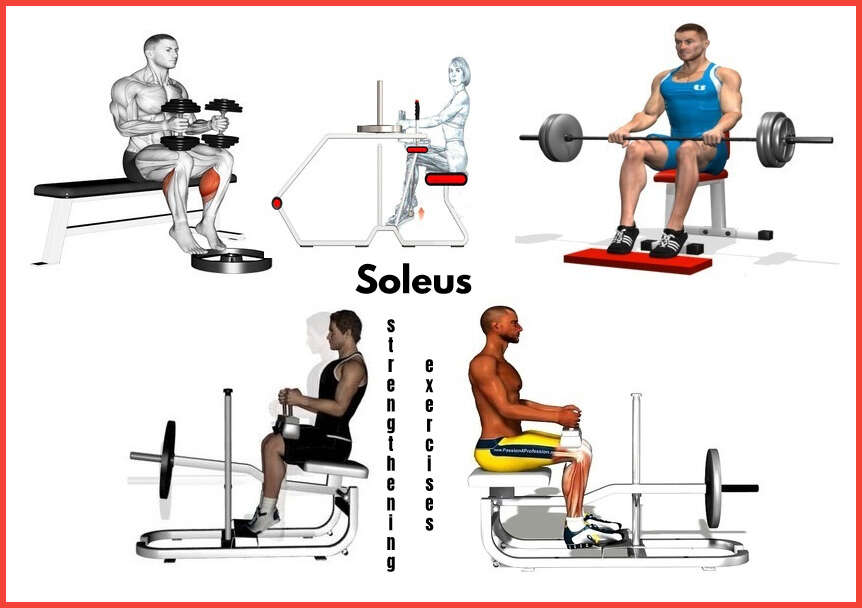 When the legs are straight, as with the standing calf raise, the movement isolates the gastrocnemius and neglects the soleus.
The soleus is composed of mainly slow twitch muscle fibers (Type 1). That is the key reason why this muscle responds better to higher reps (20 – 25 reps in a set) and a lighter load.
Most important calf training tips (summary)
#1

Choose 2-3 exercises
The best way to train calves is to include one or two exercises that target the gastrocnemius muscle and one exercise that targets the soleus muscle.
#2

Standing exercises hit your gastrocnemius
Standing calf raises, or any calf raise that involves a fairly straight knees, is better at focusing the stress to the gastrocnemius. Nearly straight knees and and the torso leaning forward ensure that the gastrocnemius is under full tension for maximum strength.
#3

Seated exercises hit your soleus
Seated calf raises, or any calf raise that involves knees bent to about 90 degrees, is better at focusing the stress to the soleus. This seated position will take the tension out of the gastrocnemius.
#4

If possible, incorporate donkey calf raise exercise into your workout program
Donkey calf raise (working calves with one or two people sitting across your back) is the best calf exercise ever! Why? The hamstrings circle around the outside and under the heads of the gastrocnemius before its attachment to the lower leg. That is why bend­ing over at the waist increases the tension on the hamstrings and makes the calves lighter. The more tension on the gastrocnemius, the stronger it becomes. This is why the donkey calf raise is so effective.
#5

Train the calf muscles according to their fiber make up
In most cases the gastrocnemius muscle responds much better to lower number of reps (8 – 12 reps in a set) with a higher (heavy) load. On the other hand, the soleus muscle responds better to higher reps (20 – 25 reps in a set) and a lighter load. All of these is true only if your gastrocnemius muscle is predominantly composed of fast twitch muscle fibers (Type 2) which are are strong but easily fatigued, and if your soleus muscle is predominantly composed of slow twitch muscle fibers (Type 1) which are resistant to fatigue.
#6

Mix between high load and high volume (time under tension)
If advice #5 is not yielding good results it's time to try some other strategy. You see, most of the body's main muscle groups are predominantly fast- or slow-twitch. This means that each muscle group will respond differently to varied rep ranges. An individual with a predominance of slow-twitch muscle fibers would need to include a high number of sets and reps to adequately stimulate his or her muscles. Conversely, someone with a proportionately high number of fast-twitch muscle fibers would probably respond better to heavier weights and lower reps.
Maybe your gastrocnemius muscle contains less fast twitch muscle fibers than you think. Therefore, try decreasing the load and increasing the number of repetitions gradually over time to see what happens. And vice versa, try using heavier loads and fewer reps when targeting your soleus muscles. Maybe your soleus contains more fast twitch and less slow twitch muscle fibers.
The calves seem to respond particularly well to periodized training that includes high-rep work. Maybe you'll also notice that traditional reps and sets (i.e. 3 to 4 sets of 8 to 12 reps) don't often yield results. Most bodybuilders find alternating high-rep (20 to 30) days and low-rep (8 to 12) days to be the best approach.
Have you seen the calves of dancers, cyclists, sprinters and footballers? They have some of the best calf development out of all sports. Reason is that they are constantly on their toes, working their calves. A reason why high volume is indeed necessary for calf development, along with high intensity in terms of load.
#7

There's no magic time time to train your calves
Most bodybuilders work them after they train thighs. This is mainly because many of the exercises that target the quadri­ceps also involve your calves. Furthermore, the additional advantage to training them with upper legs is the ability to take advantage of the nourishing blood buildup in the leg region to bring growth-producing nutrients into them during the workout. You can do the same as long as your calves don't start lagging behind your other muscles. As soon as you notice your upper legs overshadowing your lower legs, revise your training and either do calves first or switch them to a separate day. You may even want to perform staggered sets – train between other muscle groups. No matter which calf routine you follow you must train at least as hard as you do the other muscle groups (if not even much harder).
However, we would rather recommend switching them to a separate day rather than doing them first. The reason for this is quite simple. Starting your workout with a calf exercise before doing glute, quadriceps, or hamstring exercises can prove dangerous, as it is likely to make your thigh muscles shaky. Doing calf exercises first could ruin your lower-body workout.
#8

Don't be afraid to train your calves more intensively & frequently
Like the abs, the calves seem to recover from workouts more quickly than other muscle groups like back, chest, shoulders, quadriceps and hamstrings. Therefore, training them more intensively and frequently often delivers a lot better results. There's nothing wrong with training them every second day if your calves are lagging behind other muscles.
#9

Place a pause in the most stretched position
You often see guys bouncing up and down with no care to lifting speed (tempo). Try pausing in the stretched position for 2 seconds on each rep the next time you train.
#10

Avoid partial repetitions and rise up on your big toe
Train the calf muscles through their full range of motion (ROM). It's very common to see guys doing only partial rep calf training for every set. Also, rising up on the big toe during the ascent in the standing calf raise exercises the calf more effectively and efficiently. This activates the flexor hallucis longus and brevis, which flexes the big toe and assist in plantar flexion also. You should be able to feel the muscle squeezing.
#11

Vary your foot position
Changing the foot position is also beneficial. Vary your foot position from feet slightly wider to feet more narrow. Also, perform calf exercises with your feet pointed out and in (externally & internally rotated position).
#12

Train calves in your socks or bare foot
The theory behind this is that having the feet free of the constraints of a sneaker allows for a greater range of motion. While this is true, keep in mind that you will need some ankle support when doing calf raises with a couple of hundred pounds of weight. Also keep in mind that many gyms have policies against going barefoot in their gyms (both for safety and hygiene reasons).
#13

Warm up the calves
Whenever you train your calves, preferentially after your other leg training, most of the warm-up is already done by the other leg exercises. However, it is still prudent to warm up the Achilles tendon with 1 or 2 light sets of calf raises.
Also, if you suffer from bad leg circulation, it is very important to train your calves often with very high reps to push back the blood and flush out any excessive water retention. Using your body weight as resistance, perform a set of 50 to 100 reps at home before bedtime or whenever you suffer from lower-body pain.
#14

Unilateral calf raises
You can perform the calf raise unilaterally (single-leg calf raise) to apply the weight of the whole body to one calf. Working one calf at a time provides a better stretch and better contraction of the muscle, which increases the range of motion.
#15

Do not forget the muscles on the front of the lower legs
Although many lifters hardly work them, these muscles are extremely important. Without them, you would not be able to lift your foot upward (dorsiflexion). The main dorsiflexor is the anterior tibialis. In the next section we'll explain the importance of strengthening these muscles in more detail.
Don't forget to strengthen the weaker counterpart – the shin muscles (anterior tibialis)
The antagonist of the gastrocnemius and the soleus is the tibialis anterior. The tibialis anterior is responsible for the dorsiflexion and inversion of the ankle that occurs in exercises like the heel walk. It also helps stabilize the ankle during foot contact with the ground. Because many machines and exercises are geared to the gastrocnemius and the soleus, the tibialis muscle is often overlooked in training programs.
If you strengthen only the larger and stronger calf muscles, they will eventually overpower the smaller and weaker shin muscles, which may lead to shin splints, stress fractures, and Achilles tendon problems. With this in mind, we recommend that you always conclude strength training workouts (any leg workout in general) with an exercise that targets this area in order to strengthen the shin muscles and maintain muscular balance in the lower-leg musculature.
Calves to Cows Program
Calves seem to be the one muscle group of the lower body that few bodybuilders have developed to their satisfaction, and it's also the one muscle group that so many want to develop. Unfortunately, if you aren't genetically predisposed to building big calves, you will have to work extremely hard for every ounce of muscle you can add to them. The calves to cows program is for those bodybuilders who need to work their calves hard and diligently. This program is divided into four 4-week phases that change up the rep range and weight used, the volume, and the training frequency in a specific pattern. Therefore, this training program incorporates almost all calf training tips stated in this article.
Each phase reduces the frequency at which you train the calves as well as the rep range, but it increases the volume (number of sets and exercises performed) and weight used.
Program phases
Phase 1 starts off with training the calves five days a week. Use a basic five-day training split during this phase and train calves at the end of every workout. Reps are extremely high but volume is fairly low.
Phase 2 increases the exercise number and the sets performed to four per exercise, but it drops the training frequency back to four days per week. You can use a four- or five-day training split during this phase. Reps decrease to about 15 to 20 per set.
In phase 3, the frequency decreases to three times per week, but an extra calf exercise is added and compound-set training is used. Reps drop down to 12 to 15 per set. You can use a three-, four-, or five-day basic training split during this period of calf training.
The final phase, phase 4, trains calves only twice per week. Sounds simple, but it increases the number of exercises performed and includes drop sets on the last set of every exercise. After you reach failure on the last set, drop the weight about 30 percent and repeat that twice. You can do this phase with any type of split.
Calves to Cows Program
PHASE 1: WEEK 1-4
Exercise
Sets
Reps
Standing calf raise
3
25 - 30
Seated calf raise
3
25 - 30
PHASE 2: WEEKS 5-8
Leg press calf raise
4
15 - 20
Seated calf raise
4
15 - 20
Standing calf raise
4
15 - 20
PHASE 3: WEEKS 9-12
Standing calf raise
4
12 - 15
Donkey calf raise
4
12 - 15
Leg press calf raise
4
12 - 15
Compound set with seated calf raise
4
12 - 15
PHASE 4: WEEKS 13-16
Seated calf raise (toes out)
2
8 - 10*
Seated calf raise (toes in)
2
8 - 10*
Seated calf raise (toes straight)
2
8 - 10*
Standing calf raise (toes straight)
2
8 - 10*
Standing calf raise (toes out)
2
8 - 10*
Standing calf raise (toes in)
2
8 - 10*
Leg press calf raise (toes straight)
2
8 - 10*
Leg press calf raise (toes out)
2
8 - 10*
Leg press calf raise (toes in)
2
8 - 10*
*Drop sets
Closing thoughts: Calf training tips and principles
Strong, powerful legs give your body good symmetry, balancing the development of the upper body, and facilitating good performance in other sports. However, most people tend to forget calf muscles despite the fact that your lower legs – along with your arms – are typically one of the most exposed muscle groups you have. Paying them the atten­tion they deserve can keep your legs from looking too thin the next time you're wearing shorts. Aesthetically, calves provide the finishing touch to the shape of the legs.
The powerful muscles forming the calf (gastrocnemius and soleus) need frequent, heavy, specific training with a full range of movement, as these muscles have a second-class lever (with resistance between the axis and force). In addition, these muscles are called upon all the time in everyday life, whenever you walk or run. The ideal workout for the calf muscles (and neighboring muscles) will involve downward flexion with the knee extended and flexed. Increasing the size of the soleus may be a goal for people who have "high" calves. Finally, a good tip for strengthening the sole of the foot and toes is to go barefoot whenever possible. High-heeled and narrow shoes are bad for your feet.