Are you looking for an effective joint care supplement? Look no further! The time has come to get acquainted with by far the most effective joint support formula drink mix on the market – Labrada Elasti-Joint ®!
Why do you need a joint care supplement?
During intense exercise, our joints bear all the burden of the body. Precisely because of this – due to the pressure that the body creates on the joints – a feeling of discomfort (stiffness) and pain in the joints is very likely to occur. To reduce the likelihood and frequency of injuries and improve the health of your joints, Labrada pharmacists have devised a solution called Elasti-Joint – a new formula that contributes to the health of joints, but also muscles, and bones! We can call the joints the hubs of our limbs, and it is extremely important to keep them healthy and flexible.
Brief product description & key product features
Description
Labrada Elasti-Joint has proven to be the most effective dietary supplement that helps with problems with joints, cartilage, and connective tissue. However, as you will discover shortly, its application is much wider. With Elasti-Joint, you'll experience improved joint function, elasticity, and flexibility to live life to the fullest.
Key product features
Five active components for better function of joints and connective tissue;
Proven positive effect on the condition of the joints, cartilage and connective tissue;
The most effective formula on the market;
Provides all the ingredients you need in efficacious amounts — in one daily scoop (you no longer need to take a handful of pills);
Key product ingredients and their positive impact
Labrada Elasti-Joint® contains hydrolyzed gelatin, glucosamine sulfate, and chondroitin sulfate as well as nutrients such as Vitamin C and metnylsulfonylmethane.
Glucosamine sulfate
Glucosamine sulfate is a natural sugar obtained by extraction from shells. It is a key component of cartilage, connective tissue and joint fluid. It has the ability to absorb water and thus ensures lubrication and absorption of impact on the cartilage that covers the ends of the joint bones.
Chondroitin sulfate
Chondroitin sulfate is a natural, complex, biologically active molecular component of several tissues in the body. Mostly, though, it is found in cartilage around joints. It controls the flow of water and nutrients in and out of cartilage, provides structure, and allows other molecules to move through cartilage.
Collagen hydrolyzate
Collagen Hydrolyzate is a substance that participates in the construction of about 30% of all body proteins. It is essential for maintaining the health of joints, extremities, hair, skin and nails. Clinical studies dearly demonstrate that collagen hydrolysate is an excellent therapeutic substance for osteoarthritis and confirm the preclinical studies, which showed that the cartilage cells (chondrocytes) are stimulated by this substance. A daily dose of 10 g collagen hydrolysate over a longer period of time —as a rule at least 3 months — leads to cartilage regeneration and, in turn, to significantly improved joint mobility and less pain.
MSM (methylsulfonylmethane)
MSM (methylsulfonylmethane) is the major form of sulfur in the human body. Sulfur is an important element for all cells and body tissues and an especially important nutrient for joint tissue, where it functions in the stabilization of the connective tissue matrix of cartilage, tendons, and ligaments. Furthermore, studies have shown its exceptional importance in detoxifying the body and normalizing the immune system. Promotes anti-inflammatory action.
Vitamin C
Vitamin C plays an important role in collagen production and building healthy connective tissue.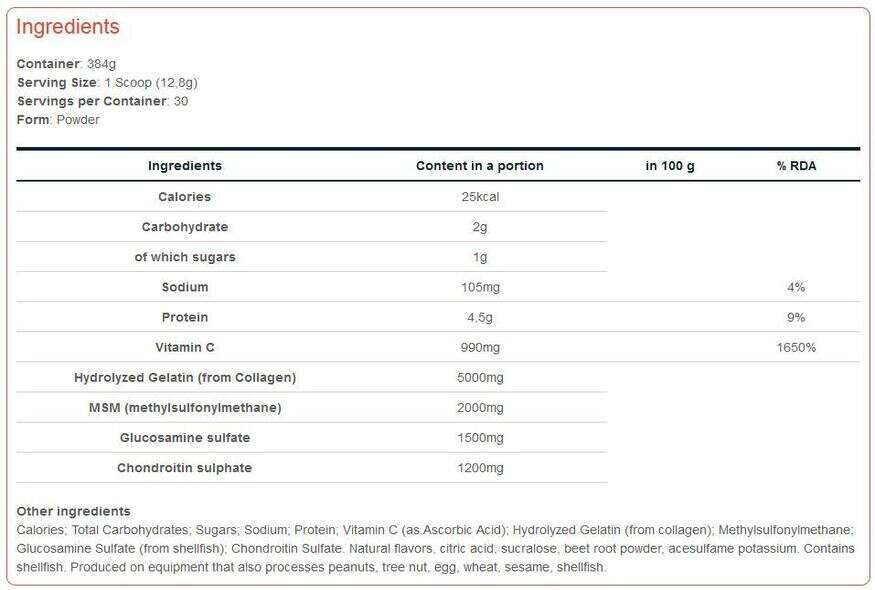 The benefits of Labrada Elasti-Joint formula
Provides all the support you need in just one daily dose (you no longer need to take a handful of pills)
Helps protect and maintain healthy joints and connective tissues
Assists in post-workout joint and connective tissue recovery
Although it is primarily designed to help top athletes, Labrada Elasti-Joint formula can be used by anyone seeking help with:
osteoarthritis and arthritis;
sore and swollen joints;
inflammation of the joint sheaths;
sports injuries;
prevention during strenuous training;
connective tissue strengthening;
regeneration and mobility;
better regeneration and metabolizing substances;
replacing old and worn out cells with new and elastic ones;
wrinkle withdrawal;
Suggested use (method of application)
Labrada Elasti-Joint® is available in three delicious flavors: orange, grape, and fruit punch. Simply mix 1 scoop (12.5 g) in 2 dl of room temperature water. Stir until the ingredients are completely dissolved in the water. Do not take more than two scoops a day.
Which company is behind Elasti-Joint?
Elasti-Joint is from Labrada Nutrition which is among the leading brands of bodybuilding and nutrition supplements. They are well known for their protein and weight loss supplements. Labrada Nutrition was founded by Lee Labrada who is currently the CEO. He is an inductee of the IFBB Pro Bodybuilding Hall of Fame.
The company has been around for 17 years and has established a solid reputation for offering quality products. The reputation of Labrada Nutrition is a good sign that Elasti-Joint is a high-quality supplement.
Has any research been done on Labrada Elasti-Joint?
There is no clinical research conducted on the product itself. However, the active ingredients are backed by numerous researches proving that they really help address joint issues and improve joint health.
Summing up (Final Verdict): Labrada Elasti-Joint
Overall, Elasti-Joint is an excellent joint support supplement. It is from a renowned supplement brand and the active ingredients are clinically proven to be effective. The main problem is that it is a little expensive when you compare it to other joint supplements. One measure a day is a dose that is sure to contribute to the health of your joints. It doesn't matter if you are an active individual or a professional athlete; your joints will thank you! Elasti-Joint comes in powder form which greatly facilitates its application. Therefore, this fresh orange/fruit or punch/grape flavor powder will provide you with both the refreshment and adequate support that your joints really deserve!