Lateral Crunch Exercise Guide
Lateral crunches are great exercise to target your internal and external oblique muscles along the side of the torso. It is not necessary to raise the torso very much when contracting, and it is actually preferable to feel the area worked and not to bounce. Using weights is not recommended. This version of the lateral crunch doesn't require the Swiss ball which is great if you haven't got to grips with the destabilising effects of the ball yet.
How to Perform Lateral Crunches?
Lie on the floor or on an abdominal bench, on your side with your knees slightly bent. Place your top am behind your head and the lower arm across your chest. You can also wrap your lower arm across your waist so you can feel with your hand that your obliques are working. Contract your abdominal muscles to raise your head and shoulders sideways a couple of inches from the floor, aiming your ribs in the direction of your top hip. Hold this position for the count of one and then lower back down to the starting position. Repeat for the required number of repetitions, then perform the exercise on your other side.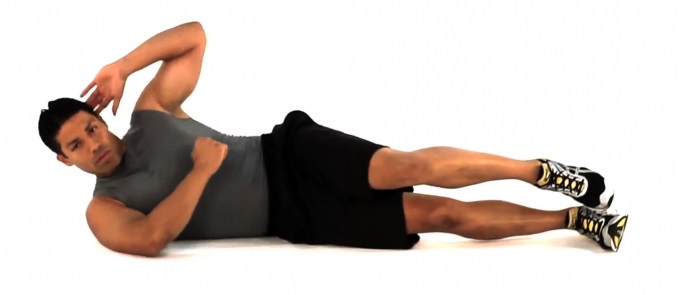 That was the basic movement, but there is a great way to make lateral crunches even more effective – lateral crunches with leg lift. Basically, you need to bring your torso and legs toward each other at the same time. You simply have to flex and move the upper legs slightly upward. The abdomen does not lift the legs at all, but the movement helps some people feel the muscles exercised being worked.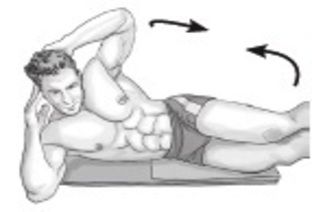 Exercise Key Points to Remember
Tip tips will help you to perform lateral crunches safely and effectively.
You're not aiming for a big lift (no more than six inches). The focus should be on getting your oblique contraction right.
Aim to reduce the space between your ribs and hips.
Do not worry if you don't reach up very far – concentrate on feeling the movement.
Keep your head in line with your body – don't jerk it upwards.
Muscles Engaged in Lateral Crunch
Main muscle groups: internal and external obliques
Secondary muscle groups: rectus abdominis, quadratus lumborum, muscles along the spinal column
Antagonists: the same muscles on the other side of the body
Variation
Stability Ball Lateral Crunch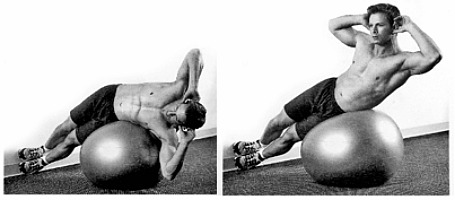 Visit our abdominal exercise database to find more exercises.
Conclusion
You should definitely include lateral crunches into your abdominal workout routine, but do not begin your ab routine with the lateral crunch. It is better to end your abdominal workout with the obliques rather than starting with them because your priority should be to work the rectus abdominis.