One-arm leaning dumbbell lateral raise is a variation of the dumbbell lateral raise that provides a more challenging yet better result for the strength, stability, and flexion of the shoulder joint. Although it might look easier than its predecessor, the leaning lateral raise has more potential for injuries if not done properly. Therefore it's crucial that you perform this shoulder exercise using proper technique. In any case, this is an extremely valuable exercise in the arsenal of exercises that target lateral deltoids.
Other names for this lateral shoulder exercise
lean-away lateral raise
leaning-away lateral raise
one-arm leaning dumbbell lateral raise
One-arm leaning dumbbell lateral raise proper form
STARTING POSITION (SETUP)
Holding a dumbbell in one hand, grasp a pole, cable machine, or anything stable with your free hand.
Position both feet under the hand with which you are grasping the pole and lean out to the side holding the dumbbell, allowing the dumbbell to hang straight down.
Flex your hips slightly so that you are leaning a little forward.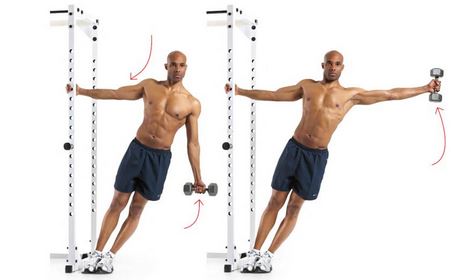 EXERCISE EXECUTION (ACTION)
Hold your form and flex your elbow into a slight bend. Lift the arm holding the dumbbell upwards and outwards without straining too far.
Hold for a count of two at the top position.
Inhale as you drop your arm back to the starting position in a controlled manner.
Repeat for as many times in a set (which is often 10-12 for each set) and then perform the movement with your opposite arm.
Video demonstration
Exercise tips & key points
Some helpful hints (key elements to consider) on how to perform one-arm leaning dumbbell lateral raises safely and effectively.
List your arm to a shoulder height or a bit above that level.
Lean your entire body to about 60-degrees.
Avoid using heavy dumbbell. That way you will be able to focus more on your form while also avoiding potential injuries of your shoulder.
Raise and lower the dumbbell in a controlled manner, avoiding winging the dumbbell out and away from the body. If you have to swing the dumbbell, you are using too much weight and should reduce the load.
The key point of this exercise is not to raise the dumbbell but to extend the arm, taking the dumbbell as far away from your body as possible. This might look to be the same movement, but the latter isolates all the shoulder muscles, including the traps.
Keep your back neutral and avoid bending at the hips or at the knees to get the best possible results.
Keep your body still; only your arm should move.
Benefits of leaning lateral raise
Compared to other free-weight lateral raise variations, this exercise puts the deltoid under tension for a greater portion of the range of motion, making each rep more effective. It also places greater overload at the top of the movement.
Muscles engaged in leaning-away lateral raises
Target muscle: lateral deltoid
Synergists: anterior deltoid, supraspinatus, middle and lower trapezius, serratus anterior
Increasing the weight of the dumbbells will shift the focus from the lateral deltoid muscle on the trapezius. This is not a deterrent, but heavier weights will simply not target all shoulder muscles equally. Doing this will isolate some muscles more than others.
Exercise variations
Lean-away cable lateral raise. Position your feet very close to the low cable attachment, hold on to the station rack with your free hand, and lean away from the apparatus until your nonworking arm is completely straight. (If you let go, you'd fall sideways.) The angle increases the load on your delts as you execute the raise.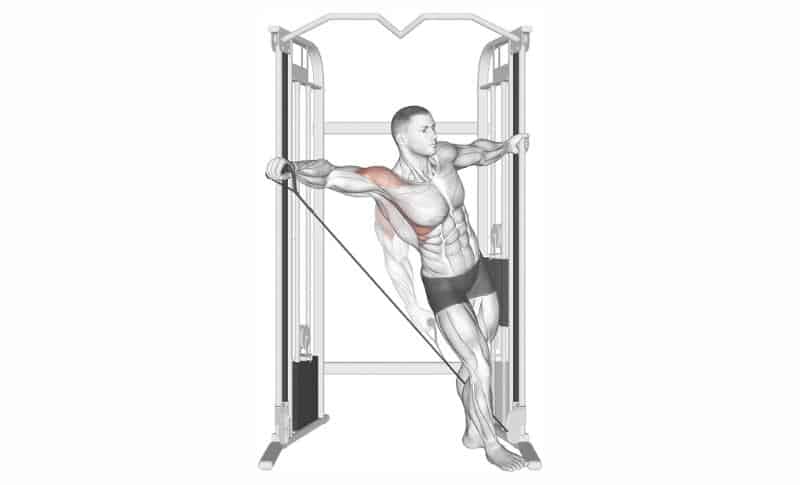 Replacement exercises for the leaning dumbbell lateral raise
Try to do lateral raises using different types of equipment or you can replace this exercise with upright rows which also target lateral deltoids.
Smith-machine upright row
Closing thoughts
Compared with the classic dumbbell lateral raise, the leaning dumbbell lateral raise puts your lateral deltoid under tension through a greater portion of the range of motion, making each repetition more effective.