The lying plate press exercise is an excellent way to add depth to your inner chest. Many guys have only one goal – to develop massive chest muscles. If this is your only goal then this exercise is not the right one for you. It will not do much to develop massive chest muscles. However, we think it's also very important to have a well-defined chest. The main goal of this exercise is to help you develop a "full chest" – one that has width, but also size near the sternum, filling out button-downs thickly and with impact. Remember, the key to your inner chest is creating a strong squeeze.
The lying plate press is a chest exercise where you pinch a weight plate between your hands throughout the bench press movement.
Other names for lying plate press
plate pinch press
plate squeeze press
lying supine plate press
lying Svend press
Step-by-step exercise instructions
Follow these steps to execute the lying leg press exercise safely and effectively for maximal inner chest development.
STARTING POSITION (SETUP):
Grab a weighted plate vertically between your hands (like you're clapping symbols).
Lay back on the flat bench with your feet flat on the floor.
Hold the plate with both hands above your chest with your elbows bent.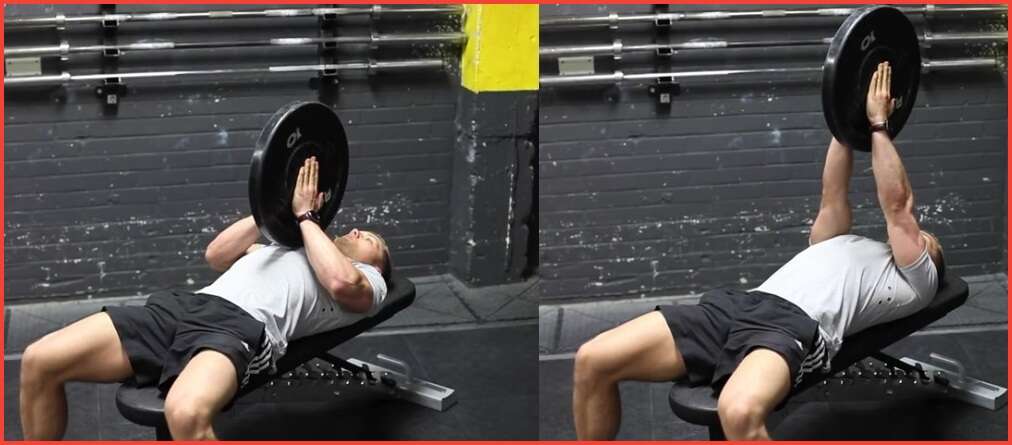 EXECUTION (ACTION):
Slowly and under control press the plate up to arm's length, constantly squeezing the plate as you perform the bench press movement.
Hold for or second or two at the top of the movement.
Slowly lower your arms back to the starting position so the outside diameter of the plate touches your lower chest or sternum.
Additional tips & tricks
Follow these performance pointers & suggestions to get the most out of this great exercise.
The key is to create a firm squeeze and maintain it during the whole range of motion (while going up and down). In other words, your only goal here is to force your hands to keep pressing into each other. It's simple as that.
Do not use a heavy plate – the move doesn't rely on resistance!
Use this exercise to finish out a chest workout (the last exercise in your chest workout).
Lying plate press can never be your main chest exercise. This is because you aren't using enough load.
Slower-controlled motions will make this exercise more effective.
At the bottom of the movement, keep your elbows tucked in at your sides.
Muscles engaged in lying plate press
Main muscles: pectoralis major (especially inner chest), triceps, deltoids (anterior)
Secondary muscles: coracobrachialis, serratus anterior, subscapularis
Antagonists: latissimus dorsi, biceps, deltoids (posterior)
Performing the exercise while lying on your back (supine) places more emphasis on your pectoralis major and triceps brachii, whereas the standing variation places more emphasis on your pectoralis major and front shoulders (anterior deltoid).
Exercise variations
Squeeze two plates (instead of just one) together to make the exercise more challenging. Here you simply have to press two plates hard against one another to make your chest contract forcefully. Two plates are better than one because in that case, you can really concentrate on keeping them together with that squeezing motion we are here to develop.
Perform the main movement while standing instead of lying (the Svend press exercise).
Incline lying plate press. Perform the exercise in the exact same way as described above but while lying on an incline bench set to approximately 30-45 degrees. This angle hits your upper chest without involving too much anterior deltoid.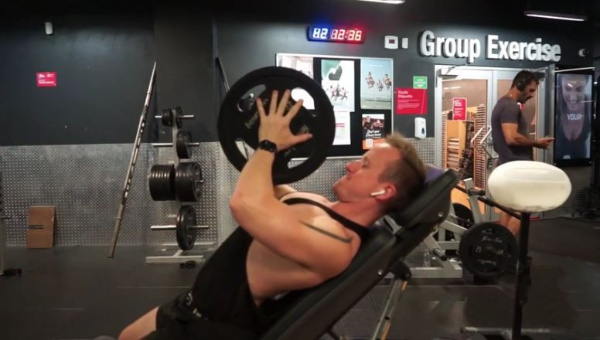 Replacement exercises for lying plate press
Narrow-grip push-ups, etc.
Closing thoughts: Lying plate press
The lying plate press is a perfect exercise for creating a defined mid-chest split. Barbell bench press and other chest pressing exercises simply don't specifically target your inner chest. This exercise achieves exactly that effect since here you have to apply an inward force with your hands to keep the plate from sliding out of your grip. This is exactly what is needed for inner chest development. However, as already stated in the post, this exercise is not ideal when it comes to building overall chest mass. Therefore, in conclusion, the lying plate press is best as a supplemental exercise to complement your normal chest workout.