Misconceptions

& myths about weight training for children

Weight training for children has been taboo in the United States for decades. There are so many misconceptions & myths about weight training for children. Many of these myths result from misunderstandings and impressions gained from partial truths, stereotypes, or other sport myths. In this post we'll try to disconfirm all the myths about weight-training for children.

Starting around age 12, a child can begin lifting light weights with many repetitions to learn the proper tech­niques. More weight can be added as the child gets stron­ger and grows. With an adequately supervised program, there is room for great improvement in a child's strength without the threat of injury.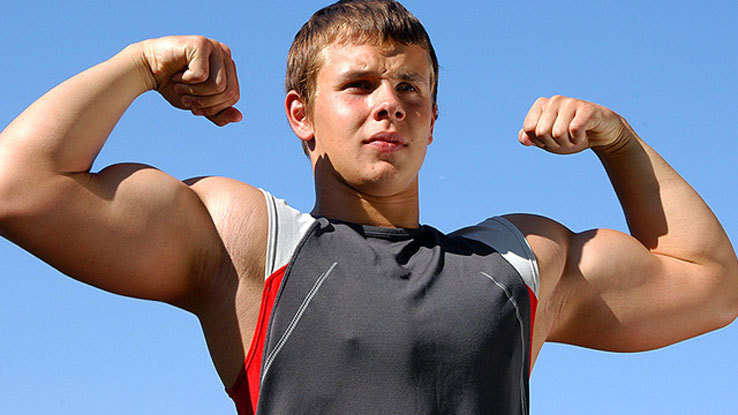 Here are some of the biggest misconceptions & myths about weight training for children.
#1 Lifting weights stunts your growth
Training with weights inhibits children's growth? Not only is this untrue, it's actually 180 degrees backwards. The American College of Sports Medicine has an official position paper on resistance training for kids. Lifting weights actually increases hormones related to bone mineral density, and increasing lean body mass (muscle mass) further increases signals to increase bone mineral density. Further, their bodies are changing rapidly; varied activities such as weight-lifting will improve their coordi­nation and movement skills during these fast growth years. So, we can only conclude: children who weight train have higher bone mineral densities, which indicates benefits to bone strength.
#2 Training with weights harm children's bones
This is closely related to myth #1. Bones, ligaments, and muscles are dynamic connective tissues that respond favorably to the stresses placed upon them. Certainly you've heard the phrase "use it or lose it." That essentially describes bone: the more you "pound" it, the stronger it becomes. Research on junior weight-lifters shows that they have a higher bone density compared to other children how also do sports.
#3 Training with weights harm the bones epiphysis growth-plate
The heavy but controlled weight loads are not dangerous. However, acute fractures in the bones can turn into continual damage. Those damages are  rarely seen in weight training. It is more frequently seen in sport where children interact with each other, for example football or handball.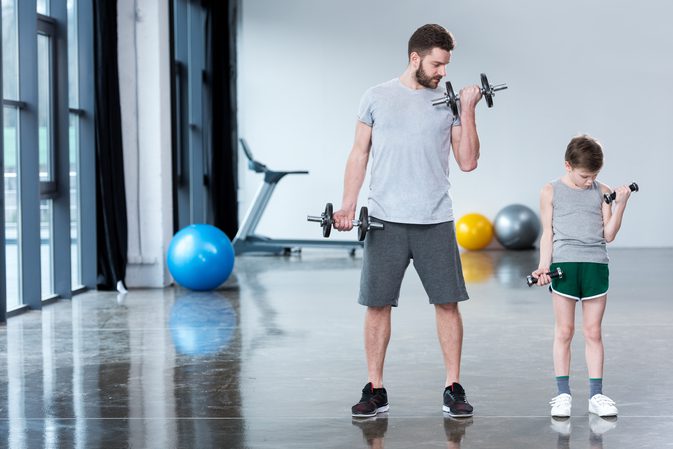 #4 Weight training is unsafe for children
We're sure that you have heard it said that weight training is unsafe for children. In reality, the risks appear to be far less with weight training than with football, running, basketball, and other popular sports. Biomechanical research has shown that activities such as throwing, running, and hitting impose larger forces on the body than weight training. These activities have been shown to place heavier stress on the growth plates of growing bones than weight training does.
#5 Young girls will develop masculine traits
Weight training makes girls bulky? Noooo! Too often young girls associate weight training with masculine traits. There is a big fear of "getting big" or "getting muscles". In such cases appropriate education and clarification of myths in weight training can help. Girls cannot develop big muscles due to a lack of testosterone and number of muscle cells.
#6 Children can not increase strength because they do not have enough testosterone
Traditionally, sports experts believed that weight training by children did not accomplish anything. Both boys and girls supposedly lacked the boost of testosterone in their blood needed to add muscle bulk. It was believed that until a child has gone through puberty and had developed secondary sexual characteristics, there was no point in strength training. Fact: Testosterone is not essential for achieving strength gains.
It is now known that preteens, even though they lack the testosterone necessary to increase muscle bulk, can increase their strength without injuring themselves. Moreover, improvements in children's strength are comparable to adolescents and adults.
#7 Weight-training is unhealthy for children
This claim is also not justified and turns out to be just another myth about weight training for children . It may not bee as rewarding to cardiovascular chances in the body as aerobic exercise, but a child which exercise is fare more healthy than a inactive child.
#8 Lifting weights doesn't help children to build sport-specific skills
Strength training does not negatively affect performance in endurance and other sports by making children too big or clumsy.
As demonstrated in the past two decades, many young athletes have improved their performance faster using strength training than just per­forming the skill of the chosen sport. Strength training is an integral part of many athletes' training: football, baseball, track and field, rowing and canoeing, wrestling, tennis, and so on. Now the philosophy has so drastically changed that some people believe no one can be fast before being strong, no one can increase the height of a jump or takeoff without strength training, and no one can throw a ball without arm and trunk strength. 
Closing thoughts
As you can see, there are so many myths about weight training for children. A properly designed weight-training program can be beneficial for growing children. Weight training is less likely to have a negative impact on growth than many other sports. Mythologies and misconceptions only hurt the child and limit a program modality that's effective in developing physical fitness and promoting a healthy body. When taught properly, weight training is a safe training method with long-term benefits for kids. It will not, as rumored, stunt their growth, break their bones, fill them with rage, or abruptly and profoundly drop their IQ.

A child who lifts weights can still take part in intellectual pursuits, finish his or her homework, or become a computer whiz. And weight training and working out may actually help improve performance in these areas. So let's put all these myths about weight training for children where they actually belong – into trash can.