What You Need to Know About Pulled Muscles
Just about everyone will experience a muscle strain at some time in their life. Any sport that involves high-intensity sprint­ing efforts (e.g. football, tennis, cricket) will have a high incidence of muscle strains. Muscle strains also have high recurrence rates: for example, 12% in professional soccer players and 30% in Australian football players.
This is also the case with weight lifting. Weightlifting injuries are normally related to extreme overload and overstretch of soft tissue structures. Lifting weights helps build muscle mass, tone the body, increase strength and boost metabolism, but improper techniques and other factors can result in painful or debilitating injuries. Because of the demands of bodybuilding and weight lifting, over-use injuries are very common. A muscle tear is a serious injury for a bodybuilder, or anyone for that matter. This injury will force a bodybuilder to take a layoff and can potentially affect his training for months.
In this article you will find out everything you need to know about muscle strains or pulled muscles: key symptoms, causes, diagnosis, classification, prevention, and treatment.
Definition and overview
Muscle strain, muscle pull, or even a muscle tear refers to damage to a muscle or its attaching tendons.
Muscle strains have numerous reasons and facts behind their happening. In most cases they occur when a muscles become overstretched or work too hard.
Either way, you will experience many symptoms, depending on the severity of the injury. Swelling, bruising, or redness due to the injury are just few of them.

Strains are not restricted to athletes & weightlifters and can happen while doing everyday tasks. People engaged in sports are more at risk for developing a strain. It is common for an injury to occur when there is a sudden increase in duration, intensity, or frequency of an activity.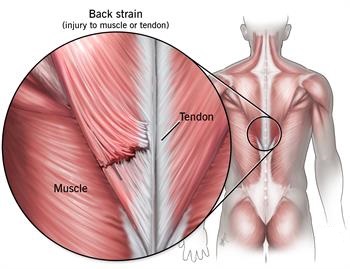 Signs and symptoms of muscle strains
What are the symptoms? There will be swelling, possible redness around the area, and reduced movement of the affected muscle. You may feel twinges of pain in the affected area during exercise, and/or when you apply pressure. If you have torn a leg muscle, for example, pain will be severe and you won't be able to move or stand up. You may also hear a "pop" in the muscle at the moment of injury.
Typically, people with a strain experience one or more of these symptoms (here's the full list of symptoms):
sudden onset of pain;
pricking;
muscle spasm;
muscle weakness;
bruising or discoloration;
localized swelling;
soreness;
cramping;
inflammation;
loss of muscle function/strength;
Signs and symptoms listed above will vary, depending on the severity of the injury.
Types of muscle strains
An acute muscle strain is when your muscle tears suddenly and unexpectedly. Such tears can occur either from injuries or trauma.
Chronic muscle strains are the result of repetitive movement. Chronic muscle strain injuries account for 10% to 20% of all muscle strain injuries.
Likely aetiology (causes of muscle strains)
Muscle strains are caused by direct injury or trauma to the muscle or caused indirectly by excessive stretching or tension.
Direct injury or trauma to the muscle, such as a blow to the body.
Overstretching the muscle. The muscle has been stretched far beyond its limits.
Overloading the muscle. Your muscle was working too hard (forced to contract too strongly). Muscle fibers simply fail to cope with the demands placed upon them.
Other risk factors that can increase the likelihood of a strain:
not warming up properly before physical activity;
poor muscle flexibility;
poor conditioning;
muscular and neurological fatigue;
sudden acceleration or deceleration;
an abrupt change of direction or speed;
quick and/or heavy lifting;
improper use of a muscle;
prolonged, repetitive movement of the muscles;
poor exercise technique;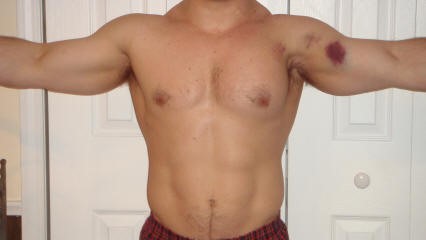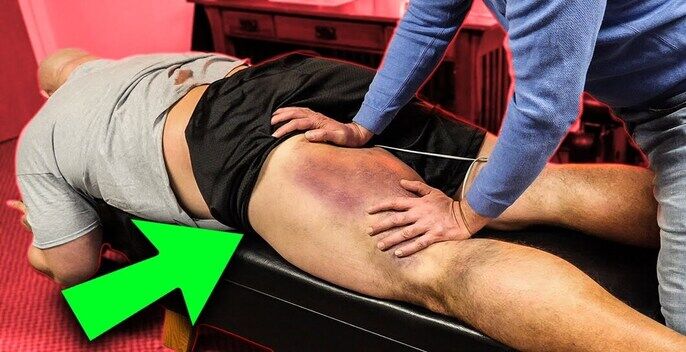 Muscle strains can often occur during heavy lifting or during explosive, fast movements, and at a time of muscular and neurological fatigue. Therefore, strains occur more often towards the end of sporting events.
Muscles involved (where do strains usually occur)?
Strains can happen in any muscle. However, certain muscle structures are more vulnerable to traumatic injury than others, including those that contain a high proportion of fast-twitch type II fibers and those that span more than one joint.
Included in these categories are the muscles doctors are most often asked to evaluate for acute muscle trauma, including the hamstring muscles (biceps femoris, semimembranosus, semitendinosus), the rectus femoris muscle, and the gastrocnemius muscle. Other muscles that are frequently affected by strain are the thigh adductor muscles and the soleus muscle.
It has been shown that the most frequent site of muscle strain is the myotendinous junction. Most sports-related traumatic muscle injuries therefore occur at this site. The muscle-tendon unit, however, can be involved at a number of other sites, including the muscle belly, the tendon, the bone-tendon junction, within the bone, or within an unfused epiphyseal growth plate.
Therefore it's easy to conclude that the majority of muscle strains occur in the legs rather than the arms because of the enormous weight of the body on the legs and the ground reaction forces that pass upward from the ground into the legs. Thus, the lower limbs act as a transition point for potentially injurious forces during walking and run­ning and are more likely to sustain muscle strain.
However, commonly strained muscles also include the lumbar muscles, abdominal muscles, biceps muscles, triceps muscles, triceps muscles, calf muscles, upper back muscles including trapezius and rhomboid muscles, neck muscles, and the intercostal muscles and oblique muscles of the chest.
Muscle strains also occur more frequently with increasing age because the connective tissue comprising the muscle becomes less elastic and less capable of withstanding the excessive force that occurs in a short period of time.
The difference between a strain and a sprain

We often use these two terms interchangeably to describe overstretching or tearing of soft tissues in and around your joints. Strains and sprains share many common symptoms, but they are different conditions. The term strain refers to an injury of the muscle or tendon, as opposed to a sprain, which refers to an injury of the ligaments. Remember ligaments attach bone to bone, where as tendons attach muscle to bone.
Classification of strains
Strains can range from minor to severe. Your doctor will likely put your strain at one of three "grades" based on the amount of damage: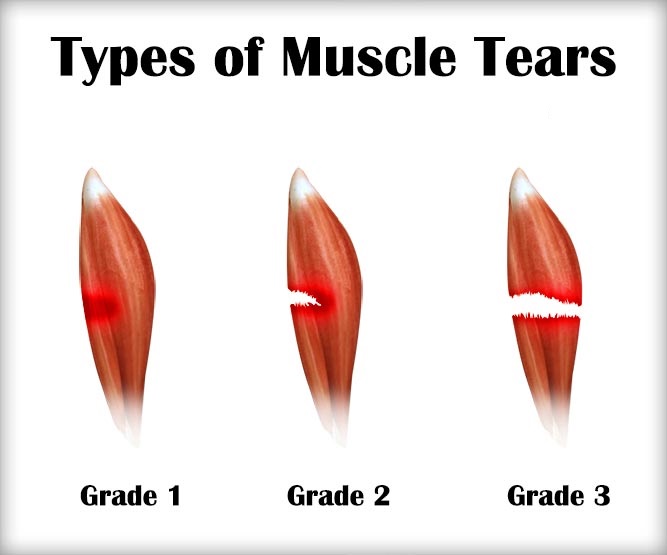 A first-degree strain is a minor partial tear. This is the least severe case since only a few muscle fibers are torn. Some noticeable effect on function is likely to occur although is more likely during high intensity activity. During contraction and stretching you can experience mild to moderate pain. The strength of the muscle may be reduced with a possible tightening of the muscles, with poten­tial swelling and tenderness with palpation.
A second-degree strain is a severe partial tear (there are more fibers involved in the injury). Function is impaired to a greater degree. You can experience mild to moderate pain during contraction, stretch and palpation. Muscle strength will decrease. Spasm of the affected and sur­rounding muscles is likely to occur as well as moderate to major swelling.
A third-degree strain is a total rupture. This type of injury is due to a severe over-stretching or very forceful contraction. Athletes that may be at higher risk are Olympic weight-lifters, body builders and track-and-field sprinters. Signs and symptoms include severe pain (local and diffuse), loss of function, weakness, marked swelling, spasm in adjacent muscles and palpable bunching of the muscle fibers.

Recovery time
Recovery time depends on the severity of the injury. As mus­cles and tendons have a better blood supply than ligaments (and muscles have a greater blood supply than tendons), muscles tend to heal faster than tendons and tendons faster than ligaments. As always, recovery time depends on the severity of the injury. You can expect the following:
I degree strain. With the correct treatment and care, recovery from a first-degree strain can occur very quickly.
II degree strain. Recovery from a second-degree strain may take 3-6 weeks with good treatment.
III degree strain. This injury normally requires surgical intervention and take 2-3 months or longer to recover.
Diagnosis
History taking and physical examination are all that is needed in most cases. The location and intensity of the pain can help determine the extent and nature of the damage. In more severe injuries, where the muscle or tendon has been notably ruptured, your doctor may recommend X-ray, magnetic resonance imaging (MRI), CT scan or ultrasound to evaluate in more detail the extent of muscle/tendon damage.
First aid for muscle strains
Most muscle strains can be successfully treated at home. Treatment is similar to that for a sprain. If you have a Grade I or Grade II strain, your doctor will ask you to follow the RICE rule.
For immediate self-care of a muscle strain, try the R.I.C.E. approach — rest, ice, compression, elevation.
Rest. Do not follow your regular exercise or sports routine after you have been injured. Give your body some rest. Recovery from most injuries requires that the person be patient so as not to cause further aggravation.
Ice. When you are first injured, apply ice to the affected area. Use ice packs in twenty-minute intervals (leave ice on the injury for twenty minutes, then take it off for twenty minutes), up to eight times a day. If no ice packs are available, wrap ice in a towel or cloth. Do not apply ice directly to your skin—it can cause frostbite.
Compression. Wrapping the affected area with bandages, elastic wraps, or splints will compress the injury. This can help to reduce swelling. However, be careful. Incorrectly wrapping the injury or applying splints improperly can make the injury worse.
Elevation. To keep swelling down, try to elevate the affected area on a pillow. Sit so that the injury is above the level of your heart.
However, you should seek medical attention if any of the following happens:
The pain doesn't subside after a week.
The injured area is numb.
There's blood coming from your injury.
You can't walk.
You can't move your arms or legs.
In this case treatment may include anti-inflammatory medications and pain relievers to reduce pain and swelling. Your doctor may also prescribe physical therapy to help strengthen the muscle and restore movement. In very severe cases, surgery may be required to repair the muscle.
Prevention of muscle strains
They can happen to anyone at any time. There are no specific instructions for preventing this type of injury. The best thing you can do to reduce the risk is to follow the general rules for preventing sports injuries. Understanding the main causes of most weight lifting injuries will also be very useful.
You may be surprised to learn how many injuries can be prevented by following these general rules and steps. Some aspects of this information may seem familiar, but as you read it carefully and begin to incorporate it into your sports and fitness activities, you'll discover the difference it makes.
Closing thoughts
A muscle strain, also known as a muscle pull, occurs when a muscle is torn as a result of stretching beyond its normal range of motion. There are different degrees of strains, but it is difficult to classify the degree of a strain. When muscle fibers tear, fluid from nearby tissues leaks out and starts to build up near the injury. The area becomes inflamed, swollen, and tender. Inflammation begins immedi­ately after an injury, but it can take 24 to 72 hours for enough tissue fluid to build up to cause pain and stiffness. Muscle strains typically occur in the region of myotendinous junction, which is the weak­est point of the muscle unit. In most cases, with proper treatment, most people recover completely from muscle strain. More complicated cases should be handled by a doctor.